H O M O S E X U A L I T Y:
Being Gay in Hungary:
A few facts and figures
---
Gusztav Kosztolanyi
Homosexuality in Hungary was decriminalised in 1961. The current age of consent is 18.
Since a June 1996 Constitutional Court ruling, the Civil Statute has eliminated all discrimination in law between cohabiting hetero- and homosexual couples. As Laszlo Laner, editor of Masok, the longest established magazine for gays and lesbians in Hungary, pointed out in an interview in HVG (see November 1998 issue), this means that living together, sharing a household and a budget is no longer considered the exclusive preserve of heterosexual couples.
Unfortunately, however, same sex relationships cannot be registered officially at a notary public. This means that one partner cannot inherit from the other in case of death. In criminal and civil law, one partner cannot be compelled to testify against the other, which is one small step forward. According to Mr Laner, Hungarian society is not yet ripe for same sex marriage or adoption by same sex couples.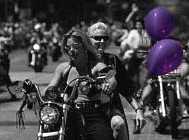 The first Gay Pride parade in Budapest was held in 1997.
Masok appears once a month in English and German as well as Hungarian. It also appears on the Internet at http://www.masok.hu
Other useful websites:
http://www.gay.hu
http://web.interware.hu/hatter/index.html (supported by the Soros Foundation)
Cruising:
between Vigado Ter and the statue of Petofi at Erzsebet Bridge and Germanus Gyula Park (Buda)
try also the Rudas Turkish baths, Rac baths and Kiraly baths.
Bars and discos:
Action Bar (Magyar utca)
Angel Private Club (Szovetseg utca)
Varlak Pub (Ostrom utca)
Darling Bar (Szep utca).
Compiled by Gusztav Kosztolanyi, 7 August 1999