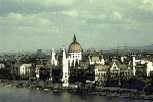 C E N T R A L E U R O P E A N N E W S:
Hungarian News Round-up
News from Hungary since 2 August 1999
---
Paul Nemes
Jozsef Hamori, the Cultural Heritage Minister, has announced that the government will provide HUF one billion to help Hungarians abroad maintain their cultural heritage. Kossuth Radio reports that the government wants to support ethnic Hungarians in the neighbouring countries with HUF 2.5 billion this year alone.
Romanian Prime Minister Radu Vasile appears to have backed down from claims that he saw no obstacles to the founding of the first Hungarian-language university since Bolyai University merged with Babes Romanian-language university of Cluj/Kolozsvar in the 1950s. After his initial claims met with support from Hungarian Prime Minister Orban, Vasile has now stated that the plans will not be realised during the present government's term in office. The two countries have however agreed to establish a memorial park of Hungarian and Romanian reconciliation in Arad.
After a two day visit to Bucharest, Hungarian Foreign Minister Janos Martonyi dismissed accusations by Romanian nationalists that Budapest seeks to reclaim parts of Transylvania, which he was due to visit only a week after Prime Miniser Orban. Martonyi told reporters that "those fears are mainly the result of incorrect information, or are fuelled by rumours circulated by [those] vested interests."
The Hungarian Communication Authority (HIF) has permitted the incorporation of Internet telephony, which makes it possibly for Internet service providers to start telephone services. HIF chairman Gabor Frischmann said the change was necessary for EU harmonisation. Voice telephony is currently controlled by Matav, who have a State-approved monopoly. PanTel, the company expected to become Matav's biggest competitor after the monopoly permit expires in 2002, believe that their international call prices will be on average 25 percent cheaper.
The Foreign Affairs Committee of the US senate has adopted a bill that would urge the President to speak out for the Vojvodina Hungarians. According to the bill, the US Secretary of State will monitor the situation of the Hungarians in Yugoslavia's northern province and ask the Allies to consider their demands for autonomy at conferences on Kosovo. According to Laszlo Jozsa, Vice-President of the Federation of Vojvodina Hungarians, the bill gives hope that Western countries will deal with minority problems that have not yet come to a crisis.
Prime Minister Orban said on 31 July that Hungary will provide a Euro100 million credit package to companies who want to participate in the reconstruction of Yugoslavia. Orban was quoted as saying that "Hungary may play an important role in the stabilisation of the south-east European region." The Prime Minister also said that trade relations between Hungary and Vojvodina may return to normal once ruins of bridges on the Danube destroyed during Nato air raids are removed.
Hungarian police have, under the directive of Budapest's chief prosecutor, closed their investigation of journalist Laszlo Juszt. Juszt was accused of printing state secrets while publishing a weekly news magazine and hosting a popular crime show on MTV, Hungarian state television. Juszt has now filed a lawsuit against the National Police for damages and another lawsuit against MTV for breaking his contract.
More than HUF 2 million in forged bank notes has been delivered as pension payments in Bacs-Kiskun County, where police have arrested two persons in connection with the crime. A third suspect, Andor Lovas, is thought to be a distributor of high-quality forged bank notes.
Hungarian State Railways, MAV, has cut its budget for renovations and maintenance to reduce losses. MAV had estimated a loss of HUF19.9 billion this year, but the company has already lost HUF 8.1 billion in the first six months of 1999. A further HUF 2 billion cut can be expected before the end of the year. Meanwhile, a train strike grew more likely on Tuesday after a meeting of the railway interest co-ordination group ended in an impasse.
Paul Nemes, 6 August 1999