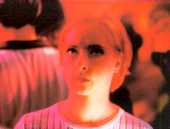 G A Y C I N E M A:
The Straight and Narrow Path
David Ondricek's Septej
---
Andrew J Horton and Kazi Stastna
The emergence of gay characters as protagonists in Central European cinema might be thought to signal some form of liberalism and acceptance; however, while it is certainly an advance on the Communist years, when homosexuality was so taboo that even negative depictions did not appear in film, the trend does not indicate as much liberalism as one might think.
The Czech film Septej (Whisper, 1996) is a variation on the age-old little girl comes to the big city theme, reconstituted for the benefit of the druggy techno age. Sixteen-year-old Anna, the young girl in question, runs away from home and hitchhikes to Prague. She gets taken in by a gang of hip twenty-somethings who share a small apartment and are replete with the usual complexes and disengaged slackerdom of any well-adjusted young adult surviving in the post-postmodern late 1990s. Appropriately, their life seems to consist largely of "hanging out," and although a bit of a foreign element at first, Anna is soon incorporated into their daily rhythm, or better said, flow. This leisurely flow consists mainly of clubbing, partying and breaking bread (or pizza as the case may be) at hip food establishments around town. With the help of a few substances - hallucinogenic and otherwise - Anna slowly blends into her new roommates' world, adopting their manner of speaking, dress and attitude and acquiring a bevy of urban "life skills." She falls in love with Filip, undeterred by the fact that he is gay and has a live-in boyfriend, Kytka, who spends his nights at the railway station looking for older German men. Anna persists her crush silently and mopily but wears her heart on the sleeve of her newly bought, two-sizes-too-small raver T-shirt. Apparently, this has its charms, for by the end of the film, Filip, despite Kytka's jealousy, has come around and falls for - and in bed with - Anna.
The entire film is played out on a very stylised level and the gloss factor runs high. Everything is hipper-than-thou: the clothes, the clubs, the cafes, the slang, the cinematography, the music, the suggestive sex scenes and the ever-present, oversized "family" dog. This can perhaps be explained by the fact that this was director David Ondricek's first feature film, following on the heels of a successful career making music videos . Filip is in fact played by Jan P Muchow, handsome hipster from the trance duo Ecstasy of St Theresa, one of the few contemporary Czech bands to have earned a reputation for themselves outside of the Czech Republic. Furthermore, the whole film was sponsored by Xantypa, the life-style magazine for the Czech Republic's fashionable new rich.
The film certainly succeeds as a slick anti-manifesto of the Czech generation X and is more engaging in this respect than such bland Czech hits as Knoflikari (Buttoners, 1997) or Pasti, pasti pasticky (Traps, 1998), which have similarly tried to capitalise on "youth" appeal. However, whereas Septej is observant in depicting the behavioural minutiae and aspirations (or lack of them) of the new Ecstasy generation, it fails to tackle any of the issues it confronts with any real weight. Although sex and drugs permeate the lifestyle of the youngsters, there is no serious treatment of the issues of addiction, AIDS or what it means to be gay in the 1990s. Such cowardly approaches distinguish Septej from the films it is trying to emulate, such as Trainspotting, and place it far back around the beginning rather than the end of the current decade.
Septej's depiction of homosexuality is reduced to tired old cliches: gay men are promiscuous and hang around railway stations trying to pick up other men, and homosexual men don't really enjoy other men anyway - they just haven't found the right woman to make them realise they are actually straight. Filip's homosexuality is flippantly passed off as a passing phase, and the audience is meant to breathe a sigh of relief at the film's end, as Filip rightfully assumes his heterosexual role, while his jealous boyfriend is potrayed as a crazed and hysterical anomaly. All this suggests that beneath the thin veneer of rebellion, Prague's acid-dropping youth have nothing real to offer which could potentially challenge some of the attitudes of the society in which they live and are merely tomorrow's conservative middle class in waiting.
Andrew J Horton and Kazi Stastna, 9 August 1999
Further Surfing
There are two other reviews of the film currently available in English: see HERE and HERE.
However, for Czech speakers there is a lot more on offer. Over a dozen articles and reviews on Septej and a recent interview with Ondricek are available HERE.