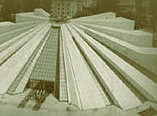 When Edi Muka, the director of Tirana's International Center of Culture (ICC), Albania's first and only center for contemporary art and culture, was fired by the Minister of Culture on 5 December without reason, it was a setback for the emerging Albanian art scene. It was also a signal from the powers that be that individual initiative can be very threatening and may not be rewarded.
31-year-old Muka—a well-known activist, curator and contemporary art teacher at Tirana's Fine Arts Academy—is credited with invigorating art in post-Communist Albania. Under Muka, the ICC, or "Pyramid," developed as a high-energy environment that entertained and educated the public with a constant array of exhibitions and arts performances, many of which were international in scale.
In Muka's absence, the center may lose the financial support for its USD 100,000 Soros-funded Mediatheque, slated to open this January, and it will most likely lose its international reknown, the very lifeblood, along with funding, of an international contemporary institution in a transitional society such as Albania.
"Edi Muka has been the most effective PR agent for contemporary Albanian culture and the country itself that I can think of," said internationally known Bulgarian artist Luchezar Boyadjiev, recipient of the Grand Prix for foreign participant at the "Onfuri 98" exhibition in Tirana. "This is an international embarrassment."
"For over five years, Edi Muka has been a representative of the culture of change in Albania," echoed Dr Andreas Broeckmann, Artistic Director of Transmediale (Berlin). "His appointment as the Pyramid director was a sign of a new Albania opening up towards Europe and the world. His departure means the highly regrettable removal of a competent manager, an important curator, cultural networker and builder of bridges."
Replacement
Muka's successor, Shkelqim Daja, is a wild card. He has staged some outdoor festivals, but has little previous experience in arts management or in working with contemporary art. Even in Albania, this would be surprising were it not for the fact that the new minister of culture, Esmeralda Uruci, a mathematics and economics teacher from Shkodra, has no previous experience in cultural policy or in policy building.
"Normally, you replace a director of an important institution when you don't agree with the vision he has for running an institution," said Gezim Qendro, director of the National Gallery in Tirana.
"It is enough to compare the two CVs. Muka, besides being a painter, teacher, curator and lecturer all over Europe, has made an enormous contribution in the dissemination of information on Albanian art, its problems and achievements. He helped to break its long and absurd isolation from the rest of the world. Weren't his achievements in this very short period enough to show that he had the right vision and skills? Wasn't it a sign of confidence that the Soros Foundation gave him USD 100,000 for the Mediatheque project? For Daja there is no question of a curriculum vitae, because it is non-existent. The problem lies in the mess of this entire procedure of appointment and replacement."
Pyramid
The ICC is located within Tirana's landmark marble pyramid, on the capital's main street, Boulevard Deshmoret e Kombit, home to most of Albania's government institutions. This mammoth white structure is state-owned and comprises 11,000 square meters of prime commercial real estate leased out to both private and public clients.
The space is also highly symbolic for Albanians and has morphed along with successive regimes. Initially, it was a mausoleum (officially the "Enver Hoxha Memorial Museum"), inaugurated in 1988 as the final resting place of Albania's ruler, Enver Hoxha, the lord of life and death in Albania from 1944 until his death in 1985.
With the fall of the Communist regime in 1991, Hoxha's corpse was evicted, just three years into its final rest.
In 1992, the Pyramid became in name Tirana's main cultural center devoted to promoting contemporary arts (visual and performing arts, music, film and culture). In reality, its various halls were better known for the hosting of consumer goods trade fairs.
It is Muka who is credited with the center's take-off, the merging of concept and design which, according to Stephen Kovats, former director of the Bauhaus Foundation's Electronic Media Forum, actively created cultural capital. "Albania, a virtual unknown on the international contemporary art scene, would remake this powerful symbol of its mystical gregarious socialist past into an internationally known art institution, an interface with the outside world of symbolic and highly practical value."
Collapsed vision
Throughout his 20-month tenure, Muka offered vision and bankable results. Albanian artists had professional exhibition space, young artists were supported, old ones were revived and new media art was strongly encouraged.
Muka brought back and exhibited artists who had left for the West: Anri Sala, Sislej Xhafa, Adrian Paci and others. In the meantime, he made sure that people recognized artists who lived and worked in Albania, such as Alban Hajdinaj, Flutura and Besnik Haxhillari and the older artist Edi Hila. He exhibited Kosovo artists Sokol Beqiri, Mehmet Behluli and Erzen Shkololli.
Moreover, he secured the Soros grant for the Mediatheque, a sophisticated public information center, the first of its kind in Albania, with a video archive, music library, Internet center and resource library. Slated to open in January 2001, the Mediatheque would have occupied 700 square meters within the ICC.
When Muka was dismissed, the project was being finalized among its co-donors the Soros Open Society Fund of Albania the Albanian Ministry of Culture and German Embassy. "We would like to continue the process we started with Edi," said Capajev Gjokutaj, Executive Director of the Open Society Fund, Albania, "but the relationship between OSFA and ICC is an institutional one which we will continue."
Muka had also worked with the German Embassy and the Goethe Institute to secure funding for internet terminals for free public use at the new gallery space in the Pyramid. The preparation was in its advanced stages when Muka was dismissed, according to Martin Frick, head of Cultural Affairs, German Embassy Tirana, and rather than risk jeopardizing the project, the Embassy transferred the USD 10,000 to the National Gallery. The result: in mid-December, five computers connected to internet will be available for free public use.
"The Pyramid became the place where people would expect something different to happen at least every week of the month," said Muka. "We started things—visual arts projects, a performing arts production center, music events—and we were starting to offer public projects, supported by various foundations. We worked with the British Council, Soros Foundation, Pro-Helvetia, the German Embassy and the Ministry of Culture. The center had programming almost year round. Not a single penny of the Albanian state budget was asked for that, and furthermore, all bills were paid regularly to the state."
Not political enough
"It is not that we were political," said Muka, "but maybe because we weren't political enough. I was removed with no motive whatsoever."
Muka's dismissal comes after former Minister of Culture Edi Rama was elected mayor of Tirana in October. Rama appointed Muka and was highly supportive of the arts, especially contemporary art.
As is common practice throughout Eastern Europe, Rama's replacement, Esmeralda Uruci, has been willing to replace persons who are a threat to her lack of experience.
"That's something we know only too well," said Boyadjiev, "the 'wondrous' happenings in practically all post-totalitarian Eastern European countries. Some bloody official is jealous of Edi's efforts and accomplishments, or somebody else wants to use the Pyramid in Tirana for a more profitable purpose than running an alternative, foreign-thinking, troublemaker kind of art center which can only underline the ineffectiveness of the official cultural infrastructure."
"While, unfortunately, it has not been the practice in the region," added Kovats, "it is especially important that strong and open administrations back up strong and unique visionaries without fear of one-upmanship. This is the only way to build institutions that will have a lasting impact."
Wrong message
Muka's dismissal sends precisely the wrong message to Albanian youth, who have few role models or mentors, added Broeckmann: "Muka's efforts for the past two years demonstrate that things can be accomplished in the country, that it may not be necessary to leave. For the good cultural and political development of the country, it will be vital that people like Edi and others have good reasons to stay in the country."
Muka and his supporters, who include many prominent members of the international art community, immediately protested the action, claiming the reasons were political and not performance-related and that contemporary art in Albania would be set back by his dismissal.
An e-mail petition with nearly 200 signatures from around the globe has been initiated by members of the Syndicate e-mail listserve, a network of artists, activists and intellectuals who address contemporary and electronic art. The petition was sent to the Albanian Minister of Culture and to the Albanian media, but it had no impact on reversing the decision.
A similar petition initiated by Albanian artists and intellectuals is being circulated as this goes to press.
Upon his dismissal, Muka was offered a position at the National Gallery under Director Gezim Qendro. He has accepted the new post.
Geneva Anderson, 9 December 2000
photo: Albanian Ministry of Culture
Moving on: