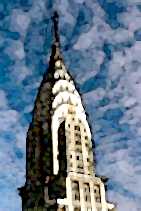 E V E N T S:
Coming up in the USA
---
Karen M Laun
Upcoming Central and East European cultural events over the next few weeks include performances by an award-winning Polish theater group and a US tour of the Bohemian Chamber Philharmonic, as well as other Polish, Czech and Ukrainian exhibits and events.
In this week's Coming Up section we have:
Click on the appropiate heading or just scroll down to browse.
---
---
Travelling Baltic Art Exhibition
Beginning 25 January
The US-Baltic Foundation
733 15th Street, Suite 1026
Washington, DC 20005
Phone: (202) 393-3338
Fax: (202) 393-3388
E-mail
An unprecedented exhibition of contemporary paintings and sculpture from the three Baltic nations will be touring five major US cities beginning in January. Starting in New York and Washington before continuing to Chicago, Houston and Dallas, The US-Baltic Foundation will present 67 works of art representing 43 contemporary painters and sculptors from Estonia, Latvia and Lithuania.
The Baltic Art Exhibition will hold its world premiere with a gala benefit at New York's National Arts Club (15 Gramercy Park South) on 25 January, where it will be on display until 12 February. From New York, the exhibition will travel to Washington, DC, where the exhibition will be hosted in the IMF's gallery (700 19th Street, NW) March 9 through April 8. The exhibit was organized by Hamid Ladjevardi, a New York-based fund manager specializing in Baltic investments. Barbara Crane, an artist and curator of the Baltic Art Exhibition, chose a broad spectrum of paintings and sculptures, encompassing styles from representational to neo-expressionist to abstract. Be sure to visit this extraordinary exhibit when it comes to a city near you!
More information about this exhibit can be found on the website of the Latvian Embassy.

---
---
Film
1999 Environmental Film Festival
23 March 2000
Croatian Embassy
2343 Massachusetts Avenue NW
Washington DC, 20008
Phone: (202) 588-5899
The Croatian Embassy will host two screenings of documentary films with environmental themes: The Game Warden's Diary and In Search of the Times Gone by: For the Living Drava River. Both films are in Croatian with English subtitles. The films will be introduced by Ambassador Dr Miomir Zuzul and a discussion will follow the films, hosted by Mr Mate Maras, Minister Counselor of Cultural Affairs at the Embassy.
There will be a reception beginning at 7:00 pm, and the films are to begin at 7:30pm. Admission is free, but reservations are required. For reservations, call (202) 588-5899. For more information about the individual films visit the Croatian Embassy website.

---
---
Music
Bohemian Chamber Philharmonic US Tour
Attention classical music lovers! The Bohemian Chamber Philharmonic is touring the US from mid-February through early April. See below for dates and locations. For information on time and venue, call (212) 581-8478.

March:
1 Columbia, SC; 2 Atlanta, GA; 5 Danville, VA; 6 Elon College, NC; 10 Wabash, IND; 16 Rock Island, IL; 18 Houghton, IL; 19 Green Bay, WI; 20 Rockford, IL; 26 Indianapolis, IN; 27 Tiffin, OH; 28 Detroit, MI; 29 Pittsburgh, PA; 30 Washington, PA; 31 Lancaster, PA.

April:
1 Carlisle, PA; 2 Winchester, VA; 4 Williamsport, PA; 5 South Orange, NJ; 8 Merrick, NY.
Slovak Festival
24 March 2000
Severance Hall
Cleveland, Ohio
Phone: (216) 231-1111
This is to be the first concert devoted entirely to Slovak classical music ever in a major American concert hall. The Ohio Chamber Orchestra, under the direction of Ohio Chamber Orchestra General Director Leo Najar, chose to play Slovak compositions simply because it had never been done before. And the location could not have been any more perfect, as Cleveland has the largest Slovak community in the world - outside of Slovakia, that is. Also, Bratislava and Cleveland are sister cites.
The concert will feature guest artistic advisor and soloist Peter Michalica of Slovakia, who will perform Musica Slovaca by Ilje Zalenjka and the Meditation by Ivan Godár.
Main floor seats are USD 20 with a limited number of box seats still available for USD 40. Student and group discounts are available. Tickets can be purchased at the Severance Hall box office or by calling (216) 231-1111.
For more information about the artists and the Ohio Chamber Orchestra, visit www.avisio.net
Art
Projekt Praha 2000
22 February to 30 August
Czech Embassy
3900 Spring of Freedom Street, NW
Washington, DC 20008
Phone: (202) 274-9100
Projekt Praha 2000, a unique exhibit by Washington-based photographer Chad Wyatt, presents portraits of remarkable personalities in the Czech Republic's art scene over the last decade. While many remarkable works of art have left their marks on history, we often have little information on the artists who created them. Wyatt's photographs map an entire generation active on the contemporary Czech art scene, creating a first-of-its-kind historical marker. The exhibit opening is at 7:30 pm at the Czech Embassy and features Karel Růžička on saxophone. It will be open through August, weekdays 9 am to 5 pm and during events.

---
---
Music
Latvian Opera star in Balitmore
Beginning 29 April
Inese Galante, an Opera star from Latvia, will be starring in Puccini's La Boheme at the Baltimore Opera on 29 and 30 April; 3, 4, 5 and 7 May 2000 (tickets can be ordered through the Baltimore Opera Box Office at 410-727-6000.)
For more information, e-mail Liana at the Embassy of Latvia.

---
---
Art
Arthur Szyk Exhibit of World War II Era Prints and Drawing
9 December 1999 to 6 May 2000
The Library of Congress
Swann Gallery of the Thomas Jefferson Building
101 Independence Ave, SE
Washington, DC 20540
Phone: (202) 707-8696
The Library of Congress is celebrating the recent acquisition of several important original works by Polish American artist and illustrator Arthur Szyk (1894-1951) with an exhibition in the Swann Gallery entitled "Arthur Szyk: Artist for Freedom." Szyk, who was born in Lodz, Poland, achieved international prominence during World War II when he produced hundreds of anti-Axis illustrations and cartoons in support of the Allied war effort. Three of his most important original works of graphic Americana - The Declaration of Independence, Four Freedoms Prayer and Bill of Rights - are featured in the exhibition. The exhibit is open free of charge from 10:00 am to 5:00 pm, Monday through Saturday.
More information on this exhibition is available through the Library of Congress website, by e-mailing: swann@loc.gov, or by calling Sara Duke, Curatorial Project Assistant, at (202) 707-9115 or Curator Harry Katz at (202) 707-8696.

---
---
For information on Romanian events in the US, look up the calendar of events at the Romanian Embassy's website.

---
---
Folk Art
Exhibits at the Ukrainian Museum
The Ukrainian Museum
203 Second Avenue (between 12th and 13th Sts.)
New York, NY 10003
Phone: (212) 228-0110
If you're in the New York area, be sure to visit the Permanent Exhibition at the Ukrainian Museum. The newest addition is the Children's Exhibition. On display are traditional children's folk costumes - shirts, sheepskin jackets, footwear and headdresses - in various regional styles. The exhibition also features toys, among them clay whistles in the shape of rams from the Poltava Region and dolls in folk costumes from various regions of Ukraine.
An addition to the Permanent Folk Art exhibition is a collection of rushnyky (woven or embroidered ritual cloths) and wedding trees, which are made from actual tree branches, covered in dough and decorated with dough birds, ribbons and periwinkle.
The museum is open Wednesday through Sunday 1 pm to 5 pm.
For more information on exhibits and events at the Ukrainian Museum, contact them via e-mail or visit their website.
Art
Olensky-Petryshyn Art Exhibit
Opening 11 February
Ukrainian Institute of America
2 E 79th Street
New York, NY 10021;
Phone: (212) 288-8660
For more information on this exhibit e-mail the Ukrainian Institute or visit their website.
Music
John Stetch Performs Ukrainian Music
23 March 2000, 7 pm
Faust/Harrison Pianos
205 W 58th Street
NYC, NY
Canadian-Ukrainian jazz musician John Stetch will be performing a solo recital of Ukrainian music. He will be interpreting Ukrainian folk music for one half of the performance and jazz standards and original pieces for the other half. Suggested donation of USD 10.

---
If you would like to list your upcoming Central or East European cultural event here, please e-mail us at usa@ce-review.org
Compiled by Karen M Laun