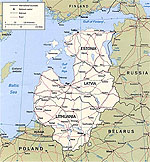 C E N T R A L E U R O P E A N N E W S:
News Review for Latvia
All the important news from Latvia
since 4 March 2000

Mel Huang
---
Political and foreign affairs
MP Jānis Ādamsons was named by a Zemgale District Court as a KGB operative. Ādamsons denied involvement with the KGB, despite his long tenure in the Soviet Border Guards. He could lose his Saeima mandate due to lustration policies. Ādamsons is also the head of several ad hoc investigative committees, such as the one investigating paedophilia.
Foreign Minister Indulis Bērziņš made a nine-day visit to the United States. Bērziņš spoke at several think tanks and organisations and held meetings with officials, such as Deputy Secretary of State Strobe Talbott.
The Saeima banned beauty pageants involving minors under the age of 18. This comes in the wake of the paedophilia scandal, but opponents are angry that the Saeima is not dealing with the problem and this could ruin the careers for many models.
The European Union decided to begin negotiations with Latvia in eight chapters. Latvian officials voiced their happiness about the decision, calling it a sign of the nation's achievements.
Australian citizen Kārlis Ozols was charged in Latvia with genocide and war crimes. The Prosecutor-general's office officially opened a case against the suspected war criminal, who is accused of playing a role in a massacre in the Riga Ghetto.
Mikhail Farbtukh lost a procedural challenge at the Supreme Court. Farbtukh, convicted of genocide for the deportatiing Latvians during Soviet occupation, will probably face prison in the very near future.
Zigfrīds Šepteris was nominated as the new prosecutor-general. The current Supreme Court justice was nominated to replace the besieged Jānis Skrastiņš, who resigned over pressures by the Saeima.
The Latvian Embassy in Moscow was vandalised and damaged by a group of youths, who are believed to be part of an ultra-radical group. Latvia has submitted a note to Russian authorities concerning the repeated attacks.
Latvia received three T-55 tanks from the Czech Republic.
---
Economic and business
The government decided to keep Jānis Naglis as head of the Latvian Privatisation Agency (LPA). The majority vote keeps Naglis in until 1 January 2001, when the LPA will be abolished. Earlier in the week, the government rejected Edgars Jansons, who was nominated by Economics Minister Vladimirs Makarovs.
February showed an inflation of 0.5 per cent, the highest in the region.
---
Social and local issues
A shocking 36 new HIV cases were registered in Latvia in February.
An SKDS poll shows an increase in Euroscepticism in Latvia. Supporters of EU membership made up 43.5 per cent, but that is down by 6.2 per cent from November. Those against membership accounted for 37.7 per cent, up by nine per cent from November.
---
And in other news...
The pop group Pet Shop Boys will play a concert in Riga on 7 June, as part of their Baltic and regional tour.
---
Exchange rates
As of 10 March 2000
| | |
| --- | --- |
| currency | Latvian lats(LVL) |
| 1 US dollar | 0.59 |
| 1 British pound | 0.94 |
| 1 German mark | 0.29 |
| 1 euro | 0.57 |
[For continuous updates see the Bank of Latvia Exchange Rates page].
---
Prepared by Mel Huang, 10 March 2000
Archive of Mel Huang's Amber Coast articles
---
News Sources
Baltic News Service (BNS)
The Baltic Times
Radio Free Europe/Radio Liberty
Reuters news on Yahoo