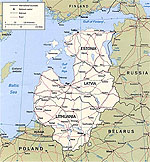 C E N T R A L E U R O P E A N N E W S:
News Review for Lithuania
All the important news from Lithuania
since 4 March 2000

Mel Huang
---
Politics and foreign affairs
The US Congress, led by Speaker of the House Dennis Hastert, honoured Lithuania and Seimas Chairman Vytautas Landsbergis on the tenth anniversary of the restoration of independence. Landsbergis also discussed NATO integration with other officials in Washington.
President Valdas Adamkus signed a law allowing trials in absentia for war criminals. Now, those too ill to attend court sessions will be allowed to observe the court sessions via closed-circuit television. This would jumpstart the prosecution of scores of war criminals, including accused Nazi war criminal Aleksandras Lileikis.
Adamkus also vetoed the law on higher education, which the President said violated the autonomy of universities guaranteed by the constitution.
Furthermore, the President vetoed amendments to the law on state secrets.
And finally, President Adamkus suspended the awarding of state honours, after the recent outrage over awards to two KGB-linked individuals during Independence Day in mid February. The last award before the moratorium is believed to be the one awarded to long-time American activist for Lithuania, Asta Banionis, who received her award from the visiting Vytautas Landsbergis.
A new report shows that only about 20 per cent of Lithuanian men from 19-25 are qualified to serve in the military. Of the total 97,000, some 30,000 fail health requirements and 4000 have criminal records. About 6000 young men are conscripted annually in Lithuania.
Former President Algirdas Brazauskas is hinting at a political comeback, saying he is anguished over the current political situation.
The head of the Farmers Union, Ramūnas Karbauskis, said his coalition with the Christian Democratic Union should win 12 per cent of the vote in the local elections. The radical Karbauskis has led several "Lepper" incidents, organising blocades of roads by farmers.
The commission dealing with clemency and pardons decided not to review the case of jailed and convicted MP Audrius Butkevičius.
Finnish Trade Minister Kimmo Sasi visited Lithuania to promote the increasing trade ties between the countries.
Denmark plans to triple military aid to Lithuania in 2000, going up to about USD 2.9 million from about USD 1.1 million in earlier years.
President Adamkus led a pilgrimage to the Vatican. Adamkus also met with Pope John Paul II.
The European Commission decided to begin negotiations on 8 chapters with Lithuania.
---
Economic and business
There was no change in the CPI in February.
Oil giant Mažeikių Nafta (Mažeikiai Oil) posted a 1999 loss of LTL (Lithuanian litas) 130.86 million. The company, controlled by US-based Williams International, faced problems of crude supplies throughout 1999, resulting in a turnover drop of LTL 500 million to a total of LTL 2.3 billion.
The IMF approved the year's standby agreement with Lithuania, which was initialled by Lithuanian leaders several weeks ago.
Norwegian company J.O. Odfjell pulled out of the privatisation of Geonafta, the oil exploration company. This came as a surprise, as the company said audit results showed a risk too great to take.
---
Social and local issues
Lithuania's unemployment rate shot up to 11.2 per cent, a rise of 0.4 per cent from the end of January. Regionally, the highest rates were in Akmenė (21.1%), Šalčininkai (20.6%) and Lazdijai (19.9%).
A group of Mormons from Visaginas has landed in Sweden, asking for political asylum. They were refused entry into Germany and were stranded in Poland. The group, led by Timuraz Eljibei, is made up mostly of non-ethnic Lithuanians - but most are Lithuanian citizens.
---
And in other news...
Lithuania dropped off the top of the list of those most dependent on atomic power in 1999, with 73.1 per cent of power coming from the Ignalina Nuclear Power Plant. Much of this is attributed to both lack of demand and regulatory problems, which forced a temporary shutdown. France is on top, with 75 per cent.
The pop group Pet Shop Boys will play a concert in Vilnius on 8 June, as part of their Baltic and regional tour.
---
Exchange rates
As of 10 March 2000
currency
Lithuanian
litas (LTL)
1 US dollar
4.00
1 British pound
6.33
1 German mark
1.98
1 euro
3.87
---
Mel Huang, 10 March 2000
Archive of Mel Huang's Amber Coast articles
---
News Sources
Baltic News Service (BNS)
The Baltic Times
Radio Free Europe/Radio Liberty
Reuters news on Yahoo
ELTA
Lietuvos Rytas
Lietuvos Aidas
Kauno Diena