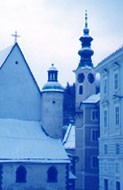 C E N T R A L E U R O P E A N N E W S:
News Review for Slovakia
News highlights and analysis from Slovakia
since 6 March 2000
---
Robin Sheeran
Slovakia will begin accession talks with the European Union on eight subject areas, or chapters, the European Commission announced. Countries hoping to join the EU must conclude negotiations on a total of thirty chapters. The Government has been anxious to open negotiations on as many chapters as possible in an attempt to catch up with fellow Visegrad Four members, the Czech Republic, Hungary and Poland. The TASR newsagency quoted a spokesman for premier Mikuláš Dzurinda, saying that Slovakia was prepared to open 15 chapters this year, and those remaining next year.
The town council of Žilina has reversed its controversial decision to erect a plaque in memory of Jozef Tiso, the leader of the independent Slovak State during the Second World War [see CER's Slovakia news reviews in CER8 and CER9]. The planned memorial had provoked a storm of criticism, both in Slovakia and internationally. The council said its decision followed an appeal from nuns living in the convent where the plaque was to have been erected. Earlier in the week, Premier Mikuláš Dzurinda made a statement to journalists condemning the council's decision to install the plaque, and denouncing the Tiso regime's policies of racial and religious persecution.
The British Foreign Secretary, Robin Cook, visited Bratislava on Monday. Cook confirmed Britain's support for Slovakia's membership of the EU and NATO. "Our mutual aim and goal is to bring Slovakia into the family of democratic nations of the EU," he commented. On the subject of the visa requirement for Slovaks visiting Britain the news was less promising, with Cook hinting that it would be at least the end of the year before any change is made.
Premier Mikuláš Dzurinda is to open up membership of his newly-established political party, the Slovak Democratic and Christian Union (SDKU) to the general public. Applications for membership will be accepted from April 3rd. Dzurinda has adopted the risky strategy of setting-up the new party in the face of squabbling in the ranks of the Government coalition, poor opinion polls, and a threatened referendum on early elections.
Slovak Railways (ŽSR) are facing the possibility of a national rail strike. The unions are demanding a ten per cent pay increase for ŽSR's 48,000 employees and are balloting for strike action. One anonymous train driver told the SME newspaper that stories of railway workers earning big wages were untrue. "If I want better pay I have to work 15 hours overtime, Saturdays, Sundays, holidays," he said. Last year ŽSR made losses of Sk 5.2bn.
The Finance Minister, Brigita Schmögnerova, who spearheads the Government's controversial economic reforms, is to have a new beer named after her. A spokesman for the Topvar Brewery, well-known for it's poster campaigns featuring frisky young women, commented that since they already sold beers called Marina and Fatima, why shouldn't they add Brigita to the list.
Robin Sheeran, 3 March 2000
Useful links for Slovak news:
http://www.slovakspectator.sk/