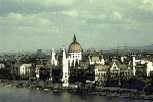 C E N T R A L E U R O P E A N N E W S:
News Round-up for Hungary
News from Hungary since 28
February 2000
---
Paul Nemes
Prime Minister Viktor Orbán has announced that a government survey to assess the damage of the cyanide poisoning is expected to be complete by the summer. He stressed that it is very important to give assistance to families who rely on fishing and tourism as a source of income. The Prime Minister pledged to make government funds available in order to remedy the situation. If necessary, funds will come from the central budget's reserve.
UN experts arrived in Hungary last week to study the effects of the cyanide in the Tisza and Szamos rivers. The specialists, who had already made an inquiry in Baia Mare (Nagybánya) before arriving in Hungary, collected information in Szabolcs-Szatmár-Bereg County. László Fazekas, Head of the Upper Tisza water Directorate, said on Thursday that no more dead fish had been found between Vásárosnamény and Tokaj. However, the alert would still remain in force, as over three tonnes of dead fish had been collected over the last week.
On Thursday, the Hungarian Student Association in Leuven organised a demonstration in Brussels against the environmental disaster in Central Europe and handed over a petition to the Australian Embassy's First Secretary. The protest was organised in cooperation with Friends of the Earth International and the World Wide Fund. One of the organisers, Péter Losonczi, described the demonstration as having been very successful. (See the article and interview with Péter Losonczi in this week's CER)
Until now, tourism seems not to have been too badly affected, although hotels in eastern Hungary have received cancellations. In Budapest, things appear to be normal, although it is feared that tourists will identify the Tisza and Szamos disaster with the whole country. The Managing Director of the Marriott Hotel in Budapest, Mária Kocsis, said, "We have not lost any groups due to the spill. During the Kosovo crisis, Americans called us and asked whether we would see falling bombs from the windows [...] On the other hand, one or two conferences have been relocated here from Vienna because of the political situation there."
The parliamentary environment committees of Hungary and Slovakia met on 1 March to hold talks on cooperating, in order to make the implementation of inter-state treaties more efficient. Smallholder MP Béla Túri-Kovács said that Slovakia intends to expand nature conservation areas near the Ipoly River and Banská Bystrica (Besztercebánya). The two sides agreed to make each other's waste management bills accessible in an attempt to create an environmental management system that adheres to EU norms. Specialists on environmental issues from Romania, Slovenia and Yugoslavia also attended the conference in Gyöngyös, Heves County. Hungary's parliamentary committee chairman, Zoltán Illés, pointed out that the environment is something that concerns all peoples in the Carpathian Basin.
Parliament has approved a board of trustees for Hungarian TV that does not include even one opposition politician, despite the fact that the Media Law says that four members of the opposition should be on the board. The Hungarian Life and Justice Party (MIÉP) last year prevented an agreement from being reached by demanding that two MIÉP members should represent the opposition. Speaker of Parliament János Áder said that it is "regrettable that the opposition parties could not agree on fielding joint candidates," but said he had to call the vote even with the absence of opposition candidates. Before the vote on Tuesday, the Socialist (MSZP) and Free Democrat (SZDSZ) MPs walked out in protest, saying that MPs had been called only to vote for government nominees. Both parties claim that the MIÉP cooperated with the government by blocking an agreement by the opposition parties. Prosecutor General Kálmán Györgyi resigned on Thursday, after Áder had chosen not to consider his views regarding the board of trustees. A government politician said that Györgyi should have issued a statement on his resignation by 1 March, and that by linking the resignation to the media scandal opposition, politicians are trying to turn Györgyi into a martyr.
The National Radio and Television Board have granted Budapest City Council member Loránt Schuster of the MIÉP a regional radio frequency. Bálint Magyar, Chairman of the SZDSZ, was critical of the decision, saying that it is regrettable that an MIÉP politician can launch a radio station, while this has not been possible for the BBC, Deutsche Welle and the French RFI. The reason for this was, according to the Radio and Television Board, because the tender had been misunderstood by the group's legal advisors.
Viktor Orbán has maintained that Hungary will continue to judge the Austrian government on its actions, and said that Jörg Haider's stepping down as chairman of the Freedom Party should not be overestimated. Foreign Ministry spokesman Gábor Horváth also made this point, saying that Hungary still is concerned about statements made by Austrian politicians. Horváth added that although the Freedom Party's stance on enlargement is a source of concern, it is its lack of respect for European values and norms that is most worrying.
Slovak police now have a suspect, Jan Rohac, whom they believe is behind several bomb attacks in Hungary. Imre Angyal, Deputy Head of the Slovak Police Force, said that Hungarian and Slovak police have been cooperating in an effort to find those responsible for, among other things, a bombing that killed four in Budapest in July 1998 and an incident in Dunajská Streda (Dunaszerdahely) in which ten people died in 1999. Both incidents have been linked to organised crime, or the "Mečiar Commando," in Slovakia. It is thought that the investigations and the exposure of connections to organised crime will come up with some answers regarding attacks on the party headquarters and politicians of FIDESZ - Hungarian Civic Party and the Smallholders (FKGP).
Last Wednesday, the National Patent Office liberalised the registration of Internet domain names. This change, which will mean that a homepage ending with ".hu" can register under any domain name, is intended to increase trade on the Internet. Meanwhile, the news agency MTI reports that there is a shortage of Information Technology experts in the country. It is estimated that up to 30 per cent more IT experts are needed. Companies in Hungary are already attracting programmers and experts in the field of IT from Transylvania, other Central European regions and India.
Otto Habsburg, President of the Pan-European Union, has again called on the European Union to do everything in their power to ensure that Hungary joins as soon as possible. Speaking in Debrecen, Otto Habsburg said that the EU needed to be reminded of their initial pledge: that the enlargement process would begin on 1 January 2000. He also said that Hungary should be firm in its bid to join by then.
Finance Minister György Matolcsy said on 2 March that the economic strategy has to change if small- and medium-sized companies are to develop at a quicker rate. At the 11th assembly of the Hungarian Innovation Society, Matolcsy said that while foreign capital has flowed into Hungary since the fall of Communism, small- and medium-sized companies need a programme that helps them to access domestic and international markets in order to reap the benefits. Matolcsy suggested that banks should receive incentive to encourage financing of small businesses, and also that reductions of credit interest rates should follow the inflation rate.
After a British government initiative, Foreign Minister János Martonyi met with Robin Cook, the British Foreign Secretary, and his Czech and Polish counterparts. Martonyi, Bronisław Geremek and Jan Kavan met Cook to discuss the European Security and Defence Policy and the decisions taken, or rather those not taken, in Helsinki in December. Martonyi said that the Helsinki summit did not make any make a decision on how to include those NATO countries that are not yet EU members in forming a common security and defence policy, and that this was the reason why the UK wanted discussions between the three countries. The Foreign Minister said the talks had been useful and had reportedly pointed out the importance of enlargement in terms of the longer-term unification of Europe to Cook. Martonyi announced that Robin Cook would visit Hungary during the summer, while arrangements are also being made for Prime Minister Tony Blair to visit Hungary.
Defence Minister János Szabó has announced a reduction of 20,000 employees in the Armed Forces (MH). This will mean that the MH will be cut by almost one third. The move is intended to modernise the Armed Forces, while at the same time taking on more professional staff instead of a larger number of conscripts. The Government accepted the proposal last year and is expected to make a final decision this month. Soviet MIG-21s will also be withdrawn from service, but the MIG-29s will still remain.
In Orbán's footsteps, Hungary's Ambassador to NATO, András Simonyi, visited Ukraine three days after the Prime Minister. Simonyi was part of a NATO delegation, led by the Secretary-General. He said that Hungary's experiences gained during the country's democratic transformation and preparations to join NATO were bound to be useful for Ukraine. He noted that Ukraine is a "significant political factor" in the region, and promised that Hungary would assist in the modernisation of the country.
A donation of books to Hungarians in Subcarpathia, organised by the World Federation of Hungarians (WFH), has been approved by the National Cultural Fund. According to the Fund's chairman, Marcell Jankovics, Subcarpathia was chosen as the area most in need, and he said he hoped that cooperation with the WFH would lead to book donations to other Hungarian communities. Ildikó Orosz, Chairwoman of the Association of Hungarian teachers in Subcarpathia said that there is a great need for books in the region, as many are forced to sell their books in order to get by.
In an opinion poll carried out by Szonda Ipsos, the Socialist Party (MSZP) maintains a six per cent lead over FIDESZ. According to the poll, published in Népszabadság, 26 per cent would vote for the Socialists, 20 per cent for FIDESZ, six per cent for the Smallholders, while the MIÉP would receive two per cent of votes. In another poll, published by Magyar Hírlap, voters were more evenly divided between the Socialist Party and FIDESZ. According to this February poll, the Socialists would receive 23 per cent of votes if elections were held now, while FIDESZ would get 22 per cent.
Paul Nemes, 3 March 2000
Sources: