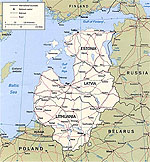 C E N T R A L E U R O P E A N N E W S:
News Review for Lithuania
All the important news from Lithuania
since 26 Feburary 2000

Mel Huang
---
Politics and foreign affairs
Danish Prime Minister Poul Nyrup Rasmussen made a trip to Lithuania, re-affirming Denmark's support for Lithuania's EU integration. Rasmussen added that Denmark will offer DEK (Danish krons) 100 million for the shutdown of Ignalina Nuclear Power Plant.
Israel hinted that Lithuania was guilty of discrimination with its investigation of Nachman Dushansky, who is accused of crimes against humanity. The Israeli Embassy said that many other higher-ranking KGB officers remain in Lithuania, but they have not been prosecuted. They accuse Lithuania of singling out Dushansky, due to his ethnicity. Dushansky is an Israeli citizen.
Seimas Chairman Vytautas Landsbergis visited Poland to discuss bilateral ties with President Aleksander Kwaśniewski, Prime Minister Jerzy Buzek, Sejm Marshal Maciej Płażyński, Foreign Minister Bronisław Geremek and other officials.
Lithuania has temporarily banned the import of beef from Denmark after suspected outbreaks of rabies and BSE.
---
Economic and business
The state debt continues to soar and hit LTL (Lithuanian litas) 12.27 billion at the end of February. This figure forms 27.6 per cent of the country's GDP expected for 2000.
The Finance Ministry transferred USD 21.5 million in the third part of the USD 146.5 million loan package to the Mažeikių Nafta (Mažeikiai Oil). The loans were part of the agreement between the government and the US-based Williams International over Mažeikių Nafta.
The Central Bank announced that Lithuania received USD 54.5 million in foreign direct investments in 1999, up from USD 51.7 million in 1998.
---
Social and local issues
Of the 56 local governments, 27 have yet to pass their 2000 budgets.
Police said they uncovered a terrorist group in Varėna, after apprehending individuals armed with guns and explosives, as well as military uniforms and hit lists.
The trial of a notorious murder gang began in Vilnius. The 21 defendants are accused of an assortment of crimes, from more than a dozen murders to other offences.
A Defence Technology Institute has been formed at Kaunas Technical University.
---
And in other news...
Lithuanian lawmakers make an average of LTL 3240, this places them between the highest (Estonian) and lowest (Lithuanian) wage brackets.
The Russian consulate in Klaipėda dealt with a false bomb threat.
---
Exchange rates
As of 3 March 2000
currency
Lithuanian
litas (LTL)
1 US dollar
4.00
1 British pound
6.31
1 German mark
1.97
1 euro
3.85
---
Mel Huang, 3 March 2000
Archive of Mel Huang's Amber Coast articles
---
News Sources
Baltic News Service (BNS)
The Baltic Times
Radio Free Europe/Radio Liberty
Reuters news on Yahoo
ELTA
Lietuvos Rytas
Lietuvos Aidas
Kauno Diena