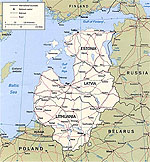 C E N T R A L E U R O P E A N N E W S:
News Review for Latvia
All the important news from Latvia
since 26 February 2000

Mel Huang
---
Political and foreign affairs
President Vaira Vīķe-Freiberga visited Hamburg for the "Matteusmahlzeit" to promote Latvia among businessmen and financial leaders in the German city.
Slovenian President Milan Kućan made a three-day visit to Latvia to promote bilateral ties and to discuss EU and NATO integration. Slovenia thanked Latvia for its support, noting that Latvia was the third country to recognise Slovenia's independence.
Defence Minister Ģirts Valdis Kristovskis travelled to France to discuss defence co-operation with his counterpart, Alain Richard, and other officials.
The US State Department's Report on Human Rights was generally positive about Latvia but cited various problems, such as the administration of justice, prisons, treatment of women and others.
A Saeima committee defeated proposed legislation to publish KGB files. Opponents say it is biased and insufficient.
The OSCE mission in Latvia stated that it has no mandate to examine Russia's complaint about the war crimes case against Vasili Kononov. Russia has harshly condemned the conviction of Kononov, calling it "unfair."
The ad hoc commission in the Saeima investigating the paedophilia scandal [See Amber Coast from 21 February for more details] has turned over its evidence to the Constitutional Protection Office.
The genocide trial of Yevgeni Savenko began in the Kurzeme District Court. Savenko is accused of being a KGB operative during the Soviet occupation, being involved in over 60 repressions. Savenko plead not guilty, saying he was only following orders.
Zemgale District Court began a hearing investigating the alleged KGB links of MP Jānis Ādamsons. Ādamsons, who is also the chairman of various ad hoc committees in the Saeima, could lose his mandate if the link is established. Ādamsons apparently has a document from the Russian FSB (successor of the KGB) certifying that he was never a KGB agent.
Latvia banned Danish beef due to an outbreak of BSE.
---
Economic and business
The privatisation attempt of Latvijas Nafta (Latvian Oil) failed, as no bids came in before the 22 February deadline. Officials are now working on a new plan.
The government ruled to wind up the activities of the Latvian Privatisation Agency on 1 January 2001. This makes the appointment of a new director somewhat more difficult, as the contract of current director Jānis Naglis expires in March.
---
Social and local issues
Two Daugavpils residents, Dmitri Korsakov and Edvart Kizla, have been charged in the November 1999 desecration of a memorial of the Jewish Ghetto. If convicted, they could be sentenced to up to eight years in prison.
At 21.2 per cent, the People's Party held the highest popularity in a recent poll (going up by 2.7 per cent), but For Fatherland and Freedom gained the most points, 3.7 per cent, bringing them to 14.4 per cent and third place. The Social Democrats dropped by 1.3 per cent to 14.7 per cent. Latvia's Way continues their drop, falling to 8.5 per cent (down 0.5 per cent).
---
And in other news...
Notorious criminal Jānis "Klops" Kaļva died suddenly of heart disease. Klops is best known for recently going AWOL from the low-security Vecumnieki prison when he was released to go to a cafe...
Latvian lawmakers make an average of LVL 370 a month, the lowest among legislators in the Baltic states.
---
Exchange rates
As of 3 March 2000
| | |
| --- | --- |
| currency | Latvian lats(LVL) |
| 1 US dollar | 0.60 |
| 1 British pound | 0.94 |
| 1 German mark | 0.29 |
| 1 euro | 0.57 |
[For continuous updates see the Bank of Latvia Exchange Rates page].
---
Prepared by Mel Huang, 3 March 2000
Archive of Mel Huang's Amber Coast articles
---
News Sources
Baltic News Service (BNS)
The Baltic Times
Radio Free Europe/Radio Liberty
Reuters news on Yahoo