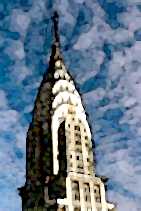 E V E N T S:
Coming up in the US
---
Karen M Laun
As the winter weather hits the US in full force, a host of indoor events await devotees of Central and East European culture. This includes Baltic, Czech and Ukrainian art exhibits, an Estonian classical music concert and other fascinating events.
In this week's Coming Up section we have:
Click on the appropiate heading or just scroll down to browse.
---
---
Traveling Baltic Art Exhibition
Beginning 25 January
The US-Baltic Foundation
733 15th Street, Suite 1026
Washington, DC 20005
Phone: (202) 393-3338
Fax: (202) 393-3388
E-mail
An unprecedented exhibition of contemporary paintings and sculpture from the three Baltic nations will be touring five major US cities beginning in January. Starting in New York and Washington before continuing to Chicago, Houston and Dallas, The US-Baltic Foundation will present 67 works of art representing 43 contemporary painters and sculptors from Estonia, Latvia and Lithuania.
The Baltic Art Exhibition will hold its world premiere with a gala benefit at New York's National Arts Club (15 Gramercy Park South) on 25 January, where it will be on display until 12 February. From New York, the exhibition will travel to Washington, DC, where the exhibition will be hosted in the IMF's gallery (700 19th Street, NW) March 9 through April 8. The exhibit was organized by Hamid Ladjevardi, a New York-based fund manager specializing in Baltic investments. Barbara Crane, an artist and curator of the Baltic Art Exhibition, chose a broad spectrum of paintings and sculptures, encompassing styles from representational to neo-expressionist to abstract. Be sure to visit this extraordinary exhibit when it comes to a city near you!
More information about this exhibit can be found on the website of the Latvian Embassy.

---
---
Art
Projekt Praha 2000
22 February to 30 August
Czech Embassy
3900 Spring of Freedom Street, NW
Washington, DC 20008
Phone: (202) 274-9100
Projekt Praha 2000, a unique exhibit by Washington-based photographer Chad Wyatt, presents portraits of remarkable personalities in the Czech Republic's art scene over the last decade. While many remarkable works of art have left their marks on history, we often have little information on the artists who created them. Wyatt's photographs map an entire generation active on the contemporary Czech art scene, creating a first-of-its-kind historical marker. The exhibit opening is at 7:30 pm at the Czech Embassy and features Karel Ruzicka on saxophone. It will be open through August, weekdays 9 am to 5 pm and during events.
Film
Jiří Menzel Film Retrospective
September 1999 to February 2000
Toronto
Phone: (505) 473-6494
The Czech Center New York has been presenting a traveling retrospective of Czech New Wave director Jiří Menzel's greatest films to audiences across the country since September 1999. So far, the Jiří Menzel Film Retrospective has made stops in Montreal, Cleveland, New York, Chicago, San Francisco, Los Angeles, Portland and Santa Fe. Featuring Menzel's best films over the last thirty years, the retrospective gives film lovers a rare glimpse of the body of work of one of Europe's foremost filmmakers. In February, film-goers can catch such films as the famous Closely Watched Trains, My Sweet Little Village and Larks on a String, which was banned by the Communist authorities for 21 years.
For theater location and film schedule see below:
Toronto Cinematheque Ontario
Jackman Hall, Art Gallery of Ontario,
317 Dundas St West, Toronto
Advance ticket sales for members only at (416) 968-FILM
Admission: members USD 4.80, non-members USD 8
Friday, 18 February
Capricious Summer
Saturday, 19 February
Closely Watched Trains
Tuesday, 22 February
Larks on a String
Wednesday, 23 February
Cutting It Short
Thursday, 24 February
Festival of the Snowdrops
Friday, 25 February
My Sweet Little Village
Saturday, 26 February
The Life and Extraordinary Adventures of Private Ivan Chonkin
For more information on Jiří Menzel and the film retrospective, visit the Czech Center's website.
Postponed:
Bohumil Hrabal Evening
17 February, 7:30 pm (postponed from January due to weather conditions)
Czech Embassy
3900 Spring of Freedom Street, NW
Washington, DC 20008
Phone: (202) 274-9100, x3413 (free, call for reservations)
In conjunction with the Jiří Menzel Film Retrospective, the Czech Embassy is sponsoring several special events about the director's favorite author, Bohumil Hrabal. Among the most important and popular Czech writers of the 20th century, Bohumil Hrabal has had nearly three million copies of his works printed in his native land and has also been translated into 27 foreign languages. More of Hrabal's novels and stories have been adapted for the screen than any other Czech authors, perhaps the most internationally renowned of them being Jiří Menzel's version of Closely Watched Trains, which received the 1967 Academy Award for Best Foreign Language Film.
This evening, which celebrates the 85th anniversary of Hrabal's birth, features readings from the author's most well-known texts by members of Scena Theatre, as well as the opening of an exhibit devoted to his life and work. The evening is organized in collaboration with Politics and Prose Bookstore, which will offer Hrabal's books in English translation at the event.
Bohumil Hrabal Exhibit
25 January to 17 February
Czech Embassy
3900 Spring of Freedom Street, NW
Washington, DC 20008
Phone: (202) 274-9100
Following the special evening of readings from Bohumil Hrabal's work, a new exhibit "Too Loud a Solitude" will be on display at the Czech Embassy. This exhibit examines the life and work of this unusual Czech writer, from his birth on 28 March, 1914, through his sudden death on 3 February 1997. Open weekdays: 9 am to 5 pm.
Historical Exhibit
Czech Settlers in America Exhibit
3 December to 4 February
Balch Institute for Ethnic Studies
18 S. 7th Street
Philadelphia, PA
Phone: (215) 925-8090
Don't miss your last chance to see the Balch Institute's exhibit on early Czech immigrant life in the American midwest before it closes on 4 February. This exhibit highlights the years from 1848 to 1920, capturing the immigrant past with historic photos and artifacts, including needlework, folk dress and other personal possessions. Admission is 3 USD for adults, 1.50 USD for students, seniors and children. The exhibition is open Monday through Saturday from 10 am to 4 pm. There is free admission on Saturday from 10 am to 12 noon.
Visit the website Balch Institute website for more information on exhibits and activities.
...And More Czech and Slovak Culture in the US
For more information on Czech and Slovak events in the US, look here and click on "Czech-Slovak." Also, check out the calendar of events at the Czech Embassy.

---
---
Music
Erkki-Sven Tüür Concert
8 February
St Ignatius Loyala Church
980 Park Avenue
New York, NY
Phone: (212) 288-3588
Estonian musician Erkki-Sven Tüür will be presenting his "Crystallisatio" in a concert in New York City. Born on the rural island of Hiiumaa, Tüür has achieved world recognition for his intriguing and dynamic classical and chamber music. This concert is definitely worth checking out if you're in the Tri-State area.
Click here to read Mel Huang's article on Tüür.

---
---
Art
Arthur Szyk Exhibit of World War II Era Prints and Drawing
9 December 1999 to 6 May 2000
The Library of Congress
Swann Gallery of the Thomas Jefferson Building
101 Independence Ave, SE
Washington, DC 20540
Phone: (202) 707-8696
The Library of Congress is celebrating the recent acquisition of several important original works by Polish American artist and illustrator Arthur Szyk (1894-1951) with an exhibition in the Swann Gallery entitled "Arthur Szyk: Artist for Freedom." Szyk, who was born in Lodz, Poland, achieved international prominence during World War II when he produced hundreds of anti-Axis illustrations and cartoons in support of the Allied war effort. Three of his most important original works of graphic Americana - The Declaration of Independence, Four Freedoms Prayer and Bill of Rights - are featured in the exhibition. The exhibit is open free of charge from 10:00 am to 5:00 pm, Monday through Saturday.
More information on this exhibition is available through the Library of Congress website, by e-mailing: swann@loc.gov, or by calling Sara Duke, Curatorial Project Assistant, at (202) 707-9115 or Curator Harry Katz at (202) 707-8696.

---
---
Art
Olensky-Petryshyn Art Exhibit
Opening 11 February
Ukrainian Institute of America
2 E 79th Street
New York, NY 10021;
Phone: (212) 288-8660
For more information on this exhibit e-mail the Ukrainian Institute or visit their website.
Theatre
Gogol/Hohol Festival
4-6 February
Ukrainian Institute of America
2 East 79th Street
New York NY 10021
Phone: (212) 288-8660 or (212) 475-6474
The Yara Arts Group and the Ukrainian Institute are presenting a three day festival of new works inspired by the work of Nicholas Gogol (Mykola Hohol). The renowned writer was born in 1809 near Myrhorod, Ukraine and died in 1852 in Moscow. He is best known for his stories "The Nose" and "Diary of a Madman", and novels Taras Bulba and Dead Souls. Events include an art exhibit, films inspired by Gogol's work and original plays inspired by his short stories.
Admission to the festival is 20 USD for Saturday, 15 USD for Friday and Sunday or 35 USD for a festival pass.
For more information on the events, send an e-mail to yara@prodigy.net or ukrinst@sprintmail.com. Or visit the website of the Ukrainian Institute.

---
---
For information on Romanian events in the US, look up the calendar of events at the Romanian Embassy's website.

---
---
Website
New Library of Congress Website:
"Meeting of Frontiers"
http://frontiers.loc.gov
This new website from the Library of Congress chronicles the parallel experiences of the United States and Russia in exploring, developing and settling their frontiers and the meeting of those frontiers in Alaska and the Pacific Northwest. The site is completely bilingual, in English and Russian, and is intended for use in US and Russian schools and libraries and by the general public in both countries.
"Meeting of Frontiers" includes more than 2500 items, including a wealth of often previously unpublished primary material, that tell the stories of the explorers, fur traders, missionaries, exiles, gold miners and adventurers who peopled both frontiers and their interactions with the native peoples of Siberia and the American West. Collections available in "Meeting of Frontiers" include the Frank G Carpenter Collection of photographs from Alaska in the 1910s; the John C Grabill Collection of photographs of 1880s frontier life in Colorado, South Dakota and Wyoming; the Yudin Collection of papers from the Russian-American Company (1786-1830); and selections from the Alaska Russian Church Archives.
This is the Library's first major digital project involving international material and extensive cooperation with foreign institutions. In coming years, the project will be expanded to include more materials from the Library's own collections, from the Elmer E Rasmuson Library at the University of Alaska Fairbanks and from other US institutions. It will also feature materials from partner institutions in Russia, including the Russian State Library in Moscow, the National Library of Russia in St Petersburg and the Institute of History of the Siberian Branch of the Russian Academy of Sciences in Novosibirsk.

---
If you would like to list your upcoming Central or East European cultural event here, please e-mail us at uscomingup@hotmail.com
Compiled by Karen M Laun