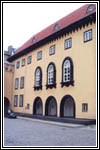 T H E A M B E R C O A S T
Dissing His Own Product
---
Mel Huang
Tallinn Mayor Jüri Mõis is raised a lot of eyebrows when he said in an interview that "Estonia is too weak a trade mark to be bound to 100 per cent or to devote oneself fully to it." Though many political watchers in Estonia expect the novice politician to make strange and provocative remarks, as he has done ever since entering politics, some of his recent statements have again astonished both his grudging supporters and vehement critics.
The ex-banker turned-politician was named the most "press friendly" politician in Estonia in 1999 - not for his demeanour but for his candour while speaking to the press. Very often, interviews with Mõis, with their headline-making statements, took centre stage – taking precedence above both the leader of his party, Prime Minister Mart Laar, and the platform of his party, Isamaaliit (Pro Patria Union). However, this has caused tension within the party and within the three-party coalition running the national government - not to mention the hydra-like coalition running the Tallinn city government.
Taking a chance
Many political observers were surprised when Jüri Mõis joined Isamaaliit before the March 1999 general elections. Isamaaliit is a centre-right party, with its main focus on social and national issues, following in the European Christian Democratic tradition. After the Swedish take-over of the large Estonian bank Hansapank, of which Mõis was a founder and top executive, many expected the liberal-minded banker to join Reformierakond (The Reform Party), a pro-business liberal party. It appeared to be a coup for then opposition leader Mart Laar to bring the well-known and well-respected banker into his party, as Mõis was a symbol of home-grown prosperity. That appeared to be very much the case when Mõis helped Pro Patria to victory at the general elections.
However, the novice politician failed to get the job he really wanted - Finance Minister. Instead, due partly to his own political naivete and intra-coalition disputes, Mõis landed the unenviable portfolio of Interior Minister. The less-than-coveted position at the Interior Ministry has seen the most ministerial changes in all of government, with several former ministers disgraced or stigmatised by scandal. The new Interior Minister also faced the daunting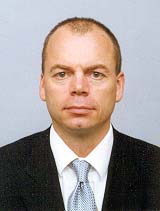 task of reforming and restructuring the most complex and cumbersome of all ministries, the jurisdiction of which ranges from border guards to the rescue service.
Mõis served as Interior Minister for about half a year. However, in that short time he did hit the headlines one too many times for some of his colleagues. His public statements about easing citizenship rules ran against the core of his party, which subsequently talked him down for a short time. However, while Interior Minister, Mõis is best remembered for pushing a plan to cut the police force by about one-seventh. Though the reasoning for the cuts was somewhat justified (too many prefectures, inability to raise wages, task duplication), the arbitrary appearance of the plan surprised and angered many. Some of the police cuts in regions were deemed too drastic, while others questioned why cuts were made in Tallinn, where crime is still rising. The relative calm within the three-party coalition fell apart when popular Tartu Mayor Andrus Ansip of Reform launched a vocal campaign against the plan.
Downshifting or upshifting?
Some opponents of Mõis in the government and national politics were happy to have persuaded him to be the Tallinn mayoral candidate for Pro Patria. Despite a hung election, successful manoeuvring and political compromise by the three-party national coalition managed to put a patchy and shaky majority coalition together. Though the mayoral election was challenged in court by the opposition, Jüri Mõis took over the chief executive job in the capital city soon after the October elections. However, the plan for police cuts, now pursued by new Interior Minister Tarmo Loodus, alienated Tartu Mayor Ansip so much that the coalition in Tartu almost failed to consolidate.
Mõis then caused more controversy when he rejected calls to give up his parliamentary mandate. By donating one of his wages to charity, Mõis questionably manoeuvred his way past the objections from the opposition and coalition alike. However, after several months of this dual-existence, in January Mõis finally gave up his Riigikogu seat - one that he apparently never occupied since his mayoral inauguration.
That was not the end of it, as Mõis caused a flurry of press attacks on him due to his skilful politicking to secure the majority in the Tallinn City Council. When he offered borough elder positions to members of the opposition, including that of a former borough elder he had earlier accused of corruption, the press called him a hypocrite. He immediately signed a controversial loan for Tallinn with his old company, Hansapank - a loan that before the local elections had been banned by the Finance Ministry.
Is Estonia worth it?
Tallinn Mayor Jüri Mõis again provoked controversy in his statement about the strength of the country's good name. In a controversial interview, Mõis added that he thought little of Estonian politics and looked at EU integration as the panacea for the small country. He even suggested that he would like to see a United States of Europe of sorts, as small European nations give him no reasons to be ambitious. Some wonder whether Mõis dropped the hint to the ruling coalition that he wants to be Estonia's first European Commissioner when the time comes.
The comments Mõis made about Estonia's "weak trademark" have been condemned by politicians, artists and NGO officials, with one prominent filmmaker calling it "the personal problem of Mõis." One member of the ruling coalition even snickered, saying that it may be true in some fields "like banking." However, as before, it appears Mõis is getting away with it despite a growing sense of resentment among his former champions.
It is shocking to hear the mayor of the capital, which accounts for most of Estonia's international image and activities, say such negative things about the country. Those statements come across as nearly as provocative and anger-inciting as those by well-known fund manager Joachim Helenius, who suggested that Estonia should adopt English as an official language and become the "Hong Kong of Europe." Perhaps the Pro Patria Union is now regretting their move to court the then-popular ex-banker, as his statements and ideas have damaged the focus of the party to a considerable extent.
Mel Huang, 27 January 2000
Related Links:
Archive of Mel Huang's Amber Coast articles