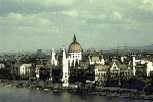 C E N T R A L E U R O P E A N N E W S:
Hungarian News Round-up
News from Hungary since
24 January 2000
---
Paul Nemes
Prime Minister, and until Saturday FIDESZ - Hungarian Civic Party Chairman, Viktor Orbán has made it clear that he is not in favour of Smallholder (FKGP) leader József Torgyán being nominated for president. Orbán said, "It would be better if József Torgyán remained as chairman of the Independent Smallholders' Party than if he were nominated to the post of president of the Republic." The Smallholders responded by saying that there could be no bargaining on the issue of the nomination, as the FKGP, according to an agreement with FIDESZ, has the right to nominate the candidate for the post of president.
The Socialist Party (MSZP) has urged FIDESZ to support the FKGP nomination, if their candidate can boost national unity and Hungary's reputation abroad. RFE/RL reported that Chairman László Kovács said that the MSZP may not choose to have a candidate if the Government coalition's candidate "meets the requirements of the constitutional role of the president."
Prime Minister Orbán last week said that it is essential that a long-term solution be found to the problem of floods, as the problem is likely to be present for years to come. Orbán said that the flooded areas could increase from the current 295,000 hectares, threatening around 1100 homes, to 500,000 hectares during the spring. A quantity of water equalling one third of Balaton lake has been pumped out of the affected areas since November last year. The National Water Authority last week reported that, despite intensive pumping, the areas under water had increased. The Prime Minister confirmed that the state budget would cover all flood damage costs, as it did last year.
Viktor Orbán told Hungarian radio that the Government would not give in to railway workers' wage demands, despite the threat of an indefinite strike from 1 February. Union of Railwaymen (VSZ) Chairman Imre Márkus had called MÁV's (Hungarian State Railways) offer of a three-year wage package the "beginning of real negotiations." Orbán said that the Government could not agree to a rise in wages that "could jeopardise economic policy objectives." Speaking on 26 January, union leaders remained adamant that the three largest unions would go on strike unless an agreement was reached.
Hungary was represented by the Minister of the Chancellery, István Stumpf, at the International Holocaust Conference in Stockholm, as President Árpád Göncz fell victim to the flu epidemic. On Tuesday, Stump also represented Hungary at the opening ceremony of the World Jewish Congress, where Swedish diplomat Raoul Wallenberg was honoured with the Nahum Goldmann award, which was presented to a relative of Wallenberg.
Premier Orbán visited Portugal on 27 January, where he was scheduled to meet Prime Minister Antonio Guterres, President Jorge Fernando Sampaio and Speaker of Parliament Antonio Almeida Santos. On Friday, Orbán travelled to the World Economic Forum in Davos, where he was expected to hold talks with Swiss President Adolf Ogi and Organisation for Economic Cooperation and Development Secretary-General Donald Johnston.
During a visit to Vienna last week, Foreign Minister János Martonyi said that he hoped Austria would support Hungary's European Union accession in the same way as Finland supports Estonia. Martonyi, who met his Austrian counterpart, Wolfgang Schussel, said Austrian doubts about the enlargement process, and the free movement of labour in particular, are unfounded, and he would continue to work towards dispersing such fears. Martonyi also pointed out that eastern enlargement will bring advantages to both sides, and, although the challenges are great, the opportunities that will be created are also greater than after any previous enlargement.
More on opportunities. On 24 January, Premier Orbán told a meeting of religious schools in Kecskemét that no other Hungarian generation of the 20th century were offered opportunities even close to those offered to today's youth. He also emphasised the role of nation and patriotism, saying that today's Hungarian student should read the memoirs of those who were forced to leave their home country.
The Christian Democratic Movement of Slovakia has again blocked the Hungarian Coalition Party (MKP) of Slovakia from becoming a permanent member of the European Democratic Union (EDU). Christian Democratic Movement of Slovakia President Jan Carnogursk objects to MKP membership, due to a dispute between the two parties over statues in Komárno (Komárom). In September last year, the EDU resolved to send a fact-finding committee to the city. The committee decided a park statue would be welcome, and the city also supports the idea.
László Kövér, the Secret Services minister, said last Monday that there are more spies in Hungary today than before the country joined NATO. Kövér said this could only be expected, as Hungary's NATO membership had been a threat to some big powers and states in the region. Kövér also said that the US intelligence services recognize the situation and work closely together with Hungary. He added, "We live in Central Europe and this gives us insights that people in Washington, Paris and London do not have."
The Budapest Metropolitan Court has denied Russian Anatoly Bykov, who was arrested on the Hungarian-Yugoslav border on 29 October last year, political asylum. A communiqué from the Court to MTI stated that Bykov's request to be treated as a refugee or be granted political asylum under the Geneva Convention had been rejected. The Court's verdict stated that the trial had not been intended to establish if the crimes he is suspected of committing, such as money laundering and acting as an accomplice to murder, are true but only if he qualified as a refugee.
According to the Hungarian daily Népszava, Hungary is not planning to introduce visa restrictions on Belarus, Russia or Ukraine - at least not yet. The EU recommend that all member states have visa restrictions on these three USSR successor states, but Hungary would not have to do so until it is a member of the Union.
The Hungarian Cultural Association of Subcarpathia has decided to lobby for a proposal to create an administrative unit, which would cover areas inhabited by ethnic Hungarians. Hungarian leaders have chosen to submit the proposal directly to President Leonid Kuchma, and to lobby for the idea in both Uzhgorod (Ungvár) and Kiev.
According to an Austro-Hungarian draft report presented to the Danube Commission in Budapest on 24 January the debris of three Danube bridges at Novi Sad (Újvidék) destroyed during NATO attacks could be cleared in three months at the cost of Euro 24.1 million. The Danube Commission is to pass on the report to the European Commission, which will invite EU member states to submit proposals for the project, after approving the project on Tuesday. Parliamentary State Secretary of the Foreign Office Zsolt Németh, who handed over the report, said the EU should back the proposal because of its importance as a stabilising factor in Yugoslavia.
At a Southeast European Stability Pact conference in Budapest last week, State Secretary of the Foreign Ministry Zsolt Németh said that Hungary, as co-host of Working table no 1 of Stability Pact, "wants to act as a catalyst in carrying out substantive programmes able to genuinely contribute to the promotion of democracy, stability and an economic upswing in Southeast Europe." Németh also said that Hungary's main concern is to assist the Yugoslav opposition, particularly in local government and the independent media.
Finance Minister Zsigmond Járai has said that early reaction to the Hungarian National Bank's base rate cut last week shows that the decision was the right one. Járai made the comments after having held talks with Canadian Finance Minister Paul Martin in Budapest. Martin is the chairman of the Group of 20, set up by the G-7 summit as a forum for leading world economies. Martin told MTI, "The Hungarian banking and financial system has been regulated in an exemplary way. For this reason, the Hungarian experience may be particularly useful for other converging markets, primarily the East and Central European nations."
According to a survey by the National Labour Centre, unemployment could drop by 30,000, to 370,000 in the first half of 2000. Demand for new labour will continue to come primarily from construction and manufacturing, while farming is expected to experience a further decrease in employment.
Budapest has been chosen as the third most attractive European business city, with only London and Amsterdam being seen as better places to do business. Budapest Mayor Gábor Demszky and Hungarian trade and tourism chiefs received the prize, awarded by Fortune Magazine and Arthur Andersen. Budapest was awarded the prize on grounds of the low cost of doing business, the growth of GNP and Budapest's appeal as a place to live.
An overheated electrical cable caused a fire at Ferihegy 2B (Budapest's airport) on 27 January. No one was injured in the fire, which, according to airport officials, caused only minor delays. Planes bound for Terminal 2B were redirected to Ferihegy's two other terminals.
Plans are well underway to build Budapest's first skyscraper. The building, which would be the capital's tallest at around 100 meters, is planned to be located in District XIII. Estimated to cost more than USD 90 million, the building will, if the project goes ahead, be situated just outside the Nagykörút (Grand Boulevard), as laws forbid any building higher than 30 meters to be built inside the outer ring.
According to an opinion poll last week, the three greatest persons in Hungarian history are Renaissance King Matthias Corvinus, Hungarian state founder St Stephen and post-1956 Communists leader János Kádár. As the National Image Centre looks for an image with which to promote Hungary as the state enters its second millennium, the Gallup Institute was commissioned to poll 1200 Hungarians to find out what they associate with Hungary. The Centre has an annual budget of HUF 4.3 billion (USD 17 million) to market Hungary abroad.
In order to combat organised crime more efficiently, Parliament will debate will debate a plan which would involve coordinating crime fighting along British lines. The proposal suggests that a central body would be set up to synchronise efforts by the police, border guards, the intelligence services as well as exercise and tax authorities. According to the daily Napi Magyarország, the new body would aim at eradicating separate investigations being done by separate law enforcement bodies without sharing information.
Just in case the reorganisation should fail, the Hungarian police are to receive a little extra help – from Jesus. More than 40,000 videotapes entitled "Who is Jesus?" are being sent to members of the police force, after a "personal decision" by Hungarian police chief Péter Orbán. An official of the GNN International Visual Bible Society, which has offered the videos as a gift, told the daily Magyar Hírlap that the idea is to "send the message that we pray for power, and that it is important for power to know who Jesus is."
Paul Nemes, 28 January 2000