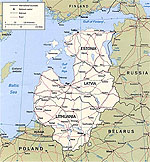 C E N T R A L E U R O P E A N N E W S:
News Review for Estonia
All the important news from Estonia
since 22 January 2000

Mel Huang
---
Politics and foreign affairs
US Deputy Secretary of State Strobe Talbott made a three-day visit to Estonia, primarily to deliver the Robert C Frasure memorial lecture. Ambassador Frasure, killed in an accident while negotiating the Bosnia peace agreement, was the first US ambassador to Estonia following the restoration of independence. Talbott called Russian policies towards the Baltics a "litmus test" and stressed that the test will be passed only upon the entry of the Baltics into NATO and the EU. Talbott also received the highest honour in Estonia, the Cross of Terra Mariana First Order, from President Lennart Meri.
The Estonian government decided to ease the renewal process for residence permits, as some 200,000 permits are up for renewal this year alone. Now applicants will only need to fill out an application and provide copies of relevant parts of their passports, without having to show documentation of their legal residency and income again.
Outgoing US military attaché Peter Hendrikson reminded Estonian Defence Ministry officials that there is still about USD three million worth of military aid for Estonia, and he added that there may be no future funding if this amount is not used soon. Hendrikson offered Estonia four Robinson R44 helicopters, as well as the training of crew and maintenance personnel. Though Estonia has not indicated whether or not it will take the choppers, it has accepted two Land Rover Defenders as part of the aid package.
Latvian Defence Minister Ģirts Valdis Kristovskis hosted his counterparts, Jüri Luik of Estonia and Česlovas Stankevičius of Lithuania, in Riga to discuss various co-operation projects. During the meeting, the three ministers signed an agreement detailing the operations of the command centre for the joint airspace surveillance programme, BALTNET. The three ministers also discussed other topics, such as other joint projects and the possibilities of a joint purchase of arms and equipment.
Prime Minister Mart Laar was in a heap of trouble when he got back from Brussels, where he discussed the possibilities of introducing the euro in Estonia before EU membership. Though Laar said European Commission President Romano Prodi thought the idea interesting, Prodi told the press that it was "not possible." Laar's idea has been grilled by politicians, opposition and coalition alike, as well as by the press and Central Bank. Laar responded by saying it was just his personal idea and was not policy, though he did set up a commission to study the pros and cons of the single currency.
The Supreme Court upheld the verdict against Jaanus Karm, who was convicted of negligence in a military exercise gone wrong. The tragedy at Kurkse claimed the lives of 14 men serving under Karm. Karm will face one year in prison, as his original sentence of 4.5 years was reduced on an earlier appeal.
Ambassador Clyde Kull presented his accreditation to Mike Moore, the head of the World Trade Organisation. Kull is also ambassador to various United Nations organisations based in Geneva, where he is stationed.
Tallinn Mayor Jüri Mõis finally quit his mandate in the Riigikogu, citing the large workload from his job running the capital. He has been under pressure, even from within his own party, to relinquish his parliamentary mandate. He apparently has failed to attend a session since his inauguration as mayor of Tallinn. Mõis has been the target of widespread criticism, ranging from his plan to cut the number of police to making statements like: "Estonia is too weak a trademark to be bound to it one hundred per cent or to devote oneself fully to." Yes, he is the former minister of interior and current mayor of Tallinn. Perhaps he is thinking of his previous position as the head of Hansapank (see this week's Amber Coast for more on Mayor Mõis).
Tallinn will raise its public transportation costs by two-fold, starting in March. Prepay tickets will go up from EEK five to EEK ten, while purchases aboard buses will up from EEK seven to EEK 15. The change has been criticised by many, who argue that now more "rabbits" will take public transportation without paying. Of the 30 or so undercover ticket inspectors, they say they catch a hundred "rabbits" a day. Fines for not having a valid ticket while on a bus run into the hundreds of kroons.
---
Economics and business
British firm GIBB won the tender to consult the Estonian government on the privatisation of Eesti Raudtee (Estonian Railways). The contract lasts up to the announcement of the privatisation, as GIBB is responsible only for helping to establish the privatisation conditions and tender. The government has not picked an advisor for the second stage of the privatisation, the actual sale itself.
International ratings agency Moody's kept Estonia at Baa1, and had optimistic things to say about its economic stability and growth.
Finland's Ruokatalo meatpacking company plans to acquire all free-floating shares of Rakvere Lihakombinaat (Rakvere Meatpacking). The Finnish company already owns most of Rakvere Lihakombinaat, but now wants to take it off the Tallinn Bourse. Market analysts are shocked over the offered price of EEK 4.7 per share, expecting a much higher take-over price.
---
Social and local interest
Estonia's population decreased yet again in 1999 by about 6500 people. In addition, the population has dropped by about 126,068 in the last decade, with a population estimated at 1,439,000 at the start of 2000.

Despite all the clamour from politicians fearing a flood of Russian-speaking citizens, there have only been 222 applications from parents of non-citizen children for automatic citizenship for their children.
Public television ETV remains the most popular station, with about 19.1 per cent of the TV viewing audience, followed by TV3, with 16.2 per cent. Russian TV stations, received by cable or satellite, has a combined 25 per cent viewership. A recent survey showed that the average Estonia watches four hours and 16 minutes of television every day.
A group of eight may be charged with negligence following the death of a toddler. The parents of the child, devout Jehovah's Witnesses, prohibited a blood transfusion for the child, and the doctors could not go against the wishes of the parents. Many believe this case will set legal precedents in Estonia, as it has in many other countries.
Police officials believe Vladimir Kovalenko, caught red-handed smuggling drugs at the Russian-Estonian border, has fled to Russia. Kovalenko was caught in a joint-sting operation by Russian and Estonian border guards, but, shockingly, Narva judge Gleb Allik freed him during the pre-trial period on his own recognisance. Allik has since been brought up on charges for that incredible ruling.
---
And others...
The Estonian government has transferred the responsibility of manufacturing road and traffic signs from the Transport Ministry to the Prisons Department.
Estonia's teenage pop diva, Maarja-Liis Ilus, has sold 300,000 copies of her recent release, First in Line, abroad, including 100,000 in Japan alone. Estonia's top female singer, of which many in Europe remember for two top-eight Eurovision entries, has gained a large following in Latin America and Asia after exhaustive touring. Her release can be found on Geffen and Polygram. Her homepage can be found at http://www.maarja.com.
Some Estonian media are joyous over the success the film American Beauty had at the Golden Globe Awards, especially co-star and sex symbol Mena Suvari - who happens to be half-Estonian.
---
Exchange rates
As of 28 January 2000
currency
Estonian
kroons
(EEK)
1 US dollar
15.85
1 British pound
25.96
1 German mark
8.00
1 euro
15.65
[Up to date Estonian exchange rates can be found here]
---
Prepared by Mel Huang, 28 January 2000
Archive of Mel Huang's Amber Coast articles
---
News sources
Baltic News Service (BNS)
The Baltic Times
Radio Free Europe/Radio Liberty
Reuters news on Yahoo