E V E N T S:
Coming Up in the UK
---
Andrew James Horton
In this week's Coming Up section we have:
Click on the appropiate heading or just scroll down to browse.
---
---
Political Posters from Central Europe 1945-1995
A double exhibition and symposium to celebrate the breadth of political and artistic ideas explored together in the form of the poster.
Imperial War Museum, London, until 7 May 2000
Manchester Metropolitan University, until 7 April 2000
With a staggering range of posters, this exhibition encompasses everything from high Stalinist kitsch to anti-regime subversion and everything in between. Whilst some of the images conform to what we might expect from a Communist poster, there are some surprising discoveries to made as well.
Click here for CER's review of the London exhibition.

---
---
Architecture
E-Area: Architectural Vision for Prague
3 March - 31 March 2000
Monday - Friday 10am - 6pm; Late Tuesday till 9pm; Saturday 10am - 5pm
RIBA Architecture Gallery, 66 Portland Place, London W1N 4AD
Tube: Gt. Portland Street, Regent's Park, Warren Street
An ultra hi-tech, new-age architectural project for the 21st century. E-area is the designs for an ambitious new cultural, scientific and educational centre in Prague which will use only the very latest in technological and design techniques. Amongst the building's many futuristic functions will be rooms will simulate conditions at the eye of a hurricane and the inside of the womb.
Art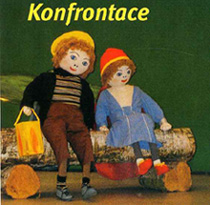 Konfrontace
14 March - 14 May 2000
Czech Centre, 95 Great Portland Street, London
Phone: 0171 291 9920
Czech and British contemporary art at the Czech Centre, in an exhibition covering new and old works. The title of the show is homage to a series of impromptu exhibitions of works by underground artists that took place in the 1980s, often being held in make-shift galleries converted from barns or abandonded buildings.
The current exhibition also explores the links between British and Czech artists through the British Council's Window Gallery in Prague, which was founded in 1993, and contains works by three generations of contemporary artists of both nationalities who have exhibited at the gallery.
Czech Culture in the UK
The Czech Cultural Centre in London has a full calender of Czech events in the UK. Look here if you want to see a full calendar of Czech related events in London.

---
---
Hungarian Culture in the UK
Check out the website of the Hungarian Cultural Centre in London. As well as listing events of international importance, the site also carries details of their support network for Hungarian au pairs working in the UK and Catholic mass in Hungarian.
Look here if you want to see a full calendar of Hungarian events in the UK.

---
---
Polish Culture in the UK
Check out the website of the Polish Cultural Institute in London.
Look here if you want to see a full calendar of Polish events in the UK.

---
---
Romanian Culture in the UK
There is the website of the Romanian Cultural Centre based in London. Click here if you want to see a their diary page.
If you are a Romanian academic or student working in the UK or have links to Romanian studies you might be interested Romanul's site. It aims to give wider support to educational, scientific and cultural issues and has pages devoted to the Romanian community's acitivities in the UK. Click here to have a look.

---
---
Slovak Culture in the UK
The Slovak Embassy in London now has a full calendar of Slovak events in the UK, including items on and off their premises (amongst other things).

---
---
Cinema
Aleksei Balabanov's Brother
Opens 7 April 2000
ICA, The Mall, London SW1
Phone: 0171 930 3647
With the dramatic rise in interest in Russian cinema following the staggering success of Aleksandr Sokurov on English screens, promoters have been eagerly eyeing up who to import next. Aleksei Balabanov is an obvious choice being at the same time both distinctly Russian and easily accessible (far more so than Sokurov). Brother sees the eclectic director turn his hand to a dark but stylish gangster story in modern Russia, a country where a recent poll showed that most teenaged boys would like to be a Mafia mobster when they leave school.
Aleksei Balabanov's Of Freaks and Men
opens 14 April 2000
Curzon Soho, Shaftesbury Ave, London W1
Phone: 0171 734 2255
First Happy Days in January, then Brother and hot on its heels Of Freaks and Men. This is certainly a good year for Balabanov fans in London, who now have the chance to see his exploration of the early sadomasochistic photography in pre-revolutionary Russia. Perhaps it is no surprise the British press are billing him as "Russia's David Lynch."

---
Compiled by Andrew James Horton