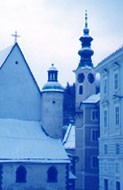 C E N T R A L E U R O P E A N N E W S:
News Review for Slovakia
News highlights and analysis
since 24 March 2000
---
Robin Sheeran
Vladimír Mečiar, the former premier and chairman of the opposition Movement for a Democratic Slovakia (HZDS), has confirmed his reputation as a man who lives by his wits. Last week, the leader of Slovakia's most popular political party was reported to be holed-up in his family-owned penzion in the western Slovak spa town of Trenčianske Teplice, avoiding a summons to give evidence before an official investigation into the abduction in 1995 of Michal Kováč Jr (the son of former President Michal Kováč). Much coverage was given to Mečiar's appearance at a televised debate with Premier Mikulaš Dzurinda in Bratislava on Sunday 26 March. The HZDS leader is said to have arrived and departed the Slovak Television building by the rear entrance in great haste. Dzurinda later described Mečiar as seeming "very nervous." The following day, the Bratislava Regional Investigation Office announced that only Mečiar's testimony remained to be collected before the investigation was completed, adding that investigators would not violate Mečiar's home. Members of the governing coalition pitched in with conflicting views on how the investigation should proceed, with Justice Minister Jan Čarnogurský favouring direct action by the police to bring in Mečiar for questioning and Interior Minister Ladislav Pittner commenting that the ex-premier could not be arrested because he was not accused of any crime. On Thursday, the HZDS said that police were besieging Mečiar's home.
The European Parliament's Rapporteur for Slovakia, Jan Marinus Wiersma, received an angry response from opposition politicians when he suggested that an early general election might have a detrimental effect on Slovakia's entry into the EU. Speaking in Brussels on Wednesday, Mr Wiersma said: "Elections would stop the reform process. To carry out reforms, four or five years are always needed, and if you stop in the middle, no political party will be able to continue." HZDS MP Sergej Kozlik accused Wiersma of creating a fiction, and trying to influence public opinion in Slovakia. The HZDS has been campaigning for a referendum on early elections.
Two opinion polls conducted by the Institute of Public Affairs (IVO) have pointed up the relative strength of public opinion, with regard to Slovakia's proposed membership in western institutions. Seventy per cent of Slovaks support the country joining the European Union, according to a poll conducted at the end of February and beginning of March. Twenty per cent were opposed, and ten per cent did not express a preference.
Younger people, inhabitants of bigger towns and cities and those with higher education were more likely to support EU membership. Support for entry into NATO has always been at a lower level. An IVO poll conducted in March suggested 42 per cent of Slovaks favoured joining the military alliance, with 47 per cent opposed. The government has made entry into both institutions the central plank of its foreign policy and has launched a major PR initiative to encourage support for NATO membership. It faced substantial domestic opposition to its cooperation with the Western military alliance during last year's air strikes in Yugoslavia. Immediately after the operation, public support for NATO membership stood at 35 per cent.
Deputy Foreign Minister Ján Figeľ is to challenge Justice Minister Ján Čarnogurský for the chairmanship of the Christian Democratic Movement. An election for the leadership of the Movement is expected at the KDH Congress in October. Figeľ feels that the current KDH leadership needs to show stronger support for membership in Western institutions, especially NATO. Čarnogurský has been chairman of the KDH since its foundation ten years ago, and was a prominent dissident during the Communist era.
On Thursday, Radio Twist reported that the former senior Communist official, Vasiľ Biľak, has been charged with treason, violating the law on the protection of peace and financial crimes. Biľak, who has been linked to the invitation of the Soviet-led invasion of Czechoslovakia in 1968 and was a leading party ideologist during the subsequent years of "normalisation," laughed off the charges. "In August, I will be 83, so I don't care even if I get get life, because I do not have too many days left," he commented.
The Party of the Democratic Left (SDĽ) demanded to know why Finance Minister and party member Brigita Schmöegnerová did not receive an invitation to negotiations preceding the major deal involving the Eastern Slovak Ironworks (VSŽ) and US Steel announced last week (See last week's Slovakia news review). The party claimed Schmöegnerova had been snubbed by Premier Dzurinda, who failed to inform her about the negotiations and the details of the subsequent agreement.
One the country's leading pop stars, Richard Mueller, has been charged with the illegal promotion of drug abuse. Mueller, who faces a maximum of five years in prison if convicted, spoke about his use of drugs during interviews on TV Markiza on 6 March and in the current affairs weekly Plus 7 Dni. Investigators believe that Mueller's speech tended to encourage people to take drugs.
Robin Sheeran, 31 March 2000
Previous news reviews for Slovakia
Useful links for Slovak news:
TASR (Press Agency of the Slovak Republic)
SITA (Slovak News Agency)
ČTK (Czech News Agency)
Pravda
Republika
Slovak Spectator
SME