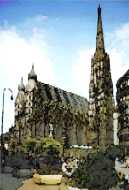 C E N T R A L E U R O P E A N N E W S:
News Review for Austria
All the important news from Austria
since 27 March 2000

---
Magali Perrault
The past has once again come back to haunt Austria. In the wake of last week's trial of 84-year-old former psychiatrist Heinrich Gross (accused of having participated in the Nazis' wartime euthanasia programme for disabled children), the chairman of the Social Democratic Party (SPÖ), Alfred Gusenbauer, has pledged to shed light on the relations after 1945 between the party and former members of the National Socialist programme. Gross indeed became a member of the SPÖ after the war, which facilitated his career as a university professor.
Gusenbauer wants to fight against the "brown stains" on the party's history and declared in an interview to the daily Kurier (on Tuesday) that he intended to release a public statement on the issue in the forthcoming week. A new controversy has also erupted over the participation of former members of the SS in the cabinet of the Socialist Chancellor Bruno Kreisky (who governed Austria from 1970 to 1983).
The head of the centre for documentation on the Austrian resistance, Wolfgang Neugebauer, pointed out that all post-WWII Austrian political parties had been involved in the recruitment of former members of the Nazi party. The Green deputy Peter Pilz welcomed the "change" in the SPÖ attitude and "the willingness to distance itself from the post-war past" and demanded the opening of party archives to independent historians. Pilz added that the problem also concerned the conservative People's Party (ÖVP), but hardly the Freedom Party (FPÖ), since, according to him, "the [Freedom Party] has no brown stains, it is a brown stain." (ORF, 29 March 2000)
The former Austrian president Rudolf Kirchschläger (ÖVP) died of heart failure on Thursday 30 March at the age of 83. Kirchschläger served two mandates as president of the republic from 1974 to 1986. He was also Austrian attaché in Prague between 1967 and 1970 and famously left open the doors of the Austrian delegation to welcome prosecuted Czechs after the crushing of the Prague spring in August 1968. The leaders of all political parties paid tribute to the memory of a man described by his successor Thomas Klestil as "a great Austrian patriot."
The commission on pension reforms set up by the government published its report on Tuesday. The main propositions of the experts are a rise of the pension age (61.5 years for men, 56.5 for women) and an adjustment of pensions to the inflation rate. The Minister for Social Affairs, Elisabeth Sickl, stated that the government will take a decision on whether or not to adopt the experts's recommendations "as soon as possible."
An avalanche on Tuesday killed at least 13 people (two skiers were still missing) on the Kitzsteinhorn near Salzburg.
Austria remains isolated on the European stage and Cabinet Minister Michael Schmid (FPÖ) received a cool reception when he attended a meeting of EU transport ministers in Brussels on Tuesday.
Chancellor Wolfgang Schüssel (ÖVP) was due to visit Switzerland on Friday and repeated during a press conference before his departure that he did not expect a strengthening of the sanctions when France takes over the presidency of the European Union for the second semester of 2000. Schüssel confirmed that he had been invited to visit other non-EU states but added that his priority for the moment was to implement the government's reform programme at home. (ORF, 29 March 2000)
Magali Perrault, 30 March 2000
Previous news reviews for Austria
Some Useful Websites (in German)
http://www.orf.at (Austrian TV)

http://www.apa.at (Austrian Press Agency)