Gorby - the unofficial view

E X H I B I T I O N:
Signs of the Times:
Posters from Central
Europe 1945-1995
The Imperial War Museum, London, until 7 May 2000
Manchester Metropolitan University, until 7 April 2000
---
Andrew James Horton
The word "bedlam" in English derives from the name Bethlam Hospital, a now defunct Victorian mental institution in south London. Many might think it somewhat appropriate that a former madhouse should now be used for housing a museum dedicated to war, but the Imperial War Museum would probably not appreciate the comparisons.
Particularly so since in recent years there have been strenuous efforts to broaden the museum's traditional remit of displaying rusty old weapons, and exhibitions such as From the Bomb to the Beatles have shown how war has effected ordinary people's lives, both during and after its course.
Now, following on with this approach, comes an exhibition organised by the Moravian Gallery in Brno which aims to show the how the very active interface between politics and art in Central Europe affected that most ordinary and everyday of visual mediums - the poster.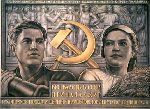 Socialist Realism in full swing

Needless to say, the attempts by Communism to hijack art - and especially popular art - for its own purposes had a profound impact on poster design in this period, and fans of Socialist Realism will not be disappointed in the exhibition in this respect. Usually replete with bright primary colours and displaying an unfeasible degree of optimism, the trade marks of Communism never fail to delight.

More than camp and cliché

Unintended readings of these works are often hard to avoid, such is the kitsch they are bathed in. With their almost ecstatic young and beautiful faces, it can seem hard to believe that such works as Boris Reshetnikov's Do Not Attack Us and We Will Not Attack You - which depicts a soldier gaining an unusual degree of pleasure from polishing the unfortunately positioned barrel of a cannon - were not deliberate attempts to become homoerotic masterpieces.

Nevertheless, such an extensive collection of posters enables the viewer to see the range, subtlety and artistry of political posters from the Socialist Realist period and it is to the exhibition's credit that it succeeds in persuading you to look at these old stereotypes with new eyes and to judge them on their own ground.

More interesting though, were the posters that exploded the tired old clichés of Communist-era art. Although obliged to follow the political orthodoxy of the day, Central European artists from the 1960s up to the fall of Communism used their expressive powers to their full limits and a large number of the works on display challenged common notions of officially sanctioned art.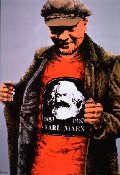 The other side of Communist art

Wit and lightness of touch were not absent from posters of this period, as is evidenced by Imre Halos's officially commissioned tribute to Karl Marx (on show at Manchester), depicting Lenin wearing a Marx t-shirt, and visual invention also abounded, particular in Polish theatre posters.

The politics goes on

Politics did not become divorced from art with the revolutions of 1989. The message is now more critical, the style has become more anarchic and the humour is more openly biting, but the interest in politics is still very much apparent: the space on a wall where a relief bust of Lenin once hung has the sticker "For Rent" slapped across it, a poster advertising a concert for the victims of Communism shows a white dove trapped in a red-star cage and a slogan invites cyclists to unite as "You have nothing to lose but your chains."

However, for all its excellence, its humour and its intrinsic interest value, Signs of the Times is a dense and difficult exhibition. The works are hung closely together two or three high and are hard to appreciate as individual works of aesthetic value.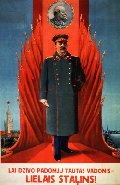 Latvian homage to Stalin

There is an overload of information: the basic visual design of the posters vies with small printed labels offering translations of the slogans and a short explanation putting the work in context. Although these give invaluable insights into the relevance of the posters the competing textual and graphic elements break up the continuity of the exhibition.

Moreover, the categorisation of the pictures further confuses things. Sections are thematic, with areas including depictions of leaders and internal and external enemies. This means that posters from different political climates (Communism, post-Communism and even one poster from the fascist war years) with different political aims, different national trends and different aesthetic styles are all mixed together. There is also little attention to the subtle but interesting distinction between those artists who used politics as a means to practice art and those who used art as a means to practice politics.

A better guide?

In this respect, the book accompanying the exhibition Political Posters in Central and Eastern Europe 1945-1995 by James Aulich and Marta Sylvestrová fares rather better, taking a chronological tour of the region before plunging into thematics. The book is also a rather better medium for explaining the essential background to the posters, with its linear text and space for more substantial explanation admirably creating the framework for understanding political posters that is so elusive at the exhibition.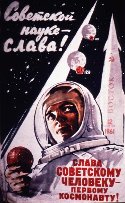 Celebrating the space race

Aulich and Sylvestrová give their subject scholarly attention, and the book is meticulously footnoted and with the text linked to the numerous accompanying pictures. Beautifully presented, the book really has only one fault, which is that it reproduces so many illustrations that few of them get much larger than matchbox-sized. Not that any amount of full-paged colour reproductions could have beaten the experience of seeing these posters for real, despite the perhaps unavoidably confusing nature of the layout.

Still, if the exhibition presents a heady mix of clashing ideas and concepts in an at times bewildering manner, it does at least in the process evoke the extraordinary breadth of creativity in political art in Central Europe over the last half century, which constitutes a veritable explosion of ideas.

Andrew James Horton, 28 February 2000

Click here to purchase the book Political Posters in Central and Eastern Europe 1945-1995 from the US

Click here to buy it from the UK.