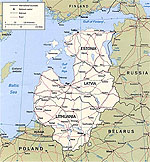 C E N T R A L E U R O P E A N N E W S:
News Review for Latvia
All the important news from Latvia
since 25 March 2000

Mel Huang
---
Political and foreign affairs
NATO Secretary General George Robertson made a two-day visit to Latvia to assess the country's progress towards NATO integration. Lord Robertson stressed that the door to NATO is open for Latvia, and Latvia's participation in NATO peacekeeping operations is very appreciated by the alliance.
Foreign Minister Indulis Bērziņš presented Latvia's MAP progress report in Brussels, highlighting the reforms that have taken place in Latvia for NATO integration.
During the visit by Lord Robertson, a new NGO supporting Latvia's NATO integration was founded: the Latvian Transatlantic Organisation (LATO). The new NGO brings together many well-known Latvians, such as head of the Foreign Policy Institute Atis Lejiņš and Jewish community leader Grigory Krupnikov. Among the founders is Ojārs Kalniņš, the head of the Latvian Institute (see Amber Coast, A Chat with Latvia's Image-maker, 7 February 2000, for an interview with Ambassador Kalniņš).
Estonian Prime Minister Mart Laar and Latvian Prime Minister Andris Šķēle met over dinner in Pärnu during the week to discuss some ongoing cross-border issues. The meeting caught many off guard, though both sides said it was planned.
Latvian leaders voiced either optimism or caution at the election of Vladimir Putin as Russia's president. President Vaira Vīķe-Freiberga congratulated Putin for his win and expressed hope that relations would improve, as did Foreign Minister Bērziņš. Prime Minister Andris Šķēle added that he hoped some of the charged statements made in Russia were only "campaign rhetoric."
About 2000 of the 10,500 Russian citizens eligible to vote in the Russian election voted in Latvia. A small majority, or 54 per cent of the electorate, voted for Putin, while 40 per cent voted for his Communist challenger Gennady Zyuganov.
Lithuanian President Valdas Adamkus hosted his counterparts, Vaira Vīķe-Freiberga of Latvia and Lennart Meri of Estonia, to discuss Baltic co-operation. The talks focused on trilateral co-operation in various areas, including the energy sector and NATO integration. This one-day meeting was a normal get-together of the three presidents.
Not surprisingly, the Saeima rejected the nomination of Supreme Court justice Ilgars Zigfrīds Šepteris as the new prosecutor-general. The confirmation required a majority vote, but only 44 deputies voted in support (36 against, 15 abstained). Supreme Court Chairman Andris Guļāns said he will need to find another candidate in the next few weeks, but he will also need to name an acting prosecutor-general, as Jānis Skrastiņš will leave his post in early April.
Latvian Economics Minister Vladimirs Makarovs hosted his counterparts, Valentinas Milaknis of Lithuania and Mihkel Pärnoja of Estonia, in order to discuss regional co-operation, especially in the energy sphere. Issues related to the planned united and open Baltic energy market featured prominently, as the market is due to open by 2002.
What did he do? It appears that while Prime Minister Šķēle was on holiday, acting Prime Minister (and Justice Minister) Valdis Birkavs voided several government orders - including one to set up a working group to deal with national emergency issues. Later, Birkavs said the intention for their revocation was made by Šķēle, but the PM said he gave no such instruction.
Latvia and other EU aspirants began negotiations to join the European Environmental Agency (EEA). Officials from the European Commission suggested that new members could join the EEA as soon as 2001, even before EU membership.
Along the same lines, the EU officially began negotiations with Latvia and other "second-tier" countries in eight chapters - deemed the "easy" ones by Latvian officials.
---
Economics and business
Surprisingly, the Statistical Department announced that Latvia's GDP in 1999 grew by 0.1 per cent. Most analysts believed that there would be a drop in GDP, with several quarters of recession or no growth. Q3 results were also upgraded to a growth of 0.2 per cent from no change, and Q4 results showed a GDP growth of 2.8 per cent.
Latvia's current account deficit also dropped by a few decimal points in 1999 to LVL (Latvian lats) 372 million, or about 10.2 per cent of GDP. Most of the deficit is accounted for by the large trade imbalance.
"Phenomenal," said Latvian Privatisation Agency (LPA) head Jānis Naglis concerning the successful sale of state-owned shares in Latvijas Gaze (LG, Latvian Gas). At a successful auction, 10.7 million shares, or 26.85 per cent of the total shares, were sold off at the Riga Stock Exchange to four bidders at an average LVL 2.63 per share. The four bidders succeeded out of a pool of 23 bidders, though the names have not been released (however, both Russia's Itera and Germany's Ruhrgas are already shareholders in LG, and they both have said they were among the winners). The sale brought the state LVL 28.715 million. The state still holds about ten per cent of LG shares.
However, the celebration at the LPA was short lived, as yet another attempt at privatising Latvijas Kuģniecība (LK, Latvian Shipping Company) failed. Though a response was received before the deadline, no security deposit was made - thus making any possible bid invalid. The LPA is now considering what to do next, though Prime Minister Šķēle suggested three possibilities: extending this privatisation attempt, getting the World Bank involved, or not privatise LK at all.
More privatisation problems, as the union of energy workers, Energija, apparently succeeded in gathering enough signatures for a referendum on the privatisation of power utility Latvenergo. The union appears to have more than the 10,000 signatures needed to organise a referendum.
Prime Minister Šķēle revealed that he has sold all his stake in the New Technology and Business Development Corporation, the former food processing giant Ave Lat. His spokesman said Šķēle would receive tens of millions of dollars worth of promissory notes for the sale (which turns out to be about USD 29 million). Šķēle, to deflect accusations that he is involved in a conflict of interest, placed Ave Lat under independent management chosen by PriceWaterhouseCoopers.
As of 1 April two more Estonian companies will be added to the joint Baltic blue chip index: retail outlet Tallinna Kaubamaja (Tallinn Department Store) and real estate company Pro Kapital. Estonia now has seven of the fifteen companies on the list - the limit under current rules. The remaining eight are equally divided among Latvian and Lithuanian companies.
---
Social and local interest
Latvia joined the other Baltic countries in eliminating the summertime period, which was supported by about 60 per cent of respondents in a SKDS poll. The elimination of the summertime period was agreed to by the three Baltic prime ministers back in February, after Estonia suggested the idea. The Baltic countries are now in the same time zone as the rest of central Europe, but are an hour behind Finland.
Several members of the accused terrorist group, Perkonkrusts (Thundercross), plead guilty to all or some charges, including terrorism, explosives and the attempted bombing of a Soviet monument in a Riga suburb. Five of the individuals plead guilty to all charges, four plead guilty to some charges, and one maintains his full innocence. Outside the courtroom, there has been consistently a few dozen supporters in protest.
The old red Soviet passports became invalid as of 31 March, though some 39,000 Latvian residents still have not exchanged them for Latvian-issued documents. Not having a valid passport would be a problem for many, as the old red passports are no longer valid forms of identification.
Polling agency SKDS released its March political popularity polls, which show a collapse in the popularity of the People's Party of Prime Minister Šķēle. Now in first place is the Social Democratic Workers Party, which dropped one per cent to 13.6 per cent, followed by For Fatherland and Freedom at 12.8 per cent (down 1.6 per cent). With 12.3 per cent approval of those polled, the People's Party fell disastrously by 8.9 per cent to third place. Šķēle blamed the attention being devoted to the "so-called paedophilia scandal."
The same poll found that, among those polled, Cultural Minister Karina Pētersone is the most popular minister, with an approval rating of 31.2, followed by Defence Minister Ģirts Valdis Kristovskis with 30.4 points. Surprisingly, the most unpopular public figure is Justice Minister Valdis Birkavs, who earned a horrific -46.2 disapproval rating, followed by Education Minister Māris Vītols with -29.5 points.
The State Drug Rehabilitation Centre is offering a cut-rate deal for drugs testing, offering them for LVL five. The Centre is marketing this to parents who want to test their children, as 54.7 per cent of registered drug abusers last year were under the age of 19. The youngest, an IV drugs user, was an 11-year-old girl.
According to a pan-Baltic conference on mental health held in Riga, Latvia's suicide rate remains high, at 30 individuals for every 100,000 residents. Estonia also showed the same figure, but Lithuania has the highest suicide rate in the Baltics, at 44 individuals for every 100,000 residents.
From the same conference, it was noted that 150,000 of Latvian residents, or six per cent of the total popuation, suffer from some form of depression.
About 5000 of the incoming 12,300 students to higher education institutes will have to pay their tuition fees in the upcoming academic year. Enrollment itself is up by almost ten per cent from the previous academic year.
---
And in other news...
The story that gripped Latvia in fear for days - the case of the dodgy cabbages. A scare ran through Latvia, as officials suspected tainted cabbages, on sale at public markets, were responisble for several poisoning cases around Riga. Half a dozen people from two sittings ended up seriously ill in hospital, and two died from the poisoning. Later it was revealed that two of the individuals were poisoned by bad alcohol. While, at the other abode, half a dozen in a family dinner took ill not from the cabbage, but from a condiment. Turns out when the kitchen ran out of salt, they naturally went to the neighbour asking to borrow some - instead of getting salt, it turned out to be...saltpetre. Officials said they went with the cabbage story to allow investigators to get to the bottom of the case, but health officials earlier discounted the cabbage story, saying a person needs to eat 1.5 tons of cabbage to die of nitrate poisoning.
Officials said a recent study on packaged water - which was shown to be below health standards - is inconclusive due to samples being too small. Among the 41 samples of mineral water and 13 from natural wells (which ends up in taps), 13 of the mineral water samples and four of the well water samples were not up to code.
Even less appetising, officials shut down fish processing factory Jūraslīcis, after about a dozen workers came down with leptospirosis - and one has since died. The cause apparently is a corner of the factory inhabited by rodents...
---
Exchange rates
As of 31 March 2000
| | |
| --- | --- |
| currency | Latvian lats(LVL) |
| 1 US dollar | 0.59 |
| 1 British pound | 0.95 |
| 1 German mark | 0.29 |
| 1 euro | 0.57 |
[For continuous updates see the Bank of Latvia Exchange Rates page].
---
Prepared by Mel Huang, 31 March 2000
Previous news reviews for Latvia
Archive of Mel Huang's Amber Coast articles
---
News Sources
Baltic News Service (BNS)
The Baltic Times
Radio Free Europe/Radio Liberty
Reuters news on Yahoo