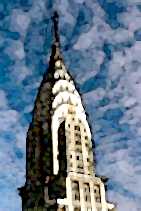 E V E N T S:
Coming up in the USA
---
Karen M Laun
Upcoming Central and East European cultural events over the next few weeks include a screening of Jerzy Hoffman's With Fire and Sword and a Hungarian choir performance.
In this week's Coming Up section we have:
Click on the appropriate heading or just scroll down to browse.
---
---
Crafts
Paska Cipka: Lace from the Island of Pag
26 March - 30 September
Croatian Heritage Museum and Library
American Croatian Lodge Complex,
34900 Lakeshore Boulevard
Eastlake, Ohio
Phone: (216) 991-2310
The Croatian Heritage Museum and Library is pleased to announce the opening of its new exhibit: Paska Cipka: Lace from the Island of Pag. Pag's lace originated during the Renaissance and is geometric in form.
Lace making requires a needle, thread and backing which is a round or square shaped hard stuffed pillow. Lace-makers of Pag did their teg (work) without any drawings. Each woman used works from her mother and grandmothers as examples, adding a personal touch, something unique and special. Each lace piece is a symbol of the anonymous, modest and self-sacrificing life of its maker.
The museum hours are Fridays from 7 pm to 10 pm and other hours by appointment.

---
---
Music
Bohemian Chamber Philharmonic US Tour
Attention classical music lovers! The Bohemian Chamber Philharmonic is touring the US from mid-February through early April. See below for dates and locations. For information on time and venue, call (212) 581-8478.

March:
1 Columbia, SC; 2 Atlanta, GA; 5 Danville, VA; 6 Elon College, NC; 10 Wabash, IND; 16 Rock Island, IL; 18 Houghton, IL; 19 Green Bay, WI; 20 Rockford, IL; 26 Indianapolis, IN; 27 Tiffin, OH; 28 Detroit, MI; 29 Pittsburgh, PA; 30 Washington, PA; 31 Lancaster, PA.

April:
1 Carlisle, PA; 2 Winchester, VA; 4 Williamsport, PA; 5 South Orange, NJ; 8 Merrick, NY.
Art
Projekt Praha 2000
22 February to 30 August
Czech Embassy
3900 Spring of Freedom Street, NW
Washington, DC 20008
Phone: (202) 274-9100
Projekt Praha 2000, a unique exhibit by Washington-based photographer Chad Wyatt, presents portraits of remarkable personalities in the Czech Republic's art scene over the last decade. While many remarkable works of art have left their marks on history, we often have little information on the artists who created them. Wyatt's photographs map an entire generation active on the contemporary Czech art scene, creating a first-of-its-kind historical marker. The exhibit opening is at 7:30 pm at the Czech Embassy and features Karel Růžička on saxophone. It will be open through August, weekdays 9 am to 5 pm and during events.

---
---
Music
Concert by the Hóvirág Choir
5 April, 7:30 pm
Hungarian Embassy
3910 Shoemaker Street, NW
Washington, DC 20008
Phone: (202) 362-6730 x231
The Hungarian Embassy and the American Hungarian Federation present a concert by the Hóvirág Choir, the award winning Hungarian choir featuring Julia Hajnoczy, soprano, and Susan Hajnoczy, pianist, plus students of the Ferenc Liszt Academy of Music. The repertoire of the choir's nearly twenty years of activity includes several hundred choir works from the fifteenth to the twentieth century. The singing group has a commitment to learn and perform both Hungarian and foreign, religious and profane, old and contemporary choir works. Donations will be gratefully accepted, and will go towards the support of the group on this US tour. Reservations are required by phone or by e-mail avalu@huembwas.org.
For more information on Hungarian cultural events in the US, visit the website of the Hungarian embassy.www.hungaryemb.org

---
---
Music
Choral Concert - Toronto
2 April, 3 pm
MacMillan Theatre, Edward Johnson Building
Toronto, Ontario
This concert features the premiere of Teviskes Giedojimai and Rutter's Gloria. Also, enjoy Hymns of Ancestors by Dainava from Chicago, Exultate from Cleveland, and Volunge from Toronto. The concert will also be held in Cleveland in June.
Tickets are: USD 20, USD 25, USD 30
Contact choir_volunge@hotmail.com
Latvian Opera star in Balitmore
Beginning 29 April
Inese Galante, an Opera star from Latvia, will be starring in Puccini's La Boheme at the Baltimore Opera on 29 and 30 April; 3, 4, 5 and 7 May 2000 (tickets can be ordered through the Baltimore Opera Box Office at 410-727-6000.)
For more information, e-mail Liana at the Embassy of Latvia.

---
---
Katyn Remembered
60th Anniversary of the Massacre
13 April, 6 pm
The Embassy of the Republic of Poland
2640 16th Street NW
Washington DC 20009
Phone: (202) 234-3806
To commemorate the 60th anniversary of the Katyn massacre, a special program by the Polish Embassy and the Polish American Congress will include a photo exhibition and presentation on the Katyn Monument in Baltimore, a documentary film about Katyn, and remarks by Allen Paul, the author of Katyn - Untold Story of Stalin's Polish Massacre. A discussion and reception will follow.
Space is limited; formal invitations RSVP by 11 April, 2000
Art
Ewa Adamczk's Paintings at O Street
Opens 7 April 2000
American Center of Polish Culture
2025 O Street
Washington, DC
metro stop Dupont Circle, Red line
An exhibition of paintings by Polish-American artist Ewa Adamczyk, entitled: "Reflections on the Complexities of Life," will open at the American Center for Polish Culture on 7 April. On her work, Adamczyk says, "My paintings are reflections on the amazing complexities of life. In my work, I like to find connections among the most basic life forms ... Although I always have an idea of how I would like a painting to appear, it assumes its own path even in the most preliminary stages. Following that path is what brings me to painting."
There will be an opening reception with the artist at the Center's Amber Gallery, on Friday 7 April 2000.
For more information, please contact the Center by phone at (202) 785-2320 or by E-mail at acpc@cais.com. The Center also maintains a website at http://www.polishcenterdc.org/.

---
Romanian Culture in the US
---
For information on Romanian events in the US, look up the calendar of events at the Romanian Embassy's website.

---
Russian Events
---
Film
Pittsburgh Russian Film Symposium 2000: Nation, Fetish, Identity
1-7 May
The University of Pittsburgh, in conjunction with Carnegie Museum of Art and the Andy Warhol Museum, will hold the Pittsburgh Russian Film Symposium from 1 to 7 May 2000. This year's symposium explores the theme of Nation, Fetish, Identity, through images in cinema and advertising media. The week begins with a May First parade, and continues with screenings, exhibits, and panel discussions involving journalists, scholars, and filmmakers from Russia, the US, and the UK. Director Vadim Abdrashitov, actor Sergei Makovetski, and advertising pioneer Yuri Grymov will attend. Panels and small screenings led by scholars from Russia and America will address the symposium topic, Nation, Fetish, Identity.
For details, please visit http://www.rusfilm.pitt.edu/.

---
---
Film
UIA Movie Night: With Fire and Sword
7 April 2000, 8 pm
Ukrainian Institute of America
2 E 79th Street
New York, New York
The Ukrainian Institute of America will present a film based on the novel With Fire and Sword (Ogniem i mieczem) by Nobel Prize winning Polish author Henryk Sienkiewicz and produced to Hollywood high-tech standards. With Fire and Sword is a love story which takes place during the Cossack uprising in the 17th century on the Polish-Ukrainian border. Highly acclaimed Ukrainian actor Bohdan Stupka stars as Bohdan Khmelnytsky, the leader of the revolution.
For more information e-mail the Ukrainian Institute at ukrinst@sprintmail.com, or visit their web site at http://www.brama.com/uia/
...or read Kinoeye's article on the film.
Music
CHERES, An Evening of Ukrainian Folk Music
1 April, 8 pm
Ukrainian Institute of America
2 East 79th Street
New York, NY
For the best mountain music from Eastern Europe available live today in New York City, experience the rousing centuries-old folk hits played by this acclaimed band. Cheres' musical arsenal is purely acoustic, including a wide array of pipes, clarinet, violin, cymbals, double bass and more. Come see these folk virtuosos weave breathtaking instrumentals and spirited songs from Ukraine and its neighboring Carpathian countries such as Romania, Hungary and Moldova. Their mastery will astound you!

Donation: USD 20; students and seniors USD 10

Reception follows.
For more information, e-mail amilavsky@earthlink.net or visit the Ukrainian Insitute's website http://www.brama.com/uia/
Folk Art
Pysanka. Safeguarding an Ancient Tradition
2 April thru 31 May
The Ukrainian Museum
203 Second Avenue
(bet. 12 & 13 Streets)
New York, NY 10003
Phone: (212) 228-0110

Heralding the arrival of Easter is the opening of the Museum's annual exhibition of pysanky, the attractively decorated Easter eggs that are a famous Ukrainian tradition.
For further information contact the Museum at (212) 228-0110; FAX: (212) 228-1947 or E-mail UkrMus@aol.com.
You can also visit the museum's web site at http://www.brama.com/ukrainian_museum/.
Exhibits at the Ukrainian Museum
The Ukrainian Museum
203 Second Avenue (between 12th and 13th Sts.)
New York, NY 10003
Phone: (212) 228-0110
If you're in the New York area, be sure to visit the Permanent Exhibition at the Ukrainian Museum. The newest addition is the Children's Exhibition. On display are traditional children's folk costumes - shirts, sheepskin jackets, footwear and headdresses - in various regional styles. The exhibition also features toys, among them clay whistles in the shape of rams from the Poltava Region and dolls in folk costumes from various regions of Ukraine.
An addition to the Permanent Folk Art exhibition is a collection of rushnyky (woven or embroidered ritual cloths) and wedding trees, which are made from actual tree branches, covered in dough and decorated with dough birds, ribbons and periwinkle.
The museum is open Wednesday through Sunday 1 pm to 5 pm.
For more information on exhibits and events at the Ukrainian Museum, contact them via e-mail or visit their website.
Art
Olensky-Petryshyn Art Exhibit
Opening 11 February
Ukrainian Institute of America
2 E 79th Street
New York, NY 10021;
Phone: (212) 288-8660
For more information on this exhibit e-mail the Ukrainian Institute or visit their website.

---
If you would like to list your upcoming Central or East European cultural event here, please e-mail us at usa@ce-review.org
Compiled by Karen M Laun