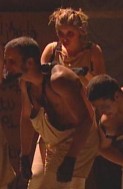 C U L T U R E:
The Impossibility of Independence
Yugoslav theatre today
---
Anja Susa
Conducting a serious analysis of the current state of Yugoslav theatre is not an easy task, primarily due to the fact that the general political climate in the country influences all aspects of everyday life, including the theatre, which has always been a mirror of society. Bearing in mind that the situation in Yugoslav society is full of tension and suspense at present time, it is quite logical that the current atmosphere in Yugoslav theatre reflects this unpleasant reality. Hence, this short survey of Yugoslav theatre should be observed in relation to this problem.
For a better understanding of the current situation, it is first necessary to look briefly into the way in which the system of Yugoslav theatres is organised.
An age-old regime
Yugoslav theatres are still largely organised along the rigid principles established after the Second World War, which means that they are all financed by the state or the city in which they are located. All the theatres except for one - BITEF theatre in Belgrade - have permanent troupes which, in some cases, consist of several hundred employed actors and actresses, artists and technicians. The money for the preparation of projects is mostly provided by ministries of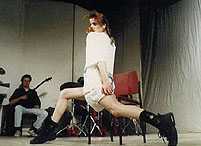 culture on the level of the state or the city. A large portion of the budget of these ministries is spent on covering monthly costs such as utilities and salaries, which, in light of the large number of permanent employees, are quite high. Thus, very little money remains for investment into the actual production of plays. Whether the sum of money for production is increased through donations from certain sponsors depends on the ingenuity of the theatre administration.
This system, which is too expensive even for more developed and wealthier societies, greatly affects the quality of the productions in institutionalised theatres. Also, there is a specific paradox in this system. Some actors who are permanently employed in institutional theatres are unable to live off their meagre salaries and are very often forced to work in other theatres, where they receive somewhat higher fees for their work. However, this "moonlighting"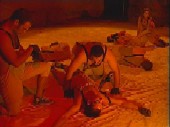 often takes up so much of their time that they cannot be sufficiently engaged in their parent theatres, which are then forced to invite actors from other theatres and pay them additional fees, thereby creating a specific circulus viciosus.
The repertoire policy creates another big problem. In fact, the majority of theatres cannot claim to have a recognisable and consistent repertoire. The result is a theatrical jumble which confuses audience and theatre employees alike. It often happens that in the same theatre the audience can see one of the classics one night and an ordinary, frivolous, purely commercial piece with no artistic value whatsoever the next. As a result, a very small number of theatres in Yugoslavia follow current world trends in drama. The reason for this is banal: there is simply not enough money to pay royalties for playing the works of living authors. The only exception to this is the Atelier 212 theatre, which is the only Yugoslav theatre that constantly stages world-famous contemporary dramas.
Another phenomenon that deserves mention is the organised sale of tickets. There are almost no theatres in Serbia that operate above profit margins, although some theatres are commercially oriented. Since the price of tickets at box offices is quite high in relation to the average income of Yugoslav citizens, only a few per cent of the total ticket sales are box-office sales. The larger portion of tickets are sold in advance (in secondary schools, to trade union organisations etc.) at prices which are much lower than the box-office prices. For example, tickets for the hit opera Cinderella, staged in the National Theatre in Belgrade, could be bought through such an organised sale scheme for only 7 dinars (less than DM 0.50), although at the box office the price of a ticket was several times higher. Since all the elements that make up a performance - such as the set or the costumes - must be paid for at their real market prices, it is quite clear that theatres are unable to pay back even half of the invested money. Only a few theatres can afford big, expensive projects engaging most of their troupe and are not burdened by the need to earn back the invested money.
It should also be added that the majority of theatres have no interest in changing the current outdated system, which is disastrous for the market and significantly endangers the survival of independent and non-institutional theatres.
A lost generation?
As for the young generation of theatre artists, one can say without any exaggeration that there has never been a worse or more unfruitful period in the whole history of Yugoslav theatre. This is best explained as a chain reaction. The state quite simply does not have the money to support the arts, and the theatres are subsidised by state - yet another circulus viciosus. This paradox results in small productions and a rigid monopoly of the older generation, who protect their own positions, as the non-existent market is too small for everybody, especially newcomers.

However, there are some bright exceptions, one of whom is certainly Biljana Srbljanovic, the young Yugoslav playwright whose plays have gained recognition in several European countries.
Even more of an exception are the independent and non-institutional theatres in general. One must stress that to be engaged in a non-institutional theatre in Yugoslavia is an act of supreme devotion to one's work, as the state not only fails to provide support for this form of theatre but often cruelly ignores all attempts to step out of the rigid structures of the system. Artists who make these attempts are not welcome, because they are not easy to control - that is, they are potentially dangerous to the system. In light of everything mentioned above, and especially because of the absence of market structures, it is very difficult for non-institutional theatres to survive in the uneven race with subsidised institutional theatres. The simplest way to illustrate this is with the price of tickets. Since independent theatres sustain themselves through the staging of their performances, and since they are often forced to rent the stages where they play, as well as stage properties and equipment, the price of tickets is generally at least double that of institutional theatres, thus rendering the possibility of making a profit completely out of the question.
Needless to say, it is often very difficult to explain this to the audience, as prices in some institutional theatres are so low that it is impossible to compete with them. Often, members of independent theatre troupes invest their own money into a play in order for it to be produced. However, the problem of finding adequate space for work remains, because in comparison with other European cities of similar size, Belgrade has a comparatively small number of equipped theatre halls, and they are, for the most part, occupied. In addition, institutions demand disproportionately high rents for the venues, which often forces independent theatres to move from one place to another or to work in completely inadequate conditions.
A separate problem is the general reception of theatrical expression that is alternative to the mainstream or accepted notion of theatre. There are very few theatre critics who devote attention to alternative forms of theatre (which are popular and accepted everywhere in the world). This brings about a specific marginalisation of independent theatres within the hierarchy of the Yugoslav theatre. Discouraged by such treatment, many artists engaged in alternative theatres lose interest in the effort to win the favours of the theatrical hierarchy in which they operate and settle for a comparatively narrow circle of devoted fans, never gaining wider recognition.
That is why it should not come as a surprise that the majority of independent plays are performed only a few times in Yugoslavia (mostly at specialised alternative theatre festivals), although many of the theatres producing them are very active and often successful abroad. This is quite paradoxical, especially in view of the fact that for 32 years now, Belgrade has been host to the Beogradski Internacionalni Teatarski Festival (Belgrade International Theatre Festival, BITEF), which was founded with the intention of bringing notice to new theatrical trends. Although BITEF gets attention in the media, when it is over, the troupes pack up and head home, leaving Yugoslavia's stale domestic situation behind until the next year.
Nevertheless, what may be encouraging is the sudden increase in the number of independent theatres evident lately in Yugoslavia. At the moment, there are about ten, which is the largest number since the founding of Yugoslav theatre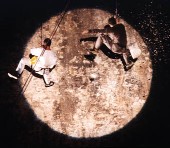 in 1918. Some of the companies which have contributed and are contributing to modern forms of theatrical expression in Yugoslavia are Dah Teatar (literally Breath Theatre), Plavo pozoriste (Blue Theatre), Omen and the Torpedo Theatre Company.
As has been illustrated, these independent troupes have trouble simply surviving in the very static environment of Yugoslav theatre. The old and outdated institutionalised system has oppressed any new forms of expression and will only continue to do so unless the entire structure is changed. There is plenty of talent in Yugoslav theatre; the problem, however, is that it is not given a chance.
Anja Susa, 20 October 1999
Note: See also Robert Young's review of Belgrade-based band Vrooom's new album in this issue of CER. Vrooom collaborates with the Torpedo Theatre Company.