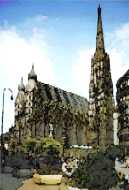 C E N T R A L E U R O P E A N N E W S:
News Review for Austria
All the important news from Austria
since 16 October 1999
---
Magali Perrault
Austrian political parties and leaders are now actively involved in negotiations over the formation of a new governmental program and coalition.
On Monday, the leader of the OVP (People's Party) and incumbent foreign minister, Wolfgang Schuessel, stated during a press conference that Europe and the necessity for a "new quality of democracy" (the end of the Proporz system?!) were among the topics that his party intended to raise during the discussions.
Most significantly, Schuessel argued for a change in the traditional understanding of neutrality, which would be achieved by the replacement of the neutrality clause with a "peace" clause (Friedensgebot). The proposal would, for instance, involve the commitment of Austrian troops for "peaceful goals," as well as prohibiting foreign troops or nuclear weapons to be stationed in Austria unless otherwise approved in a referendum.
In an interview with the newsmagazine Format, Schuessel stated that, "[Austria is] part of the European normality, [and] special ways are not possible any longer. Therefore, we can throw to the dustbin electoral posters such as 'no budgetary cuts' or 'no NATO membership'".
Chancellor Viktor Klima conducted negotiations this week with the OVP and the Greens, making clear on Thurday evening that his aim was a renewal of the SPO-OVP coalition. Were this option to prove unattainable, he would propose to President Thomas Klestil a government made of a wide spectrum of personalities without a fixed coalition agreement.
Klima ruled out the possibility of a one-to-one meeting with Joerg Haider. As a result, negotiations between the SPO and Haider's Freedom Party (FPO) will take place next week at a delegation level.
Klima is, however, being increasingly criticized within his party, the Socialist party (SPO). Economy and Transport Minister Caspar Einem called for the SPO to position itself clearly in the inter-party talks. The former deputy-mayor of Vienna and chairman of the Viennese section of the SPO, Hans Mayr, openly blamed the Chancellor for the party's bad electoral campaign and subsequent electoral losses.
Haider's recent trip to Italy has been raising some eyebrows. In an interview published on Tuesday by the official newspaper of the Lega Nord La Padania, Haider stated his willingness to cooperate in the European Parliament with Umberto Bossi's separatist party. According to Bossi, Haider even participated in a Lega Nord electoral meeting and ended his speech with the words "viva la Padania" - a fact subsequently denied by the FPO press office.
According to Peter Schieder, the SPO foreign affairs spokesman, Haider's connection "with a separatist movement in a neighbouring country is politically wrong, [as well as] tactless and does not improve the relations with this neighbouring state"
Bishop of St-Poelten Kurt Krenn's declaration that he had sympathy for and appreciated Joerg Haider was criticized by OVP general secretary Maria Rauch-Kallat. She said, "Krenn would have done well to follow all the other bishops who have adopted the principle of non-intervention in domestic political issues".
On the economic side, concerns have been raised about the financial and budgetary consequences of a long period of political interim, and especially about the capacity of Austria to fulfill the EU-deficit criteria in 2000. Chancellor Klima therefore appointed a four-member commission - comprised of Finance Minister Rudolf Eidlinger, Minister of Agriculture Wilhelm Molterer, Minister of the Economy Hannes Farnleitner and State Secretary Wolfgang Ruttenstorfer - in order to take all necessary measures to ensure that state finances are handled well in the coming months.
Finally, the possibility of early elections has been dismissed as "senseless" by many politicians such as EU Agriculture Commissioner Franz Fischler (OVP) and Viktor Klima himself. A public opinion poll showed on Tuesday that 62 per cent of Austrians were against new elections, and most observers furthermore believe that they would essentially benefit Haider's Freedom Party.
The composition of a government of "experts", even if not part of Austrian political traditions, has been evoked as a way out of the current political crisis.
Magali Perrault, 22 October 1999
---
Some Useful Websites (in German)
http://www.orf.at (Austrian TV)
http://www.apa.at (Austrian Press Agency)