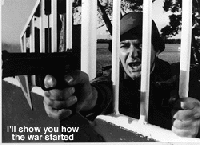 C R O A T I A:
Young Croatian Film
---
Ivo Skrabalo
It is not easy to trace back when and by whom the notion "young Croatian film" was first used, but it is well known to what it refers. It refers to an element of optimism that appeared in the times of great confusion, caused by the war, when it looked like Croatian film was bound to disappear. The para-state system of financing film production that had functioned thus far ceased to exist. Renowned film directors found themselves in a vacuum and were not stimulated to start new projects. All this was taking place at the beginning of the 1990s, after Croatia broke all state and ideological ties to Yugoslavia and was forced to defend its sovereignty with its army. Luckily, it happened that at the time, the Zagreb Academy of Performing Arts was a cradle of educated, talented film-makers, who accepted the historical challenge they were faced with.
Through numerous films, both long and short, which together created the body of young Croatian film, a new young, educated and talented generation of directors, cameramen, editors and actors - all of whom were either former or current students of the Film Department of the Zagreb Academy of Performing Arts - emerged. Without them, the creative and generational renewal of Croatian film would not have taken place.
Already in the first of the short academic films that announced the appearance of the new talented generation of Croatian film-makers, Mirta uci statistiku (Mirta Is Studying Statistics, 1991), directed by Goran Dukic and filmed by Darko Suvak (who both subsequently emigrated to the United States), a new sensibility and sense of ironic departure from the conventional view of the usual generation gap could be observed. One could also see some fresh actors, such as Natasa Dorcic, Sven Medvesek and Barbara Zivkovic, who in later long and short films made by the film-makers from this circle were accompanied by a whole series of actors and actresses, who went on to appear in the credits of virtually every relevant Croatian film of the last decade. Some of them (Lucija Serbedzija, Goran Visnjic) acted successfully in respectable international productions and paved Croatian film's path to the world.
A stolen war
It was to be expected that war issues would dominate during the war years of Croatian film production. The first films of this genre, filmed by cameramen from the previous period, were perceived as copies of partisan films or as imitations of some other generic patterns for filming the war as seen by someone else, mainly the media. It was only the appearance of the youngest generation of film-makers, who were either in the military service or wearing uniforms on the battlefields, that brought about a new way of looking at events in this specific war.
Lukas Nola's statement that he belongs to the generation that "had its war stolen" has often been quoted. He was referring to the fact that the subject of war in Croatian film was dealt with by those who were never close to the war but also to the fact that, in a wider social context, perceptions and expressions of young people who suffered the most throughout the war were not sufficiently made public; while some were fighting on the battlefield, others were fighting for new positions in Croatian society. It can therefore be said that the first credible and good films about the Patriotic War came from the youngest generation of film-makers, those who had just graduated from or were still studying at the Zagreb Academy.
Out of the many war documentaries which appeared, special attention should be paid to Hotel Sunja (1992), on account of its authentic approach to the characters of young defenders and its portrayal of the atmosphere on the battlefield. This film was the school project of Ivan Salaj, a student of the Academy of Performing Arts (APA). He displayed his personal and specific attitude toward the war and the war camaraderie of his generation even more strongly in a slightly morbid medium-length film called Vidimo se (See You, 1995) about the friendship and fate of five young men.
In the film, one of the men, National Guradsman Borna (Borna Krstulovic), is killed, and his four friends decide to steal his coffin from the cemetery and bury it in the forest, according to their previous childish agreement. Another from the group (Goran Visnjic) is just about to leave to become a member of HOS (Croatian Defence Forces, para-military forces organised by Dobroslav Paraga's Croatian Party of Rights which were incorporated into the regular Croatian Army in 1992). At the time, Vukovar was about to fall, the government was in conflict with the HOS and Zagreb was under alert.
Salaj received many praises at European festivals of student film for this 70-minute film, which was a sign of the particular sensibility of his generation.
Jelena Rajkovic (1969-1997) has a special and cult place among the group of young people who introduced a fresh spirit and aesthetic innovation into Croatian war cinema. After an effective documentary on UNPROFOR soldiers, Blue Helmet (1992), Rajkovic became famous for her suspenseful and dynamic medium-length film on psychological consequences of the war, Noc za slusanje (A Night For Listening, 1995). In this film, Bruno (Goran Navojec), a returnee from the war, drops into the local radio station with a bomb in his hand, takes the anchor (Filip Nola) hostage and insists that the police do not prevent him from telling his story on the air. He voices his protest against the misinformation in the newspapers about his alleged death, which made his girlfriend attempt to commit suicide.
This film was shown at many festivals and gained many acknowledgements as a credible and effective presentation of post-traumatic syndrome. Interestingly enough, a day after the film was broadcast on Croatian Television, a similar event took place on Radio Krapina, which prompted Rajkovic to direct a special documentary, Krapina, poslijepodne (Krapina, in the Afternoon, 1997), completed on the day of her premature death from an incurable disease.
A picture without pathos
Lukas Nola (1964), already mentioned above, has interdisciplinary interests and therefore holds a special position among his generation. He is an offspring of the family of reputable pioneers of Zagreb Television (his father, Ante, was a leading scenographer, and his mother, Nena, a legendary secretary of a director - a position which these days could be called assistant director). Nola was a student at the Academy of Arts, he graduated from the APA, was a rock musician (he founded, played guitar and sang in the rock-group Fuj tajfel), skilfully writes texts for his theatre pieces ("Nocni let" [Night flight] in the Theatre & td, for example) and also the screenplays for his films. He became famous through his first medium-length film, Dok nitko ne gleda (While No One is Watching, 1993). He did not wait around for the state money and optimal conditions for his first feature film but was satisfied with the modest possibilities of television production, obviously aware that motion pictures have their aesthetics regardless of the technology and that they reach a wider audience if broadcast on television.
Hence, he made Svaki put kad se rastajemo (Every Time We Depart, 1994) on 16mm film, originally designed only for TV, and only later transposed it to 35mm tape. The film received awards from several Golden Arenas and Oktavijans. Using his experience as a military policeman, who was on duty on the streets of Zagreb in the time of air alerts, Nola created impressive small records of the destiny of a father-soldier (played by the director's brother, Filip Nola). The father arrives in Zagreb to seek refuge for his daughter (Iva Zivkovic), after his wife is slaughtered and his house burned in a Slavonian village. Strongly focusing the story on the vagrancy of these two refugees, Nola complements it with a credible atmosphere of Zagreb at war, and also makes an effort of linking these elements to several memorable and specific characters, far removed from any stereotypes. An image of the war without pity is interlaced with humorous and bizarre situations without devaluating the respect toward the fate of war victims. These features were an indication of the novelties that Lukas Nola and other members of his generation were introducing into Croatian film.
War as comedy
Among the films on the Patriotic War, Kako je poceo rat na mome otoku (How The War Started on My Island, 1996), directed by Vinko Bresan (1964), reached the widest audience in Croatia and struck the most responsive chord abroad. This film was based on the screenplay written by Bresan himself, together with his father, the renowned comedy writer Ivo Bresan (author of the unforgettable Predstava Hamleta u Mrdusi Donjoj [Hamlet in Mrdusa Donja]). The two of them opted for a humorous approach to the conflict between the local population and a garrison of the JNA (Yugoslav Army) in a small island village. It should be borne in mind that previous Croatian war films were made while the war was still going on or when there was a temporary cease fire to prepare for the victorious military operations that were to follow, and the authors had to face the historically relevant events at a time when the outcome could not be know. It is therefore logical that the Bresans dealt with local skirmishes that later proved to be the spark for a brutal war in which a state's army attacked one of its own nations.
Recalling the introductory episodes of the war that we all remember very well, Bresan's grotesque war takes us to an unnamed Dalmatian island with a strong JNA garrison. The locals have blocked the military barracks, constructed a small stage just across the street from it and organised a permanent "cultural and entertainment program" (singers and dancers perform in front of microphones connected to strong loudspeakers and directed toward the barracks), which should serve to demoralise soldiers and achieve a demilitarisation of their island. They demand the surrender of the garrison together with the entire arsenal of weaponry, promising they will let the soldiers (from all the republics of the former Yugoslavia) go home in peace. Major Aleksa, a convinced Yugoslav (excellently played by Ljubomir Kerekes) is strongly against it, claiming that, as a commander, he may not undertake anything without a command from his superior. He does not change his mind even despite the pleas of his own wife, (the irresistible Matija Prskalo) and her famous statement "Aleksa, vrati se kuci! Skuvala sam ti pasta sutu!" ("Aleksa, come back home! I cooked pasta for you!"), which was so loved by audiences that it became an idiomatic expression. Leaders of the local "Crisis headquarters" (Ivan Brkic and Predrag Vusovic-Predjo) do not give up, they even bring Aleksa's lover, Spomenka (Senka Bulic), to the stage, but she is also not able to soften the obstinate officer. Finally, the problem is resolved by Blaz Gajski (Vlatko Dulic), father of one of the soldiers, an intellectual who travelled from Zagreb to try to take his son back from the JNA. However, he cannot come to terms with either Aleksa or the local siege leaders. He comes up with a crazy idea to dress up in a uniform and pretend to be Colonel Kostadinovic, thus taking over the huge responsibility of entering the barracks and pretending he is an officer bringing instructions from a higher command that the garrison should surrender and the large amount of explosives, which the fanatic major threatened to use, should be defused. At the end of the film, the director managed to skilfully link the comedy of situation and suspense, with various details threatening to jeopardise the happy ending.
Fortunately, Vinko Bresan is young enough not to have seen a large amount of Yugoslav or Croatian partisan films, and he remained immune to their influence, which could have been fatal. Actually, there were hardly any partisan comedies, with the exception of a relatively unsuccessful attempt in Opsade (Sieges) and two versions of Joza Horvat's Macak pod sljemom (Cat Under a Helmet). Inspired by the spirit of Mrdusa Donja and Papic's documentary Mala seoska priredba (Small Village Performance), Bresan has a good eye which is able to perceive and picture the funny side of the war, in spite of its horrors, and manages to create humorous and independent films, filled with irony toward everyone (both "us" and "them").
At the same time, taking advantage of excellent actors, he has produced several brilliant caricatures of various ethnic stereotypes in grey-olive-coloured uniforms of the former JNA. He did not "spare" the local population either, wittily sketching the permanent features of their petit-burgeois mentality. There were, of course, some complaints that this humorous approach was not suitable for the demanding topic of the Patriotic War (one of the critics even claimed that the humour in the film was mainly "at the expense of Croats"). However, it turned out that the Croatian public has a sense of self-criticism and irony of the Mediterranean spirit, similar to Fellini's in his Amarcord, whose influence Bresan, luckily, could not resist. The film did not deprive the audience of a patriotic component either, especially in the ending scene's symbolic and virtually absurd death of a local poet and vagabond called Dante (Ivica Vidovic) at the moment of declamation of Matos's anthological poem "1909."
As a member of the generation of young Croatian film-makers who do not like self pity, Vinko Bresan presented a witty, but not at all inauthentic, review of the atmosphere at the beginning of the Patriotic War. It could even be claimed that he created a prototype of independent Croatian film on the Patriotic War. However, it would perhaps be an exaggeration to claim that Bresan's inspiration was entirely Croatian, since influences of Jaroslav Hasek's Good Soldier Svejk and Josef Skvorecky's Armoured Battalion as well some Mediterranean elements can be traced throughout the film. Its main virtue is that it is truly funny and humanly comprehensible not only to the traumatised audience obsessed with the complex of self-pity. It can be claimed that Kako je poceo rat na mome otoku is perceived as an authentically Croatian film exactly because it is, in its features, Mediterranean and Central European.
Despite being made under very modest production conditions (it was filmed in Sibenik, Primosten and Zagreb in 27 days with a budget of some USD 300,000), Bresan's film was broadcast in several post-Yugoslav states and Israel as well as on the satellite TV network Filmnet. Thus, more than any other film made in the independent Croatian state, it was well received at many smaller international festivals in America, Europe and Israel (but also at some bigger and more prestigious ones in Toronto and Montreal). It was also awarded at the Festival of Young Eastern European Cinema in Cottbus, Germany. More importantly, with more than 350,000 viewers in Croatia, Kako je poceo rat na mome otoku returned the lost confidence in the quality of domestic films, especially ones with war as their subject matter. Every film fan enjoyed seeing long queues in front of box offices in the cinemas where this film was shown. Although it is dangerous to treat box office data as an unquestionable criterion of a film's quality, it can still be stated that a small country without a relevant market for films should not afford itself the luxury of producing hermetic, boring films for the sake of art, since this will sooner or later lead those who decide where the tax-payers' money goes into trouble. Through his populist portrayal of events and ordinary people facing great challenges (thus proving to be a worthy student of his teacher Kreso Golik), Bresan showed that audiences can be attracted even if a film does not speak about the "first truly Croatian war" (to use the expression of Petar Segedin) with the pathetic language of partisan films. He showed that Croatians can afford irony and humour at their own expense.
The consequences of war
Young Croatian film did not always address the war directly, but also addressed its consequences, which manifested themselves as the state was undergoing a painful process of transition. This path of transition in Croatia was threefold: it was the transition from Yugoslavia to an independent state, from Communism to a democratic system and from war to peace. In these turbulent social circumstances, young authors sought and found stimulation and incentives for their expression in film. An informal ideologue of the new generation of film-makers from the Zagreb Academy, Hrvoje Hribar (1962), was one of those who did not deal with the war, although his post-war films are unthinkable without the war as a context for human and social relations within which he observes his characters and their attitudes.
In his made for TV film Hrvatske katedrale (Croatian Cathedrals, 1993), the beginning of which was filmed before the war, war is not the subject. Instead, Hribar tells a "peace-time" story about the monograph writer Vanja (Rene Medvesek) who finds accommodation with his emancipated friend Marija (Cintija Asperger), in order to hide himself from his impatient and neurotic editor Vladimir (Branko Brezovac), since he did not meet the deadlines for delivering a script that should accompany the monograph on Hrvatske katedrale. Hribar introduces several completely marginal characters in this apparently simple and non-provocative situation and links it with a robbery by a young thief (Rajko Minkovic) who wants to show off in front of his girlfriend (Barbara Zivkovic, later Nola). The story may have been made too complicated, but it offers unquestionable intellectual pleasure. Full of irony and rich with associations, this film might be described as an "intellectual action comedy," with a definite touch of Czech dissident literature (Vaclav Havel) and film (Jiri Menzel).
Hribar's first feature film has a somewhat intriguing title - Puska za uspavljivanje (A Rifle for Sleeping, 1997) - which does not correspond to the film's content. This film reveals Hribar's modern sensibility and intellectual pluralism of interests through a diverse and complex story. This story is full of irony and dynamic events that do not allow the viewer to be at rest (similar to Dashiell Hammett, the American writer of detective stories and screenplays) and is rooted within a recognisable social and psychological framework.
Hribar is not only a fan of Hollywood film noir and its European mutation (Wim Wenders) but also of post-modern European film in a wider meaning of that term. This orientation is manifested in this "love film in the shadow of the war" (as the film was described by newspapers at the time it was made) in the transitional underground businesses and criminal relations of the post-war reality of Croatian society. This milieu of the social underground in Zagreb - which at first sight seems to be ex-territorial in relation to the war that was still not over - is impressively visually framed by cameraman Slobodan Trninic.
It is not easy to relate the complex story of the film Puska za uspavljivanje, whose main character is a policeman, Janko (Rene Medvesek), a returnee from the war, working in 1993 as a guard in front of the Russian embassy. He is suffering from insomnia caused by shellshock and has very complicated romantic relationships: he left the daughter of his police chief (Relja Basic) who is using that against him and married a hair-dresser and kleptomaniac Nana (Nina Violic), whom he once caught in the act. In order to cure himself from insomnia, he starts an affair with femme fatale Marta (Alma Prica), an energetic widow of a war profiteer and weapons smuggler, Karlo Stajner (Mustafa Nadarevic). Karlo unexpectedly appears alive at a moment of conflict about his suspicious heritage between his not-so-sad widow, his lover, Czech bar-singer Julija (Jelena Miholjevic), and her husband Vlado (Vili Matula) who was a right hand in the deceased man's dirty businesses and who believes that Stajner's limousine should now belong to him. The film concentrates on supporting roles and the story, filled with events and characters, therefore oscillates until the dynamic and parodied finale, which does not bring about any real disentanglement.
Relatively bad audience response to this insufficiently lucid but manifold and very maturely directed film - the only film at the 1997 Pula festival that was not awarded, but was awarded with the annual award of film critics at the Days of Croatian Film - will perhaps open the eyes of Hribar and his colleagues of his generation to the fact that communication in film, along with talent and a modern story, also demands authentic human emotions between the characters. Such emotions are missing in the film, in spite of the numerous loving relationships and affairs.
Cinematic generation of renewal
Discovery of true emotions suitable to the modern sensibility of their generation will perhaps represent the next step for young Croatian film-makers and will result in the realisation of a full communication link with the audience, which has undoubtedly and repeatedly shown that it needs domestic film. Young Croatian film, with traces of new American film, synchronous with European film and interlaced with Croatian urban sensibility, shows certain populist tendencies. It has not sufficiently discovered emotions, as if there would be no place for ironic expression, rejection of ideologisation and aesthetic or any other stereotypes and conventional types of film rhetoric in the presence of emotionally saturated characters.
In order to get a complete picture of the values and orientation of young Croatian film, one should perhaps mention two more films, awarded in 1997 in Pula, which reveal the richness of topics and variety of aesthetic procedures employed by this new creative group.
Due to peculiar circumstances, and probably also because of simultaneous public appearance, virtually the same remarks could be heard about the "post-war" film of Lukas Nola Rusko meso (Russian Meat, 1997) as about Hribar's Puska za uspavljivanje. They share common dramaturgical problems. Nola also oriented himself toward the bottom of social relations in transition, placing the story in a discrete city brothel, not because of cheap attractiveness (there is hardly any naked body or erotic scene in the film) but to present a global metaphor for a society dominated by crime, corruption, drug addiction, violence, prostitution and general immorality.
Using the dramaturgical pattern of detective films, the author of Rusko meso follows Ida (Barbara Nola), a young woman suspicious of the police report on the suicide of her sister Laura Palomar (the author obviously named her similarly to Laura Palmer from David Lynch's cult TV series Twin Peaks). After identifying the massacred body of the dead woman, who earlier broke off all relations with her family, the sister decides to investigate what really happened and who committed that crime. She finds out that Laura worked in a "massage salon" (which is actually a brothel for rich clients) and does not hesitate to go there and ask for a job as one of the prostitutes. Since 1991, the prostitutes had been mainly coming from the countries of the former Soviet Union, and these girls were often called "Russian meat," although in Nola's brothel only one girl is from Russia. The fake prostitute meets a very diverse company in the brothel, for instance the sophisticated Madame Renata (another excellent role for Natasa Dorcic). However, Ida becomes a friend of the girls' body guard Hrvoje (Goran Grgic), who seems to be a good guy and offers her protection. However, she finds out later that he is playing a double, or triple, game - since he is corrupt and linked with a mafia of weapons smugglers.
The central person in the brothel is its psychotic owner Vuk (Ivo Gregurevic), who is using the girls not only for profit-making but also to satisfy his sadistic sexual desires. Ida consistently tries to gather as much information as possible from the girls about the fate of her sister. However, the director does not consistently follow this dramaturgical line, but also follows other events in the brothel and starts another story of the purchase of illegally imported weapons, which brings new complications and additional excitement. In this way, the film gains by revealing deviations and portraying the criminal underground, but at the same time the story is at loss. Instead of leading the detective film towards melodrama, it loses out on intensity and becomes a thriller of revenge, not being the criminals but another girl (Ksenija Ugrina), for her own reasons.
Directed in a skillful and modern way (with the assistance of cameraman Stanko Herceg and scenographer Velimir Domitrovic), Rusko meso is a worthy creation, which confirms the abilities of Lukas Nola as a director and his special position within the body of young Croatian film. However, disorderly dramaturgy and the director's hesitation to portray emotional relations between characters, make this stylistically impressive film fall short of what is expected of Nola. Although it received many awards, the film left an impression of falling below the potential of its story and the talent of its director.
At the same Pula festival, at which both Nola and Hribar presented their loud films from the ambience of post-war criminal and moral underground, the debut film Mondo Bobo (1997) by young Goran Rusinovic (1968) appeared completely unexpectedly, but not with less noise. Rusinovic is a fanatic film fan without an academic film diploma but not without a film education (he attended several semesters at film schools in the US and Denmark). Made with very modest financial means in black-and-white, this rebel film (with the subtitle "New Movie, Same Story") is a variation of the case of Vinko Pintaric, a well-known village serial killer who escaped from prison and a mental hospital and whom police were unable to catch for a long time despite well-organised actions. Rusinovic transformed his protagonist into a maladjusted urban young man chased by the extortioners, thus coming close to characters from films of Godard and Jarmusch.
Besides the film-makers already mentioned, numerous members of the same generation of graduates of the Zagreb Academy are still fighting to make their first feature films. Taking into account the talent that has already emerged from this generation, Croatian film can expect good creative results from them in the future. They include: Istvan (Stipan) Filakovic (1960), Neven Hitrec (1967), Branko Istvancic (1967), Tomislav Jagec (1968), Zvonimir Juric (1971), Goran Kulenovic (1971), Zoran Margetic (1965), Sasa Podgorelec (1967), Ivan Salaj (1969), Niksa Svilicic (1970), Ognjen Svilicic (1971), Jasna Zastavnikovic (1973), Drazen Zarkovic (1970) and many others who are still to come.
Ivo Skrabalo
Translated by Sasa Cvijetic, 25 October 1999
This article was originally published in issue 17 (1999) of Hrvatski filmski ljetopis