C U L I K ' S C Z E C H R E P U B L I C:
More Moribund Manoeuvering
Yet another chapter in the convoluted history of TV Nova
---
Jan Culik
On Tuesday 21 September, Vladimir Zelezny, the controversial chief executive of Czech commercial station TV Nova, made an attempt to get rid of almost all of its sixty per cent stake in the TV station's television licence holder, CET 21. A CET 21 general meeting decided to sell new participation interest in the company. The CET 21 capital was raised from 200,000 Czech crowns (USD 6000) to 10 million Czech crowns (USD 285,000).
If these changes go through, two new companies, Edikon and MEF Media, will jointly gain overall majority in CET 21. Edikon put in 3,123 million Czech crowns (USD 8 million) and is supposed to receive 31.25 percent participation interest in CET 21. MEF media is supposed to gain 30 percent participation interest in CET 21.
Edikon was founded on 16 August 1999. Its directors are Ales Rozehnal, Zelezny's lawyer and CET 21 secretary, and Libuse Smuclerova, Nova TV's programme and executive director. Rozehnal and Smuclerova are two of Zelezny's closest allies.
MEF Media was founded on 30 June 1999. Its main representative is Jiri Smejc (28), about whom little is known in the Czech Republic. MEF Media is owned by MEF Holding, which is also represented by Jiri Smejc. MEF Holding is associated with the company Ceska produkcni 2000, which now runs Nova TV for Zelezny instead of the CME-owned CNTS (Ceska nezavisla televizni spolecnost, the Czech Independent Television Company), on which Zelezny pulled the plug on 5 August 1999.
Both firms, Edikon and MEF Media, state in the Czech Companies' Register that their business activity is "the leasing of property without providing other than basic services ensuring the proper functioning of the property." The business activity of MEF Holding, whose capitalisation is 31.25 million Czech crowns (USD 80,000), is described in the Czech Register of Companies as follows: "The purchase of goods for the purpose of selling them; selling. Mediating activities in the sphere of business and services. Activities by organisational and economic advisors."
The remaining 37.5 percent participation interest of CET 21 is again being divided among four of the six original CET 21 founders: Vlastimil Venclik, Peter Krsak, Josef Alan and Peter Huncik.
Vladimir Zelezny did not participate in these ownership changes because his accounts are frozen by the courts.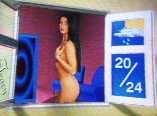 Pocasicko (a little weather): One of Nova's high-brow programmes

CET 21 is a company which was awarded for free a commercial TV licence by the Czech Council for Radio and Television Broadcasting in order to create a relatively high-brow commercial TV station. On being given the television licence, the licence holder promptly dropped the original project and set up an unusually downmarket, manipulative broadcasting company.

The five founders of CET 21, Fedor Gal, Vlastimil Venclik, Peter Krsak, Josef Alan and Peter Huncik later invited Vladimir Zelezny to join them. The CET 21 participation interest was divided between them equally.

In 1996 - 1997, the Bermuda-registered Central European Media Enterprises, which then owned 66 percent of the CNTS, made a series of moves with a view to increase its ownership in CNTS to 99 percent (that target was reached in August 1997). As a part of these moves, CME provided Vladimir Zelezny with a sum of money to purchase 60 percent participation interest from the other five members of CET 21. At the same time, CME bound Zelezny to itself by strict loyalty agreements. Zelezny was duty bound, as the holder of a controlling interest in CET 21, always to vote according to the wishes of CME. As we have reported before, CME and Zelezny became enemies in the autumn of 1998, when CME alleges it found Zelezny in the process of asset-stripping CNTS, of which he was then Chief Executive. CME sacked Zelezny from CNTS in March 1999. Zelezny created a new television service company and pulled the plug on CME-owned CNTS in August 1999. CME is suing Zelezny at the International Chamber of Commerce for USD 300 million and the director of CME, Ronald Lauder is suing the Czech Republic for USD 500 million.

Should the above-described ownership changes come into force, Zelezny would now own only 0.02 percent participation interest in CET 21. Nevertheless, he still remains a secretary to CET 21 and Nova TV's chief executive.

According to some observers, Zelezny has now tried, by shifting practically all participation interest in CET 21 to his friends, to wash his hands of all responsibility in the forthcoming international arbitration and legal proceedings. "He wants to mock everyone and to say: 'I have no property, you cannot get me,'" said Michael Donath, a CME representative in Prague last week.

Others point out that it was necessary to increase the capital of CET 21. Until recently, CET 21 was only the licence holder; all "real business transactions" were done by CNTS. However, the moment CET 21 actually started broadcasting, its low capitalisation meant that it was constantly threatened by bankruptcy: its outstanding financial commitments are much larger than its capitalisation. From this point of view, the original capitalisation of USD 6000 is unrealistic.

A court order was issued in Prague on Friday 17 September, banning Zelezny from trying to sell his participation interest in CET 21. Zelezny ignored the court order, refused to accept it and went ahead with the transaction nevertheless. Nobody has raised an eyebrow over such contempt of court in the Czech Republic.

Law and disorder

Milan Smid pointed out in Britske listy on Friday 24 September that these ownership changes cannot become legal before the Council of Radio and Television Broadcasting approves them.

It is true, argues Smid, that in December 1996, the Council for Radio and Television Broadcasting was forced by parliament to give up its right to control ownership changes in Czech commercial radio and television. A period of wild ownership changes followed, not only in Nova TV. When legislators saw this, they reversed some of their earlier ultra-liberal moves. A certain degree of control over ownership changes was restored to the Council for Radio and Television Broadcasting in June 1997 (Act No. 135/1997). Thus all broadcasting licence holders must ask the council to approve any changes in the legal entity which owns the licence and in the name and place of residence of the person empowered to represent the legal entity;

in the company capitalisation,
in the individual investment by members of the company,
in the size of their participation interest,
in the list of participation interest owners...

The current position of the Council is that it is unlikely to block changes, as long as the existing majority licence holder remains in possession of 51 percent of the company.

In other words, the most recent property changes within CET 21 cannot come into effect until and unless they are approved by the Council for Radio and Television Broadcasting.

The Council should deal with this issue within 60 days. However, the proceedings have been suspended and according to Lidove noviny of 24 September, the Chairman of the Council, Josef Josefik, said that the Council will not deal with the matter until the current CME - Zelezny court proceedings run their course. (He did not specify which of the many ongoing lawsuits he had in mind.) It is therefore likely that the issue will not be dealt with by the Council for a long time.

Should the Council eventually rule on the matter, will it wish CET 21 to revert to the original ownership structure, when the licence holding was evenly distributed between six CET 21 participants, or will it confirm Zelezny's 60 percent participation interest, which in 1996 was obtained illegally, without first seeking approval from the Council, at the time when the licence conditions demanded this, asks Milan Smid.

Zelezny: a TV Machiavelli?

Milan Smid also points to the distinct possibility that the currently proposed ownership changes in CET 21 are just another of Zelezny's charades in order to further his own ends.

It looks as though Zelezny is trying to use his current financiers, MEF Holding, just as he used CME. Zelezny may be promising MEF Holding majority participation interest in CET 21, knowing full well that the Council will not approve it. Maybe Zelezny is hoping to use the future profits of Nova TV to take over the television station fully into its own hands.

An article in Hospodarske noviny, published on 24 August 1999, would seem to confirm this strategy. According to HN's journalist Jiri Michal, Vladimir Zelezny is thinking of taking "all the Nova TV obligations, including the current loan," onto himself. This does not seem to have been welcomed too enthusiastically by the shadowy figure of Jiri Smejc from MEF Holding. It may well be that MEF Holding have rather different plans from those of Zelezny. Watch this space.

No matter what the outcome of this convoluted post-communist history might be, one thing is certain. The current convolutions will not lead to the improvement of television broadcasting in the Czech Republic.

As can be seen from what is going on, the administrative structures of the Czech republic, the regulatory media authorities and the courts are weak. In such an environment, unscrupulous operators work with glee. Justice is not done, civilised principles do not prevail: the one who applies most pressure wins.

CME knows this very well and it is applying a lot of pressure. While the Czech authorities reacted to Zelezny's takeover of Nova TV earlier this year with indifference, alarm is now spreading after Ronald Lauder has decided to demand USD 500 million damages from the Czech state under the terms of the Czech-American agreement on the protection of investment in the other country. Editorials are run, pointing out that if the Czech Republic loses, every Czech citizen will have to pay Ronald Lauder some 1500 crowns (USD 90) (more than a tenth of average gross Czech monthly income). The Czech government is worried and would like to placate Lauder somehow, fearing that it will lose because it cannot afford to hire such expensive lawyers as Lauder, who has even involved president Clinton in the affair. Czech Foreign Minister Jan Kavan discussed the matter with US Secretary of State Madeleine Albright recently.

But how should the Czech Republic placate Lauder? Zelezny will not give up TV Nova and the other Czech commercial TV, the loss-making Prima, will not be given up by the IPB bank - according to unconfirmed, but recurrent voices, even this TV station is controlled by Zelezny through his contacts in IPB. Suggestions have been even raised that CT 2, the quality public service nation-wide television station, should be scrapped and given to Lauder as recompense. That would deal a final, mortal blow to television broadcasting in the Czech Republic.

CME knows that it cannot hope just to sit back and wait for the verdict of impartial courts in the Czech Republic. It is thus developing the utmost pressure, hoping that the Czech Republic might buckle and it probably will. In an interview with Lidove noviny, published on 24 September, CME chief executive Fred Klinkhammer said openly that CME wants the Prima TV licence. Only that, he argues, would be a sufficient recompense. It would also break Zelezny's monopoly on Czech commercial television, which many politicians fear and create a more wholesome climate of two competing commercial TV station, said Klinkhammer.

His arguments are suspect. Unless and until the Czech state authorities find courage and energy within themselves to regulate the television market impartially and according to sensible quality standards, the situation in the Czech Republic will not improve. If Klinkhammer gets Prima or CT 2 and Zelezny retains Nova, the two commercial stations will undoubtedly compete on the lowest common denominator. Each of them will try to outdo the other station in how low it can sink. The past history of CME's TV stations seems to confirm this.

The situation will probably not improve until the Czech viewing public matures and starts being bored with the primitive diet Zelezny and similar entrepreneurs tend to offer the nation.

Jan Culik, 27 September 1999

The author is the publisher of the Czech Internet daily Britske listy.

Other Articles by Jan Culik in CER

Mixed Czech Nuts, 20 September 1999

Nova TV: The saga continues, 13 September 1999

UK: Central Europeans Keep Out!, 30 August 1999

Czech Public TV: The yellow-bellies, 23 August 1999

Zelezny Pulls the Plug on Czech TV Nova, 16 August 1999

Czech Media and Civil Society: A survey, 16 August 1999

Czech Revival: No Pulse 99, 9 August 1999

Princess Diana, Al Fayed, the CIA and a Czech Spook, 2 August 1999

Nova TV: Commercial success or embarrassing failure?, 2 August 1999

Book Review: Martin Fendrych's Jako ptak na drate, 26 July 1999

A Concrete Example of Muddy Thinking in the Czech Press, 19 July 1999

Press Freedom under Threat, 12 July 1999

Corruption at the Czech Law School, 5 July 1999

The Czech Malaise, 28 June 1999