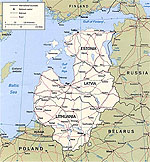 C E N T R A L E U R O P E A N N E W S:
News Review for Estonia

All the important news from Estonia since 18 September 1999.
---
Estonia's ambassador to the US, Grigore-Kalev Stoicescu, was recalled officially, to be replaced by current ambassador to the United Nations, Sven Jurgenson. The Estonian Foreign Ministry said that Stoicescu was not being recalled due to poor work but is "needed elsewhere." Sven Jurgenson is among the highest-ranked, longest-serving members of the Foreign Ministry and this shift is considered as a shift of emphasis in Estonian foreign policy back to the US.
The business daily Aripaev could be in more trouble for some investigative reporting it conducted. The prosecutor's office has opened investigations into a bribery the paper offered to a court clerk for a story. Among the named suspects is Igor Rotov, editor-in-chief of the business paper.
Tallinn City Council Chairman and parliamentary opposition leader Edgar Savisaar of the Centre Party was caught speeding late one evening. This comes along with a rash of other cases of political officials being caught by traffic police for speeding and drink-drive. Savisaar immediately asked for a breathalyser and was cleared. He exceeded the speed limit by about 25 km/h.
Moldovan Prime Minister Ion Sturza ended his Baltic tour in Estonia. Sturza met with Prime Minister Mart Laar and discussed bilateral, especially economic, co-operation. Sturza praised Estonia's reforms and called on Estonia to share its experience with Moldova. Later, meeting with Foreign Minister Toomas Hendrik Ilves, the pair discussed the situation in Moldova's Transdnistria. Ilves called on Russian troops to withdraw from the Moldovan territory, saying Estonia would do all it can to lobby international organisations.
The corruption court case against Finance Minister Siim Kallas hit an impasse within the Supreme Court. As the appropriate panel has not made its scheduled ruling, the case will in all likelihood be sent to the entire judicial panel. This case could drag on well into 2000. As reported earlier, Kallas, while president of the Central Bank, was accused of playing a part in a money laundering scheme. Kallas was found not guilty, but the prosecutor has appealed each step of the way - bringing the case to the Supreme Court.
The Central Bank released some positive Q2 numbers. The current accounts deficit dropped to EEK (Estonian kroons) 800 million, or about 4 per cent of GDP - the lowest it has ever been. Also, it showed that foreign direct investment in the quarter amounted to EEK 1.2 billion. Experts say this affirms the better-than-expected GDP numbers for Q2, given a few weeks ago.
The newspapers are full of complaints - mostly about the proposed cuts in the police force. Officers and municipal officials voiced concerns, citing increasing crime to bad PR. Many of the regional forces' heads have stated they have no choice but to cut street patrols. The issue has even earned the wrath of the Reform Party, which is in coalition with Interior Minister Juri Mois's Pro Patria Union.
However, most of the Riigikogu members from Reform have effectively given in on the police cuts issue to preserve coalition unity. However, Reform Party member and Tartu mayor Andrus Ansip has been vocally critical, saying Mois cannot run operations like the police in a banking fashion - adding derisively that under that same mentality it would be more economical to force all farmers to move to cities. Before becoming minister, Interior Minister Mois was the chairman of the banking giant Hansapank.
Interior Minister Mois has promised more changes and re-organisation. One that the press revealed is the possible shifting of the well-respected head of the Border Guards, Read Admiral Tarmo Kouts, to a position within the ministry.
Running up to the October local elections, the Language Inspectorate again announced that campaign posters in languages other than Estonian are not allowed. In every election, posters in Russian show up - mostly advertising the Russian-interest parties, but also several of the mainstream parties. The parties also use Russian TV to show campaign adverts. Some of the Russian groups are now contesting this decision in court.
But the Electoral Commission announced that a total of 1,058,818 voters are eligible to vote in the elections - including 194,525 non-citizens. In Estonia, non-citizens with permanent residence permits are allowed to vote in local elections. In Tallinn, about 28 per cent of the electors are non-citizens, while the balance is over 50 per cent in the north-east: in Ida-Viru County, there are 66,113 citizens to 74,263 non-citizens on the election rolls.
The government-sponsored bill to eliminate corporate income taxes is stuck in committee. The Riigikogu Finance Committee has only 12 members due to the quirky assignment of committees at the beginning of the session. With an even balance between government and opposition, the bill is deadlocked for the time being. The Committee chairman called the situation "absurd."
About half of Estonians feel relations with Finland are good, according to a new poll. Though the number of citizens viewing Finns poorly has dropped, anti-Finn sentiment has become more vehement - mostly due to Finnish treatment of Estonia over economic issues (such as the boycott of Estonian shipping) and drunken Finnish tourists behaving badly in Estonia. However, as the same survey showed, Finns also view Estonians rather poorly these days.
Prime Minister Mart Laar held a dinner for the surviving officials of the 1944 Otto Tief government. The Tief government, which survived for five days between the Nazi and Soviet occupations, is held to be the symbolic attempt to restore Estonia's independence after the Molotov-Ribbentrop Pact. Many members of that government were executed by the Soviets or deported to Siberia.
Eesti Telefon announced that by 1 October, the entire phone network will be cleared from the Y2K problem.
Banking giant Hansapank is taking legal action against the Ukrainian city of Dnipropetrovsk. The Ukrainian city owes USD five million to Hansapank.
The government fell into controversy over passing tough new laws on residence permits and visas. The procedures for getting residence permits were altered to apparently call on people to "legalise" themselves, but some of the conditions seem stringent. Also, the new laws basically state that the 400 or so former Soviet officers who were given money by the US to leave Estonia cannot get residence permits. Also, the government ruled to make visas unavailable at the border - which provides for a puzzling situation, as Estonia does not have umbrella consular coverage. The plan came under heavy criticism from officials, including the Citizenship and Migration Bureau.
Estonia's top swimmer, Indrek Sei, could be heading to jail instead of the Sydney 2000 Olympics. A second drink-drive arrest, this time registering a blood alcohol level of 2.3 per mill, could land the swimmer in jail under new regulations. He has been banned from six months of competition - forcing him to miss, among others, the World Championships. The week prior, a man in north-east Estonia was sent to jail for three months under the new regulation on multiple drink-drive offenders.
The military also worked out a deal for Estonia's foreign-based footballers to do their military service without threatening their playing status abroad. Several Estonian football players play abroad, including Mart Poom (goal, Derby County, English Premiership), Andres Oper (Aalborg, Danish Premiership), and Indrek Zelinski (Blackpool, English Second Division). The latter two were added to a "black list" of those failing to serve their mandatory military time.
But Estonian football is in trouble, as goalkeeper Poom needs emergency wrist surgery. With the number two goalkeeper also unfit, the 9 October match against Bosnia, which Estonia needs to win to hope to qualify for Euro 2000, could be a fiasco for the team.
The government decided to privatise the news agency ETA. Eesti Raadio has since stated it would be interested in acquiring the troubled news agency, as have others - including ETA's Latvian counterpart, LETA.
The Central Bank awarded a banking license to Preatoni Bank, launched by real estate mogul Ernesto Preatoni. This is the first new banking license awarded in several years - making Preatoni Bank the sixth in Estonia. Ernesto Preatoni is a well-known real estate developer in Estonia and the Baltics. Preatoni states that the new bank will focus on real estate development and loans. Preatoni leads a large group of Italians who are now working and living in Estonia.
The Estonian contingent to Kosova will be serving with Italian forces.
Major General Ants Laaneots was finally allowed to resign as the Estonian Defence Forces' chief-of-staff. Lt. Colonel Aarne Elmus takes over the job from Laaneots, who will go on to teach at the Baltic Defence College in Tartu. The press speculated the reason for his resignation came due to him not being promoted to acting Commander while Commander Johannes Kert is away on a study leave for a year.
Estonia also approved its Membership Action Plan for NATO. The plan foresees a 25-30,000 strong wartime force, while conscription numbers will be at 3000 annually. The plan also sees defence spending rise up to two per cent in the year 2002 (see Amber Coast from 5 August for more on the defence spending debate.)
The IMF lowered Estonia's 1999 GDP growth numbers to 0.5 per cent from 2.3 per cent. This is in line with the government's own expectations.
The city of Tallinn, after being banned from taking a loan with Hansapank, agreed on a EEK 130 million loan with Deutsche Pfandbried Bank.
Two leaders of the Sillamae Russian Citizens Union have applied for political asylum in Norway. They complain that they are being prosecuted in Estonia - and they are, since they are under indictment for causing ethnic discord in several cities in north-east Estonia. Though they are Russian citizens (not Estonian citizens), they claim the situation is bad in Russia and that Norway is a "law-based" state. Though they did think OSCE Minorities Commissioner Max van der Stoel is Norwegian (he is Dutch). One reason they may not want to go to Russia is simply because it was the Russian Embassy which called to have them arrested at a protest in front of the Embassy a few months ago...
Exchange Rates
As of 23 September 1999
currency
Estonian
kroons
(EEK)
1 US dollar
15.02
1 British pound
24.60
1 German mark
8.00
1 euro
15.65
---
Mel Huang, 24 September 1999
---
News Sources
Baltic News Service (BNS)
The Baltic Times
Radio Free Europe/Radio Liberty
Reuters news on Yahoo
ETA
Eesti Paevaleht
Postimees
Aripaev