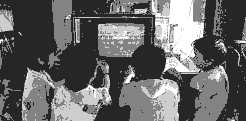 T E L E V I S I O N:
Nova TV:
Commercial success or
embarrassing failure?

---
Jan Culik
On Monday 19 April, the general shareholders' meeting of the Czech Independent Television Company (CNTS) sacked Vladimir Zelezny, a flamboyant and somewhat notorious figure, from the post of general executive of CNTS, a position which he had held since the inception of the controversial commercial Nova TV. This initiated the latest, most dramatic - and also the most comic - chapter in post-Communist television broadcasting in the Czech Republic.
99 percent-owned by the Bermuda-registered Central European Media Enterprises (CME), CNTS is the service company which has, over the past five years, provided television programming to the licence holder of Nova TV - from 1996 onwards, the Czech firm "CET 21." Until recently, Zelezny owned 60 percent of CET 21, but now, rumours abound that he has sold (been forced to sell?) this stake to the Czech Investment and Postal Bank (IPB).
Past glory
The launch of Nova TV was commercially the most successful launch of a TV station in world television history. The station started generating profits within nine months of going on the air. In 1996, Nova TV earned 44 million US dollars in station operating income on revenues of 109 million US dollars, paying out a dividend of 12 million. (The average annual income in the Czech Republic was then approximately 3100 US dollars.)
Nova TV has been transmitting US entertainment series and films, locally made studio-based programming and - ignoring or eroding the original broadcasting conditions - sensationalist news and late-night pornography. Particularly notorious is its weather forecast in which naked women - and sometimes men - appear on the screen and put on clothes depending on what the weather is likely to be on the following day. Relying heavily on sex, violence and voyeurism, Nova's tabloid approach has been a highly successful commercial television station with a regular share of more than 50 percent of Czech viewership.
Nova TV is the jewel in the crown of CME: it is the only CME television station in Central and Eastern Europe recording substantial profits. CME has been using Nova TV's profits to finance some of its less profitable operations in the other Central and East European countries.
Apart from the Czech Republic, CME operates television stations in several countries in the region: in Slovakia (Markiza TV); in Romania (PRO TV); in Slovenia (Tele 59), in Poland (Pro Plus); and in Ukraine. However, CME as a whole has failed to turn a profit in seven years.
TV Nova's profits have not been enough to save the ailing CME empire. At the end of March 1999, CME agreed to merge with the more solvent Scandinavian Broadcasting System (SBS), a company headed by Harry Evans Sloan, a former producer of Hollywood B movies.
A new boss
The formal merger between CME and SBS was announced on 29 March 1999. The two companies presented a definitive agreement for the merger of their two companies in an all-stock transaction valued at 615 million US dollars. The merger created Europe's largest broadcaster: it encompasses 18 television stations and 12 radio stations in 13 countries, serving a population exceeding 150 million. In 1998, the companies produced 594 million US dollars in combined revenues and 64 million in station operating cash flow from continuing operations.
The merger between the two largest players in the market for commercial TV in post-Communist Europe would seem to be logical. SBS is interested in penetrating the Czech Republic (last year it considered purchasing the ailing commercial station Prima TV). CME has financial difficulties and needs to penetrate into Hungary.
In June 1997, when two nation-wide Hungarian TV stations were being privatised, CME failed to be awarded a licence for either of them, partially because of its negative reputation in the Czech Republic. This was a major blow to CME's expansion strategy. SBS owns a nation-wide television licence in Hungary, where it co-operates with the Hungarian partner MTM.
The newly merged entity still has one nagging problem to solve in Prague.
Prague rogue
Since August 1998, a spectacular conflict has emerged between the American owners of CNTS and Vladimir Zelezny. For many years, Zelezny was a faithful servant of the Americans. It seemed to be enough for him to pose as one of the most well known post-Communist entrepreneurs in the Czech Republic, although very few would scoff at the money he managed to generate by being given a commercial TV broadcasting licence for free by the Czech government. In 1997, Zelezny and his colleagues sold their own 5.8 percent stake in CNTS to CME for approximately 30 million dollars.
A typical example of Klausian post-Communist entrepreneurship without scruples, Zelezny basked in the limelight of the downmarket television station that he had created. Some people thought that Zelezny had political pretensions and indeed, he may still surface as a politician. The fact that he is not seen as a very trustworthy figure does not appear to matter much in Czech politics.
Particularly infamous was his half-hour, Saturday lunchtime programme "Call the Director" in which he "sincerely" addressed the nation on behalf of himself and his television station. In the time slot he allotted to himself each week, Zelezny faithfully peddled the American strategy, which seemed to be to siphon off as much of the profits from the Czech operation as possible.
For not very well known reasons, from mid-1998 onwards, a conflict emerged between Zelezny and his American masters. Perhaps Zelezny tried to put a stop to the Americans creaming off Nova's profits in order to fill the gaping hole in the CME balance sheets due to the failures of its other TV companies in some other East European countries. Perhaps Zelezny did not like the forthcoming sale of CME to SBS broadcasting. Perhaps he decided it was time to go it alone.
Whatever Zelezny's reasoning, CME is now arguing that Zelezny was caught asset-striping CNTS, the goose that was laying golden eggs. On 26 April, 1999, CME said that it had decided to sue Zelezny for damages at the International Chamber of Commerce in Paris. CME argues that Zelezny broke written, personal loyalty pledges made to CME, and they are demanding that Zelezny return the 23 million dollars that he was personally paid by the company, as well as other unspecified damages. The hearings will take place in Amsterdam.
Bermuda shortcomings
Although quite aggressive itself, CME nevertheless, seems to have based much of its business activities in Eastern Europe on trust. For political reasons, it did not set up commercial television stations on its own but instead allied itself with local figures, such as Vladimir Zelezny in the Czech Republic. While it usually controlled the company which provided the television broadcasting, it did not directly hold the broadcasting TV licences in the individual East European countries. At least in the case of the Czech Republic, this seems to be the root of many of the problems.
Thus, while CME owns CNTS, the service company which operates Nova TV for CET 21, CME does not hold the actual broadcasting licence. In 1997, CME started the process of fully dominating both CNTS and CET 21, but the latter process failed: 60 percent of the CET 21 stake landed in the hands of Vladimir Zelezny.
Since the spring of 1999, Zelezny has been in open conflict with CME in the Czech Republic. He argues that, as a licence holder, he can decide which television company should provide him with television broadcasting; the CME-CNTS contract should not be exclusive.
There have been several dramatic developments in recent months. Within a matter of a couple weeks of his sacking, Zelezny wrote and published his own personal and highly emotional account of the struggle with CME, under the title Tu televizi nedame!! (We Will Not Give up This Television Station).
When a new director of CNTS tried broadcasting his own, much more measured "Call the Director" of a Saturday lunchtime, Zelezny managed to persuade the transmitting authority to take the programme off the air after only a few minutes into the programme and broadcast, instead, for the next half hour, a written message condemning the attempt to transmit a "pirate" programme. The conflict has continued in such a manner for some weeks, each side making passionate accusations against the other.
National internationalist
Zelezny is well known in the Czech Republic for radically changing the views he expresses in public in order to further his business interests; the past few weeks have been no exception.
Since the inception of Nova TV in 1994, Zelezny passionately defended international, free-market business practices in general and CME's business activities in the Czech Republic in particular in his notorious weekly television programme "Call the Director." When critics pointed to the fact that CME removed all Nova TV's profits from the Czech Republic, he accused them of peddling Marxism.
However, over the past few days, Zelezny has reversed his old internationalist line, complaining bitterly that CME has been removing all profits from Nova TV, preventing him from "improving Nova's programming." Zelezny now explains that he wants to create his own "properly Czech" television station.
Zelezny appears to have jumped on the high horse of nationalism: he continually threatens to take away the broadcasting rights from CNTS and give it to a new company that some young Czech entrepreneurs have hastily set up. Just this past weekend, for instance, Zelezny was demanding the profits from Nova TV's advertising although until now most of these profits have belonged to CNTS and CME.
Perhaps Zelezny has realised that CME has become a burden for him, the owner of the broadcasting licence; however, some observers point out that, in spite of his huffing and puffing, Zelezny has already lost. He is even said to have sold his stake to the Czech bank IPB, who is quite likely to sell it to CME.
Jan Culik, 31 July 1999
The author is the publisher of the Czech Internet daily Britske listy.
Other Articles by Jan Culik in CER:
Princess Diana, Al Fayed, the CIA and a Czech Spook, 2 August 1999
Book Review: Martin Fendrych's Jako ptak na drate, 26 July 1999
A Concrete Example of Muddy Thinking in the Czech Press , 19 July 1999
Press Freedom under Threat, 12 July 1999
Corruption at the Czech Law School, 5 July 1999
The Czech Malaise, 28 June 1999