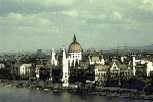 C E N T R A L E U R O P E A N N E W S:
Hungarian News Round-up
News from Hungary since 13 September 1999
---
Paul Nemes
The Hungarian government coalition remains split over next year's budget. Despite the Government's acceptance, on 21 September, of the year 2000 budget the fact that it did not receive any support from the Smallholders means that there are doubts over its approval by Parliament in November. Smallholder President, and Minister of Agriculture, Jozsef Torgyan is still adamant that spending on agriculture is too low. Finance Minister Zsigmond Jarai would not compromise however , saying, "I don't see any room for manoeuvring within this budget - this is the budget that has to be passed." After the cabinet meeting Torgyan said that his party would propose an amendment to the budget in Parliament. On 24 September the Smallholders indicated that they are willing to accept the present budget, but said that they will demand an extra HUF 163 billion (USD 670 million), in addition to the HUF 250 billion (USD 1 billion) already allocated to agriculture.
The Prime Minister, Viktor Orban, has tried to ease tension between himself and National Bank of Hungary (MNB) Governor Gyorgy Suranyi. Suranyi was present at the Cabinet meeting that discussed the budget. The Prime Minister, who only a week earlier had severely criticised Suranyi, said after the meeting that he was happy with the Governor. Only a day later Finance Minister Zsigmond Jarai criticised Suranyi again saying that Orban was right when he blamed the MNB for hiding the losses of an MNB subsidiary. It is thought that Orban's earlier attack on the MNB was possibly a gesture to appease the Smallholder's coalition partner, FIDESZ (Hungarian Civic Party). The Smallholders have criticised Suranyi. They have also reacted angrily to Orban's allocation of funds to agriculture. Meanwhile, Suranyi has said that he expects the Hungarian economy to do better than predicted by the International Monetary Fund (IMF). Suranyi predicts that economic growth will be higher than the 3.7 per cent forecast by the IMF. He also expects lower inflation than the eight per cent predicted by the IMF for the year 2000.
Seven people were injured in a car bomb explosion that happened in central Budapest late on 18 September. The bomb exploded in a jeep near the Horizont cinema on Erzsebet korut. A man was arrested near the scene, but it is though unlikely that he was responsible for the bombing. The owner of the blown-up Grand Cherokee jeep, a Turkish citizen, was not present at the time of the explosion, but appeared on the scene later. The explosion follows several smaller bombings which police say have been the result of fighting between organised crime groups. A police spokeswoman said that she could not say if the explosion was linked to Turkish groups competing with Albanian, Russian, Ukrainian and Yugoslav criminal groups.
The Czech Republic, Hungary and Slovakia rejected trade limitations on agricultural products at the opening meeting of the Subcommittee of the Central European Free Trade Area (CEFTA). At last week's meeting in Budapest Hungarian Deputy State Secretary Peter Balas said that Hungary would not discuss any agreement which diverged from central CEFTA issues. Balas said, "Hungary wants to discuss all trade problems together … while CEFTA is allowing the free trade of some members to restrict the flow of Hungary's agricultural products." Hungary's rejection comes only a week after the failure to solve the ongoing trade dispute with Poland. Minister of Economics Attila Chikan said on 24 September that while Hungary's export growth is heartening, exports to custom-free areas are too high. 42 per cent of Hungarian exports go to custom-free zones. Chikan said, "one of the tensions in foreign trade is … the excessive dependence on custom-free zones." Meanwhile, Latvia's parliament has passed a free trade agreement with Hungary in order to join CEFTA.
Istvan Valkar, head of the Hungarian Department of Shipping, said, after a meeting of the Danube Committee, that it would cost between USD 10 million and USD 16 million to clear the Danube after the recent NATO bombing of Yugoslavia. The Danube Committee, based in Budapest with participants from all countries adjacent to the Danube, estimates that it will cost around USD 92 million to clear the Danube and rebuild its bridges. Five Danube bridges were hit during NATO bombings, three of these at Novi Sad/Ujvidek. It is thought that it will take at least three years to complete the reconstruction. Valkar said that, while the technical and financial problems can be solved in a relatively short time, the real problem is political.
Following the removal of a provoking plaque from the Hungarian consulate in Cluj (Kolozsvar), the town's mayor, Gheorghe Funar, accused the Hungarian consul of spying. The Consul, Laszlo Alfoldi, was re-appointed last week. He was also consul in 1989 when Ceausescu ordered the closure of the consulate. Funar, the Secretary General of the Greater Romania Party who has accused Budapest of plotting to re-claim Transylvania, told a gathering in the central Transylvanian town's main hall that he would organise a mass rally unless the Consul left the country at once. In response, the local prefect, later replaced by the Romanian government, banned all demonstrations from taking place. After meeting his Romanian counterpart in New York, Hungarian Foreign Minister Janos Martonyi said that he is content with the Romanian cabinet's condemnation of Funar's verbal assault on Alfoldi.
A park of Romanian-Hungarian reconciliation is planned to be opened in Arad on 6 October. This date marks the 150th anniversary of the execution of 13 Hungarian generals in the town following the 1848-49 Hungarian War of Liberation. All the parts of the 13 generals' statues have to be found before the park's opening ceremony.
In an attempt to improve relations between the two states, Janos Herman, the Hungarian Administrative State Secretary of Foreign Affairs, has held talks with representatives of Bosnia-Herzegovina Serbs. Herman said that he hoped for better co-operation between the two countries. He went on to say that Hungary would try to assist in the modernisation of Bosnia. He added that "Hungary would like Bosnia to join international organisations, including the Council of Europe."
Austrian President Thomas Klestil said, during a recent visit to Budapest, that Hungary and Austria have grown closer than anyone could have foreseen. Klestil stressed that Austria was the first to identify Hungary's privatisation opportunities and that his country played a significant role in Hungary's change to a market economy. Hungary is currently, together with Switzerland, Austria's third most important market. Speaking about Hungary joining the European Union, Klestil said: "I am convinced that there is no alternative to unifying Europe. It follows that the talks on Hungary's EU accession should be conducted consistently."
Attila Chikan, the Hungarian Minister of Economics, said that the Government will have plans ready for reform of Hungary's health care sector by December, and not January 2001 which was the date previously set for a health care plan. Although Chikan has not given any firm indication as to how the health care system will be reformed , he said that the developments will be of great importance not only for health care reasons, but also for financial reasons. Health care is the last major sector to be considered for post-communist reorganisation.
Belgian Michel-Marc Delcommune has been appointed Chief Financial Officer of Hungarian oil and gas company MOL. Delcommune, who formerly had the same position in PetroFina, will be part of a three-member executive committee. MOL Chairman Janos Csak, who recruited Delcommune, said: "We expect significant contributions from Michel-Marc to implement business strategies based on his in-depth experience of the industry," and said that the appointment was the "optimal outcome" for MOL. Finance Minister Zsigmond Jarai has said that MOL's petrol pricing needs to be scrutinised as the increase in global, and consequently, domestic oil prices will have an adverse effect on inflation. MOL Director Gabor Garamszegi responded by saying that price levelling is possible now that Hungary's fuel market has been liberalised.
Telenor, Norway's largest, state-owned, telecom company, have completed their take-over of Hungary's fifth largest Internet provider, Pronet. Telenor also struck a deal with Telia, the Swedish state telecom company, last week to reduce objections by the European Commission to their planned merger. Telenor, who already have subsidiaries in five European countries, said that the acquisition of Pronet is part of their strategy to expand internet services internationally.
Paul Nemes, 25 September 1999