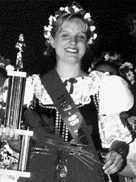 F E M I N I S M:
Women on the Web
Internet resources on feminism in Central and Eastern Europe
---
CER Staff
General
Network of East-West Women
http://www.neww.org/
A good resource which lists women's organisations by country for all of Central and Eastern Europe, NIS and the Russian Federation. Regrettably, some areas are incomplete, but this is still probably the best place to start.
Czech Republic
Feminismus.cz
http://www.feminismus.cz/index.s html
A good mini-portal of Central European women's organizations.
In Czech, with the English portion currently under construction.
Prague Gender Studies Center
http://www.ecn.cz/gender
gender@ecn.cz
ProFem
http://www.ecn.cz/profem/
Central European consultation center for women's projects
This website is only Czech, but, because it cooperates with organizations across Central and Eastern Europe, it does offer several references and resources in English.
Poland
Kobiety
http://www.kobiety.com/
This site offers a survey of women's organizations as well as providing several links. The site is in Polish.
This is primarily an information center, providing services and support for women's organizations and civic initiatives. In Polish and English
Center for the Advancement of Women
http://www.neww.org/publications/poland_directory.htm
A directory of women's organization and initiatives in Poland.
Romania
Romanian Society for Feminist Analyses (AnA)
http://ana.ong.ro/index(eng).html
In English and Romanian.
---
Compiled by CER Staff