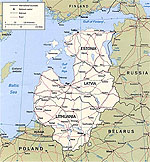 C E N T R A L E U R O P E A N N E W S:
News Review for Lithuania
All the important news from Lithuania
since 19 Feburary 2000

Mel Huang
---
Politics and foreign affairs
Estonian Prime Minister Mart Laar hosted his Baltic counterparts, Andris Šķēle of Latvia and Andrius Kubilius of Lithuania, for a one-day meeting in Tallinn. Co-operations projects remained high on the agenda, such as the joint acquisition of military equipment and the creation of an open Baltic energy market. The trio also decided to abandon summer time, following Estonia's decision earlier.
Lithuanian prosecutors expressed their dismay at Israel's refusal to co-operate in the genocide case of Nachman Dushansky. Dushansky is accused of deporting families to Siberia during the Soviet occupation. Because Dushansky is now an Israeli citizen, the Lithuanian government is handcuffed on the matter.
Lithuanian soldiers will now also be instructed about the Nazi and Soviet occupations during their training, with extra emphasis placed on the Holocaust.
Macedonian President Boris Trajkovski made a short visit to Lithuania to promote relations between the two countries. Lithuanian President Valdas Adamkus made a brief visit to Macedonia last month alongside Polish President Aleksander Kwaśniewski.
Norwegian Defence Minister Eldbjørg Løwer visited Vilnius to discuss co-operation between the defence spheres of the two countries.
The campaign season started for the March local elections, as 9933 candidates from 26 parties began the hectic process.
---
Economics and business
The council of Kauno Energija (Kaunas Energy) has approved the 15-year lease deal to Sweden's Vattenfall. The deal still needs to be officially concluded.
---
Social and local interest
Protests marked the beginning of the electoral season, as workers, farmers and all sorts took to the streets. Farmers blocked a key highway for an hour in protest of government debts to farmers, while former dissidents protested in front of the Seimas on the awarding of state orders to two former ministers they accuse of being former KGB accomplices. Workers also protested in anger of government policies in dealing with the IMF and other organisations.
---
And in other news...
Cemetery company Ritualinės Paslaugos is in trouble with the government, as they are suspected of selling plots to the living - which is illegal in Lithuania.
---
Exchange rates
As of 25 February 2000
currency
Lithuanian
litas (LTL)
1 US dollar
4.00
1 British pound
6.38
1 German mark
2.02
1 euro
3.95
---
Mel Huang, 25 February 2000
Archive of Mel Huang's Amber Coast articles
---
News Sources
Baltic News Service (BNS)
The Baltic Times
Radio Free Europe/Radio Liberty
Reuters news on Yahoo
ELTA
Lietuvos Rytas
Lietuvos Aidas
Kauno Diena