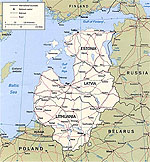 C E N T R A L E U R O P E A N N E W S:
News Review for Latvia
All the important news from Latvia
since 19 February 2000

Mel Huang
---
Political and foreign affairs
Estonian Prime Minister Mart Laar hosted his Baltic counterparts, Andris Šķēle of Latvia and Andrius Kubilius of Lithuania, for a one-day meeting in Tallinn. Co-operations projects remained high on the agenda, such as the joint acquisition of military equipment and the creation of an open Baltic energy market. The trio also decided to abandon summer time, following Estonia's decision earlier.
Acting Russian President Vladimir Putin called the war crimes conviction of Vasili Kononov "unfair" and requested the transfer of the former Soviet partisan to Russia, where he would be given Russian citizenship.
Stemming from that case, former President Boris Yeltsin has decided not to accept the Tristar Order, the highest award bestowed by Latvia. Yeltsin cited the Kononov case as his reason. President Vaira Vīķe-Freiberga said she regretted Yeltsin's decision.
Government chancellery head Alvis Vītols was suspended from work, after the discovery of a recreation compound on government property. Apparently the contracts for the work, costing some 70,000 LVL (Latvian lats), contained his signature.
The paedophilia scandal extended into big business, as a high-ranking executive of the powerful LatRosTrans oil transit firm accused Ventspils of paying off the Social Democrats to break the paedophilia story. However, others in Ventspils, the powerful port city, have called on prosecutors to launch slander proceedings against the executive.
Justice Minister Valdis Birkavs called off his hunger strike on day eight. He developed an irregular heartbeat a few days prior to that. The Saeima committee investigating the scandal has been given an extension until April.
Polish Navy commander Admiral Ryszard Łykasik visited Latvia and inspected the premises at Liepāja.
There was a moment of confusion and apparent crisis when President Vīķe-Freiberga suggested there is no money to fund the visit of Slovenian President Milan Kučan scheduled for early March. Later, it was announced that the money would be found and the expenditure budgeted later.
---
Economy and business
In January, the PPI rose by 0.6 per cent from December, while the year-on-year rise was only 0.1 per cent.
Trade in 1999 declined, with imports dropping by 8.4 per cent and exports by 5.7 per cent. Due to shrinking trade, the trade deficit fell to 71 per cent at LVL 716 million. Trade to EU countries remained dominant, holding 54.5 per cent of imports and 62.5 per cent of exports.
---
Social and local interest
The Saeima declared 16 March as a day to commemorate soldiers. The day has provoked controversy, as it was one of gathering for the members of the Latvian Legion - those forcibly conscripted by the German Wehrmacht during the Second World War. Some politicians suggested finding an alternative day, but the measure was defeated.
Social Democrat Party Secretary General and Riga City Council member Leonids Lasmanis was taken to hospital, after being found drunk and with a self-inflicted gunshot wound to the head. Lasmanis said it was an accident.
---
And in other news...
Good news from the Goodwill Games in Lake Placid, as the two-man bobsled team of Sandis Prusis and Jānis Ozols took the gold medal. Iluta Gaiļe also took a silver in the luge.
---
Exchange rates
As of 25 February 2000
| | |
| --- | --- |
| currency | Latvian lats(LVL) |
| 1 US dollar | 0.59 |
| 1 British pound | 0.95 |
| 1 German mark | 0.30 |
| 1 euro | 0.59 |
[For continuous updates see the Bank of Latvia Exchange Rates page].
---
Prepared by Mel Huang, 25 February 2000
Archive of Mel Huang's Amber Coast articles
---
News Sources
Baltic News Service (BNS)
The Baltic Times
Radio Free Europe/Radio Liberty
Reuters news on Yahoo