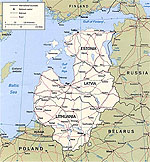 C E N T R A L E U R O P E A N N E W S:
News Review for Lithuania
All the important news from Lithuania
since 5 Feburary 2000

Mel Huang
---
Politics and foreign affairs
The Seimas passed the fourth resolution in recent months concerning Chechnya, this time focusing on the fate of Radio Free Europe/Radio Liberty (RFE/RL) reporter Andrei Babitsky. Babitsky was arrested in Chechnya last month for supposedly collaborating with a Chechen resistance group, but has since been "handed over" by the Russians to a group of "Chechen rebels" - although neutral commentators are suspicious of the Russians' claims. The statement condemned the way Babitsky was handed over and said the Russian government must take full responsibility in the case. The statement also called on the Council of Europe to investigate.
Seimas Chairman Vytautas Landsbergis landed himself in trouble after making a rash of statements against members of the Liberal Union, accusing them of acting in a way detrimental towards Lithuania in talks between Russia's LUKOil and US-controlled Mažeikių Nafta (Mažeikiai Oil). Landsbergis retracted part of his statement concerning improper influence by former Prime Minister Rolandas Paksas in the negotiations, attributing it to a "misunderstanding."
An absurd travesty of justice was finally corrected, when flamboyant businessman Arvydas Stasaitis was released from custody. Stasaitis has been in detention since 1994, when he was extradited back to Lithuania from Russia. His conviction for mass fraud in 1998 was overturned in 1999, essentially making his five-plus years of incarceration a period of pre-trial detention as prosecutors plan to file new charges. The Supreme Court, which overturned the verdict in late 1999, due to a technicality, has also scolded Kaunas officials for this breach of human rights. Stasaitis is continuing his pursuit of this case at the European Court of Human Rights.
More on the justice front. The Supreme Court struck down a provision in the pensions law that allows the disqualification of some Communist-era officials' pensions. The issue, which affects about 1900 people, was deemed unconstitutional.
Former dissidents attacked the lustration law, which forces former KGB agents and operatives to register as such. Well-known dissident and head of the Lithuanian Helsinki Group Viktoras Petkus called it a major human rights abuse. Social Democrat MP Aloyzas Sakalas, another well-known former dissident, called it "state blackmail," since the state guarantees the protection of the identities of those who register.
Rimantas Vaitkus was named deputy economics minister in charge of the decommissioning of Ignalina Nuclear Power Plant. The first unit of the plant is due to be shut down by 2005, with the second unit expected to be shut down in 2009, as EU pressure continues to mount.
Prosecutor General Kazys Pėdnyčia wants to question former Prime Minister Rolandas Paksas over allegations of money laundering. Russian investigators called on Lithuania for assistance in a case involving a company owned by Paksas and the transfer of money to an Austrian account. Paksas defended the move, saying it was to protect his investors from the Lithuanian banking crisis at the time, and has since returned all the funds. Some officials in the prosecutor's office have been reprimanded for not acting on this issue for many months, ignoring Russian investigators' requests.
Valerijonas Valickas returned to head the Customs Department after nearly eight years. Valickas was pushed out of the post in 1992 over allegations of impropriety, but the committee dealing with the hiring found no evidence against Valickas.
---
Economics and Business
Inflation in January jumped by 1.5 per cent on the back of tariffs hikes in utilities. Electricity prices rose by 30.2 per cent, natural gas prices by 25 per cent and even some VAT exemptions were lifted on heating.
Lithuania successfully floated a bond issue on the international markets at EUR 250 million. The eurobond issue, handled by Credit Suisse First Boston and Deutsche Bank, was oversubscribed by 30 per cent.
The Butingė Oil Terminal received a tanker with 65,000 tonnes of oil from... Estonia. The tanker, loaded with oil from Russia, left the Muuga Port and went to Lithuania, where the oil is being processed.
Hermis Bankas is no longer a legal entity, as the merger with the large Vilniaus Bankas (Bank of Vilnius) has been completed.
The producer price index went down by 0.4 per cent in January.
Russian carmaker GAZ/Volga is looking at starting production in the town of Rokiškis, by taking over a moribund motor factory in a town otherwise well-known for its cheese.
---
Social and Local Interest
Statisticians were shocked when January's unemployment rate soared by 0.8 per cent to a record high of 10.8 per cent. Officials say the real rate is closer to 15 per cent, since the official rate considers those who register as unemployed for state support. The highest unemployment rates in the region remain in the northern Ukmergė, with 20.5 per cent, the southern Šalčininkai, with 20.3 per cent, and the Polish border region Lazdijai, with 19.4 per cent. However, urban areas are also facing high unemployment, for example, in Šiauliai (16.2 per cent) and Panevėžys (15 per cent).
A Japanese diplomat was attacked on the streets of Vilnius, in an apparent robbery attempt. The female attaché at the Japanese Embassy was assaulted and robbed of her purse. This is the second attack on a Japanese diplomat, as several years ago a Japanese diplomat and his wife were severely beaten on the capital's streets.
A man was apprehended in Vilnius for trying to sell a time-bomb to undercover officers. Later, a raid found a drug and explosives lab, where the individual has apparently been making high-grade explosives, such as hexagen.
All political parties seemingly took a hit in the recent poll by Baltijos Tyrimai/Gallup, except for the frontrunning Liberal Union of ex-Prime Minister Rolandas Paksas, at 16.4 per cent. The Centre Union slumped to 10.4 per cent, though remained in second, followed by the former communists of the LDDP, at seven per cent, and Social Democrats, at 6.9 per cent. Only the New Alliance (Social Liberals) would clear the minimum five per cent hurdle, as they have 6 per cent. All others, including the ruling Conservatives (3.7 per cent) would fail to meet the minimum.
A total of 1300 foreigners will be allowed to work in Lithuania in 2000, up from the 1200 of last year. However, last year only 800 people took up the offer, mostly shipbuilders (418), engineers (143) and teachers (116). Ukrainians represented the largest group (337), then Russians (257), Belarusians (81) and Chinese (62).
Beer consumption in Lithuania went up in 1999 to a total of 51 litres per person, up from 47 in 1998.
Broadcasters plan to reinstate Radio-2 and Radio-3 soon, due to a barrage of angry letters. The two radio stations were shut down temporarily, due to a money crunch at Lietuvos Radijas un Televizija (LRT, Lithuanian Radio and Television), but officials said they saved only 14 per cent in funds for cutting two-thirds of radio broadcasts.
---
And Others...
The Lietuvos Avolinijos (LAL, Lithuanian Airlines) jet is still being held at London's Heathrow Airport, as navigation agency Eurocontrol has not cleared up the ongoing dispute with Lithuania's national carrier over unpaid bills. The route is being served by another aircraft in the meantime.
---
Exchange rates
As of 11 February 2000
currency
Lithuanian
litas (LTL)
1 US dollar
4.00
1 British pound
6.43
1 German mark
2.02
1 euro
3.94
---
Mel Huang, 11 February 2000
Archive of Mel Huang's Amber Coast articles
---
News Sources
Baltic News Service (BNS)
The Baltic Times
Radio Free Europe/Radio Liberty
Reuters news on Yahoo
ELTA
Lietuvos Rytas
Lietuvos Aidas
Kauno Diena