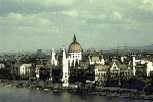 C E N T R A L E U R O P E A N N E W S:
News Review for Hungary
News from Hungary since
7 February 2000
---
Paul Nemes
Following the leakage of cyanide at the Aurul mines in Baia Mare (Nagybánya - which means "big mine," by the way) into the Szamos and Tisza rivers, Hungary is planning to sue Romania. Petru Cordos, the Romanian Ambassador to Budapest, was last week called to the Foreign Ministry and informed that Hungary would seek compensation for the pollution, which has caused a major catastrophe in the Tisza. Foreign Ministry spokesman Gábor Horváth said, "It is an unprecedentedly serious environmental catastrophe which obviously originated in Romania." It is thought the leak has caused damage worth several hundred million dollars. Nándor Zoltai, of the Environment Ministry's international department, said that he hoped Hungary and Romania would be able to come to an agreement on the issue of compensation, otherwise an international court would have to settle the issue.
On the consequences of the poisonous spillage caused by a burst dam, Zoltán Varga, Professor at the University of Debrecen and a Bern Convention expert, said that the Szamos and Tisza rivers could be far worse affected than what has been reported in the media. He also believes that a very thorough investigation would be required to establish the level of devastation to all living organisms in the rivers. According to reports, it is estimated that 70 to 80 per cent of the flora and fauna has been eradicated in the Tisza's central region. Károly Pintér of the Department of Agriculture said the leak had caused the greatest extermination of fish in the Tisza ever. On Tuesday, Romanian water authorities in Cluj (Kolozsvár), Baia Mare (Nagybánya) and Satu Mare (Szatmárnémeti) all denied reports that there had been any further cyanide pollution, after Hungarian officials had received reports of new leaks into the Lápos and Zazár (both tributaries of the Tisza). The Hungarian Environment Ministry later confirmed that there had been another spill, but this time less serious than last week's. On Tuesday, environmental experts from both countries started talks. The Director of the Upper Tisza Environmental Inspectorate, István Szőke, told MTI that Romania had been ready to cooperate and had shown much openness during the talks.
On Thursday, Hungary and Romania agreed to cooperate on the matter of compensation. It was decided that a committee should be set up to establish who should pay for the damages. Romanian Ministry of Water State Secretary Anton Vlad stated, "Romania also has enormous interest that the company which we know is responsible should be held responsible." Brett Montgomery, of Esmeralda Exploration, the Australian company which partly owns the plant, said that there in no proof that the contamination of the Tisza had been caused by a leak from the company's gold mine. One member of the joint delegation said, "We can count the dead fish and it's sure that the fish did not die of pneumonia."
Prime Minister Viktor Orbán told Hungarian radio on 9 February that there is a need to revise environmental accords with neighbouring countries. On the recent catastrophe in Romania, he said that he did no know that the current treaty with Romania did not include a section dealing with such environmental disasters.
According to a telephone poll last week, 47 per cent of Hungarians see Jörg Haider's Freedom Party as "dangerous," but 46 percent also thought the European Union "has no right" to put pressure on a member state in the way which it is doing. Magyar Hírlap, who commissioned the poll, reported that 59 per cent did not think Hungary should take similar actions against Austria. While 39 per cent said they are indifferent to the Freedom Party's participation in the Austrian government, 68 per cent said that it would be dangerous if extreme right parties would join a government coalition in Hungary.
Meanwhile, Prime Minister Orbán, who last week said that he had sent a telegram congratulating Chancellor Schüssel on his appointment, expressed concern that the EU's preoccupation with Austria may delay Hungary's accession. According to RFE/RL, János Martonyi, the Foreign Minister, said that the Visegrád Four had "not specifically coordinated positions," but that the countries had discussed events in Austria. Hungarian Foreign Ministry State Secretary Péter Gottfried said during a visit to Stockholm last week that Haider's xenophobic statements worry Hungary as much as the EU. However, he did not think that Haider's party would have any impact on Hungary's accession to the EU and said that there was no reason why Hungary would not be able to join in 2003.
The opposition Free Democrat (SZDSZ) chairman, István Szent-Iványi, said that it was unfortunate that the Prime Minister "did not share those concerns (of the EU), but only expressed his surprise." Meanwhile, Orbán's party, FIDESZ, have rejected István Csurka's offer of a Hungarian Justice and Life Party (MIÉP) - FIDESZ coalition. Deputy Chairman Zoltán Illés made it clear that "no one in the party's leadership is considering this possibility."
During a visit to Ljubljana last week, Foreign Minister Martonyi did however agree with his Slovenian counterpart, Dimitrij Rupel, that both countries would take measures similar to the EU's if the Freedom Party should implement its extremist views in government. Both Foreign Ministers said Hungarian-Slovenian relations are excellent. It was said that both countries' treatment of each other's ethnic minorities make this relationship possible. As is customary on these trips, Martonyi said that the Hungarian government endeavours "to achieve that ethnic Hungarians be able to uphold their identities and find prosperity in their birthplaces." Martonyi also promised to assist Slovenia's bid to join NATO in every possible way, and signed an agreement on the use of the Koper harbour. Slovenia's Foreign Minister made it known that he would like for "Hungary to consider Koper as its own harbour."
The Hungarian Railworkers' Unions' strike has now become the longest rail strike in Hungarian history. MÁV (Hungarian State Railways) has still not managed to come to an agreement with the Unions as talks have not been able to settle the issues of the 1.5 per cent gap in two sides' position on wages and working conditions. MÁV has accused the unions of "blackmail." Népszabadság reported that the unions were willing to accept an 8.5 per cent wage increase, if wages were left unaffected by losses suffered during the strike. Meanwhile, Slovakia's State Railways have sent a compensation request for freight losses to MÁV, and it was also expected that Slovakia would seek further compensation for passenger traffic. The strike has already cost Hungarian companies millions of dollars in lost revenue, and many companies are considering suing MÁV.
Rail unions said on Thursday that the strike, which by then had lasted ten days, could go on forever unless MÁV were willing to meet railway workers' wage demands. The unions insist that MÁV should withdraw its plan to deduct union fees from wages. In the past, MÁV have passed these fees on to labour unions, whose officials say that if this was to stop it would seriously damage the unions.
Endre Juhász, Hungarian ambassador to the EU, has called on EU states to decide what their negotiating position should be regarding the six candidates. Juhász said, "It's time to confront our positions. If there are problems, let's face them. Where tensions threaten to heighten, let them heighten. If there is a way for a crisis to develop, it should develop now and not later." He also urges the EU to differentiate more between candidate countries. Later, Juhász said that he did not mean that Hungary would change its negotiating position, but wanted to make clear that Hungary would be ready to negotiate, regardless of the EU's stance. At a conference held at the Interior Ministry on 8 February, Viktor Orbán said that Hungary would be ready to join the EU in late 2001. After that, he said, Hungary's accession date will be up to the EU.
At the same conference, Orbán stated that Hungary would have full employment before 2010. Those who want to work will have complete job security by that date, the Prime Minister said. He pointed to the 100,000 jobs created in 1999, and indicated that 120,000 new jobs could be created this year.
The English-language weekly The Budapest Sun writes that a grouping of Hungarian and foreign investors has been established in order to restart work at Miskolc's Diósgyőri steelworks. Who this group of saviours may be has not been disclosed, but one source said that it is hoped that production could recommence on 15 February. Speculation suggests that Rába and Alsózsolca could be part of the grouping. 2300 workers were laid off work a week ago when the plant's Slovak owners failed to get outside financing.
The Budapest Municipal Court has ordered the State and the National Gallery give reasons why it thinks ten paintings claimed by Martha Nierenberg, a Jewish-Hungarian heiress living in New York, should not be returned to her. The State has agreed to give her the Bust of Christ by Mihály Munkácsy, and must now respond to why only this painting was selected and not the others.
On the presidential elections in Croatia, Foreign Ministry State Secretary Zsolt Németh said that Hungarian-Croatian relations may move to a different level now that Croatia is moving closer towards Europe and that there is no reason for the international community to be unhappy with relations between the two countries. Németh said that the fact that Croatia's new president, Stipe Mesić, saw Prime Minister Orbán as his role model during the elections "duly reflects Mesić's attitude towards Hungary."
The Government will provide HUF 15 million (USD 63,000) in order to assist Hungarians from Vojvodina who are unable to return home. The programme is meant to provide financial assistance for around 200 Hungarians to resettle and find permanent employment in Hungary. Assistance will be made available to anyone at the Vése camp in Southern Hungary, which would mean that each person willing to take part in an "readjustment programme" would receive HUF 50,000 (USD 200).
Somewhat happier Hungarian-Romanian relations than what started off this round-up; Hungarian investments in Romania last year reached an unprecedented level. Hungary is now that 11th largest foreign investor in Romania. Last year alone, 350 Hungarian-funded companies were set up. János Halász, of the Hungarian Trade Office in Bucharest, said that Hungarian capital investment increased by 88 per cent from 1998 to 1999.
The Holy Crown and the other coronation regalia, moved to Parliament from the National Museum on 1 January, has attracted more visitors than expected. In January, 40,000 visitors came to see the Holy Crown in its new home in Parliament. In January last year, 6000 people saw the Crown in the National Museum.
Paul Nemes, 14 February 2000