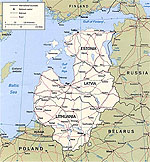 C E N T R A L E U R O P E A N N E W S:
News Review for Latvia
All the important news from Latvia
since 5 February 2000

Mel Huang
---
Political and foreign affairs
Israel backed down from criticism and has decided to send an official to the Latvian-sponsored conference on prosecuting war criminals. Earlier, the Israeli government said it would not send any representatives, since investigators were "busy." Apparently, only Australia has not responded to the invitation to the conference, which gathers experts from Latvia, the US, Canada, Germany, Britain, and now, Israel.
European Commission President Romano Prodi and Enlargement Commissioner Günter Verheugen visited Latvia and voiced strong support for EU assistance in Latvia's membership bid. Verheugen said that EUR 100 million is forthcoming to Latvia this year alone, with a large share devoted to developing the business environment of the country. Prodi also suggested some compromise over the controversial tariffs on pork levied by Latvia, saying rights of farmers must also be protected.
The Saeima adopted the country's first EU integration strategy overwhelmingly, by 77 to two votes. However, opposition MPs attacked the strategy, calling it "sloppy" and "lacking" and "hardly a strategy," but said they voted for it to show support for EU integration in general.
During the session, several dozen youngsters of Klubs 415 protested against the measure. The new initiative group of Eurosceptics claimed that not all Latvians want to be part of the EU. The protestors also defended democracy by voicing support for Austria against the onslaught of criticism from other EU states.
Foreign Minister Indulis Bērziņš surprised some, when he accused Lithuania of going at it alone on their NATO integration drive. Both Lithuania and Estonia voiced surprise and negative comments over the allegations.
Permanent Under-secretary of the Foreign Ministry Māris Riekstiņš travelled to Prague to meet with various Czech officials. Issues of NATO and EU integration, as well as bilateral ties, were featured in talks with Foreign Minister Jan Kavan and Defence Minister Vladimír Vetchý.
MP Juris Vidiņš, the head of the parliamentary Chechnya friendship group, announced that he had obtained secret documents showing a systematic "genocide" of Chechens planned by the Russian government. The documents, which some reports claim have been available on the Internet for weeks, suggest massive deportations and relocations of Chechens, among other things. Russia's ambassador to Latvia, Aleksandr Udaltsov, discounted the documents, saying it was a "bad dream."
---
Economy and Business
Inflation in January took a surprisingly high jump of 1.1 per cent, which has been attributed to changes in the tax system.
The fate of Janis Naglis, the head of the Latvian Privatisation Agency, is becoming more confusing. Unearthed recently is a work contract signed by former Economics Minister Ainārs Šlesers, which confirms Naglis in an open-ended contract. As noted, Šlesers was sacked by then-Premier Vilis Krištopans for incompetence, back in the summer of 1999, but Šlesers and his New Party had been in co-operation talks with several parties of the current ruling coalition. Analysts believe that the issue of privatisation and its politicising, which Naglis symbolises as a ranking member of Latvia's Way, is at the heart of this entire conflict, which threatens the stability of the governing coalition.
Visiting US Energy Secretary Bill Richardson and Economics Minister Vladimirs Makarovs signed a clean-energy memorandum in Riga.
---
Social and Local Interest
The unemployment rate remained at 9.1 per cent throughout the country, at the end of January. Experts are satisfied with the stability of the jobless rate over the past few months. Riga still held the lowest regional jobless rate, at 4.9 per cent, and Rēzekne has the highest regional unemployment numbers, at 27.3 per cent.
A joint report by the UNDP and Welfare Ministry put ten per cent of Latvians at the lowest, or "ultimate" level of poverty. Those considered in "ultimate" poverty spend less than LVL (Latvian lats) 24 on food, shelter and clothing a month. However, about half of Latvians are considered to be in some form of "official" poverty, according to the report.
---
And Others...
A minor correction. Goaltender Artūrs Irbe of the Carolina Hurricanes did not participate in the NHL All-Star Game, as was previously stated. Irbe was strangely left off the roster, despite coming in second among voters for the position. However, Sandis Ozoliņš did participate in the game as a starter.
Latvia also announced it will make a bid to host the World Ice Hockey Championships in 2003. Helsinki and Prague are also competing to host the event, but both cities have been hosts of the tournament several times in the recent past. The Latvian national team is in group-A, the elite of the world, alongside the Canadians, Czechs, Swedes, Russians, Finns and others.
---
Exchange rates
As of 11 February 2000
| | |
| --- | --- |
| currency | Latvian lats(LVL) |
| 1 US dollar | 0.59 |
| 1 British pound | 0.96 |
| 1 German mark | 0.30 |
| 1 euro | 0.59 |
[For continuous updates see the Bank of Latvia Exchange Rates page].
---
Prepared by Mel Huang, 11 February 2000
Archive of Mel Huang's Amber Coast articles
---
News Sources
Baltic News Service (BNS)
The Baltic Times
Radio Free Europe/Radio Liberty
Reuters news on Yahoo