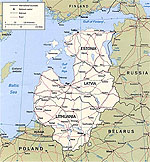 C E N T R A L E U R O P E A N N E W S:
News Review for Latvia
All the important news from Latvia
since 28 January 2000

Mel Huang
---
Political and foreign affairs
Five arms smugglers, originally from Latvia, and Briton Peter Bleach were found guilty of arms smuggling by a court in Calcutta. However, they were spared the charge of inciting warfare against India, which is a capital offence. They were all later sentenced to life in prison. But as four of the five smugglers have since taken Russian citizenship, the issue is technically over for Latvian authorities.
Latvian President Vaira Vīķe-Freiberga took part in the international financial forum in the Swiss resort town of Davos. The President also held several meetings, including one sharing her own experiences as a refugee with UN High Commissioner for Refugees Sadako Ogata.
Third time a charm? Supreme Court Chairman Andris Guļāns finally decided to act on a petition from MP Jānis Ādamsons and 56 other MPs to investigate Prosecutor General Jānis Skrastiņš. The Supreme Court's Voldemārs Čiževskis will report on the matter by March. Two previous attempts to persuade Guļāns to investigate failed.
Foreign Minister Indulis Bērziņš visited Norway during the week to discuss NATO and EU issues. Norwegian Foreign Minister Knut Vollebæk stressed that Norway is a firm supporter of Latvia's EU bid, despite not being a member itself. Bērziņš also met with other officials, including Defence Minister Eldbjørg Løwe.
The small New Party appears to be cracking, as some delegates called the recent election of the party board illegitimate. Former Economics Minister Ingrīda Ūdre, a well-respected former analyst, resigned from the board in protest, calling its formation "dubious." She nominated Silvija Dreimane, the head of the party's faction in the Saeima, to take the seat, but she, too, refused. Board chairman and another former Economics Minister Ainārs Šlesers attacked the move, calling it "the ambition of women." Šlesers was sacked from his ministerial job for incompetence and has since given several questionable interviews (apparently with quite poor grammar) since his sacking. The New Party has seen its popularity crash, far below the five per cent barrier in recent polls.
Latvia lost its voting rights in the UN General Assembly for several days until the full membership dues were paid. The final USD 100,000 was transferred several days after the original USD 500,000 was transferred. Officials said no pertinent issues came up at the time.
Valdis Lauskis takes over the parliamentary mandate of the late Leonards Stašs. The Social Democrat died last week from a heart attack while at work. Also, Pēteris Apinis officially took over the mandate of former Premier Vilis Krištopans, who resigned last week.
Two MPs from the ruling People's Party – Vineta Muižniece and Aleksandrs Kiršteins – joined the parliamentary commission examining the ongoing paedophilia scandal. Earlier the People's Party refused to join the commission, which is led by Social Democrat Jānis Ādamsons, a diehard opponent of Prime Minister Andris Šķēle. However, one Social Democrat attacked the enlargement of the commission, going as far as to accuse the People's Party of wanting to spread homosexuality in Latvia...
---
Economy and business
Former Premier Māris Gailis quit the board of Latvijas Kugniecība (Latvian Shipping Company) over the protracted privatisation process. Several privatisation efforts in the past have failed due to lack of interest and confusion over rules.
The Business Software Association and Microsoft released a study showing that pirate software remains a big problem in the Baltics. Estonia showed the biggest improvement over the past few months, following Microsoft's "legalisation" programme, as the share of pirate software dropped to 72 per cent from 86 per cent. This remains above Lithuania (which dropped to 81 per cent from 92 per cent) and Latvia (which fell to 85 per cent from 90 per cent). Perhaps this is due to some high-profile raids and IT equipment confiscation by the Estonian police.
The rural newspaper Lauku Avīze remains the most popular, with 66,200 subscribers, followed by Diena, with 38,657, and Neatkarīga Rīta Avīze with 21,946.
---
Social and local interest
The former escapee from Vecumnieki prison, Jānis Kaļva, was apprehended last weekend by officials and has since been charged with flight. Kaļva walked out of the low-security prison, saying he was going to visit a cafe.
So far this year, there have been already two new AIDS cases and 17 new HIV cases in Latvia. This makes a total of 510 HIV cases in Latvia, with 50 of those suffering from full-blown AIDS. There have been 13 AIDS-related deaths in Latvia over the years.
The birth rate in Latvia increased for the first time in many years, though only by 1100 in 1999 (a total of 19,500 births). However, the population continues to fall, as there were 32,800 deaths in 1999 (down by 1400). There were also 1800 immigrants, but 3600 emigrants. The population of Latvia at the start of 2000 is roughly 2.424 million.
A new poll by SKDS shows that only 45 per cent of Latvians want to join NATO, while 34.1 per cent are totally opposed. The ethnic divide over the question remains, as ethnic Latvians are more supportive of NATO while non-ethnic Latvians tend to be more opposed.
SKDS also announced that 88.9 per cent of respondents in another poll said that big political donors have an excessively large influence on the country's politics.
Finally, another SKSD poll shows that the People's Party of Prime Minister Andris Šķēle remained most popular, with 18.5 per cent support, followed by the opposition Social Democratic Workers Party, at 16 per cent. Other parties fell near the ten per cent mark, with For Fatherland and Freedom gaining 10.7 per cent and Latvia's Way with 9.5 per cent.
---
And others...
The Israeli Embassy honoured nine Latvians as "Righteous Among Nations" for their role in saving Jews during the Holocaust. They are Olga Krūzmane, Ieva Dzene, Kārlis Pūķis, Elza Pūķe, Žanis Pūķis, Anna Pūķe, Gerhards Šusters, Emilija Šustere and Kārlis Šusters. The latter eight were part of an extended family which hid four escapees from the Riga Ghetto. Nazi authorities discovered the escapees and executed Gerhards Šusters and sent most of the family to a concentration camp, from which only one returned. There are 71 Latvians among the 15,000 or so "Righteous Among Nations."
Fans of comic books in the United States are mourning the death of well-known artist Gil Kane, who helped spark a revival in the business in the 1950s and 1960s. Kane was born in Latvia and emigrated to the United States in 1930.
---
Exchange rates
As of 4 February 2000
| | |
| --- | --- |
| currency | Latvian lats(LVL) |
| 1 US dollar | 0.59 |
| 1 British pound | 0.95 |
| 1 German mark | 0.30 |
| 1 euro | 0.59 |
[For continuous updates see the Bank of Latvia Exchange Rates page].
---
Prepared by Mel Huang, 4 February 2000
Archive of Mel Huang's Amber Coast articles
---
News Sources
Baltic News Service (BNS)
The Baltic Times
Radio Free Europe/Radio Liberty
Reuters news on Yahoo