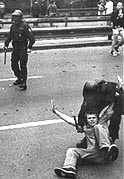 I N T E R V I E W:
Triumphs and Trade-offs
Bill Moody of the Rockefeller Brothers Fund
---
Andreas Beckmann and Miroslav Kundrata
Bill Moody has been visiting Central Europe for over a decade as program officer for the Rockefeller Brothers Fund, a New York-based foundation that continues to be one of the most significant sources of funding for development of civil society in the region. We speak here with him about the changes he has experienced and the new challenges facing the region.
Central Europe Review (CER): I'd like to ask you to go back ten years, to ask you what were your expectations for Central Europe, especially for the environment and democratization of society, and how this compares with the present reality.
Bill Moody: When I go back to the period of 1989 and 1990, I first start from the experience of having been here a number of times in the 1980s, when it was very hard for individuals to talk openly about environmental issues, even though they were so abundantly clear... When the changes came in 1989 and 1990, a great cover was removed. People had dreams, they had ideas, they had energy, they were very quick to come up with ways to improve the quality of life. The Rockefeller Brothers Fund was one of the foundations that was prepared to try to help local citizens to really address these issues in realistic ways and, in the process, to promote citizen action and democratic behavior.
In the early period, not only in Czechoslovakia in those days but in all of the countries, I found there was a real significant number of people who cared about sustainable development, who understood the concept of sustainability, of long-term thinking. I particularly remember the Czechoslovak federal minister of environment, Josef Vavroušek,and other people at the governmental level who were espousing these views, and the many leaders of nongovernmental organizations.
I probably had expectations that were too high, because I thought in this period - what many people called a period of euphoria - that somehow the whole population could be brought along those pathways. If you look at some of the laws and some of the incentives from that time, whether it be in Czechoslovakia or other countries, you could really see the orientation toward sustainability. Then you would listen to leaders like Václav Havel and Mazowiecki's government in Poland, and you would hear the same thing.
But that period didn't have the staying power that I was hoping it would have. Instead, by 1993/1994, the forces that were emphasizing market solutions to problems, the forces of investment, the forces of short-term profits, the desire of politicians to stay in power in a democratic framework and therefore look for immediate solutions - all of that was rushing forward more quickly than I anticipated in 1990. I don't think even the NGO community was necessarily aware of how fast the emphasis on market society, the emphasis on commercialization, was moving ahead.
In fact, it was only last week that someone said to me in Slovakia that a lot of people in Central Europe did not choose democracy, they chose the Western lifestyle. And that hit me, because I had not thought about it that way. I am not sure that I believe it fully, because I really feel that people were choosing democracy; but they were also choosing the economic dimensions as much as the freedom to choose fully. The economic dimensions looked so appealing, and it has clearly been seductive to have all of the consumer products - to have the comforts, a car, and so forth.
New challenges
Bill Moody: And so I found that by 1995, 1996 and 1997, there was a whole new set of challenges for the environmental community in Central Europe. On the one hand, by that period, a number of environmental organizations were becoming very professional in terms of [being] organizations with better programmatic activity, staff and boards. And so there was really a lot of progress being made in terms of strengthening civil society and democratic action; but as I think about it now, it wasn't keeping up with the speed of this whole commercialization of society, this consumerization of society.
Look at the impact of the membership requests by these countries to join the European Union and the implications of those requests: Central Europe is really more sustainable than Western Europe is, and yet Central Europe is joining the less sustainable part of the continent for a whole lot of economic reasons. There isn't enough understanding of the trade-offs, and there are a lot of good reasons to join the EU.
And so here we are in 2000, and on the one hand I feel that tremendous progress has been made in building strong democracies; after seven or eight years, there are free and open elections, and progress [has been made] in the media and in the judiciary. But a really strong and developed civil society and a level playing field in the political arena - whereby citizens can actually debate commercial interests - I don't see that existing. I see that as a real challenge for environmentalists and for people who care about the long-term sustainability of their societies.
And so there is a whole set of new challenges in Central and Eastern Europe, and they are going to become even more complicated with this substantial new money from the European Union coming on stream... Even if it does not come immediately, people are already framing their thinking about choices they want to make, about projects they want to work on, around the money that is expected to flow from Brussels. So in that respect, I would say that the challenges for the environmentalists and for people who care about sustainable development are as great in 2000 as they were in 1989. A whole new set of ways to address these challenges is before us.
A sense of place
CER: What in Central Europe have you found most enriching?
Bill Moody: Many things... What I found [on his last trip in April, when Moody visited mostly rural areas of the region, ed] was that the average person that we talked to as well as the very well-experienced person in community affairs have an attachment to their community, have a feeling for their region, have an appreciation for the land and nature. And on very little money, on the basis of ideas of their own, on the basis of... working together, I saw a lot of excellent work being done.
Work at the policy level is a long-term and difficult process, and all these little steps (at the local level) are making a difference. I could see this in the way the people felt good about a small way to deal with waste or the restoration of a meadow or a pasture... So I think I have gained inspiration from people really solving their own problems and working together in ways that are never publicized in our newspapers.
CER: What have you in the Rockefeller Brothers Fund learned in Central Europe? What have been the main lessons?
Bill Moody: I think that the main lesson is that after a long period of Communism and top-down decision-making, each of your countries has made dramatic progress in building open, democratic societies, in maintaining your own cultures and in doing your best to maintain your traditions. I think that on many occasions, it is better for you to be involved in the Balkans than [us]. You have proven in the last ten years what can be done by citizens, by government and by business; and in many respects you're better emissaries, better technical-assistance people, better models. For the Balkans, those of us in Western Europe and North America that want to work there have new allies, new partners that we really didn't have when we came to Prague in 1990.
Interview conducted by Andreas Beckmann and Miroslav Kundrata
For more information about the Rockefeller Brothers Fund, visit their website.