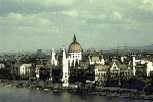 C E N T R A L E U R O P E A N N E W S:
Hungarian News Round-up
News from Hungary since
28 January 2000
---
Paul Nemes
László Kövér, who on 29 January was elected FIDESZ - Hungarian Civic Party chairman in place of Viktor Orbán, has said that he will stay on as Secret Services Minister until March, at least. Magyar Hírlap last week reported that Kövér was expected to meet Prime Minister Viktor Orbán on 2 January to discuss a date for stepping down from his ministerial position. Both Smallholder (FKGP) President Agriculture Minister József Torgyán and Hungarian Democratic Forum (MDF) Chairwoman Ibolya Dávid have both said that they will see only Orbán as their equal. With the new arrangements, FIDESZ hopes to bolster its popularity, and prevent what happened to the two previous governments. Orbán said that he does not have time to perform both his duties as Prime Minister and Party Chairman.
Foreign Minister János Martonyi believes that an evaluation of the new government in Austria would have to be based on its actions. After being reassured by Conservative leader Wolfgang Schlüssel last week, he also said that he did not believe that the inclusion of Jörg Haider's Freedom Party necessarily would damage Hungary's EU accession. Martonyi was quoted as saying, "It seems that, in principle, the Austrian Freedom Party does not oppose the enlargement of the European Union, and does not wish to obstruct the accession of countries neighbouring Austria, assuming that the prerequisites are met." Also, Austria's ambassador to Budapest made it clear that the government programme would be fully in favour of EU expansion. Although he made it clear that Hungary does not plan to follow the EU in severing ties with Austria, he did say, "We share the concerns behind the statement of the 14 states and the Hungarian standpoint matches the European Commission document almost word by word."
It is clear that the prospect of the inclusion of Haider's party in the government coalition worries many. Free Democrat István Szent-Iványi, speaking about the far right Freedom Party's participation in government, said, "For Hungary, as a country ahead of accession, this is unacceptable." He added that, while Austria has the right to choose whatever government it wishes, the concern expressed by EU countries should be considered. Not surprisingly, Hungarian Justice and Life Party (MIÉP) leader István Csurka said it was "a joy" to see the Freedom Party join the government. On the EU's reaction, Foreign Ministry Secretary of State Zsolt Németh stated, "The fact that the EU is acting in the interest of this [EU norms] shows it thinks it is very important that its values are respected and this is reassuring for us."
Speaking at Europe 2020 conference in Budapest on 31 January, President Árpád Göncz said that all parties taking part in Hungary's European Union accession negotiations recognize that it is only a matter of time before Hungary joins the EU. Göncz said he hoped "the accession process would conclude with the peoples of Europe in a big embrace." Michael Lake, EU ambassador to Budapest, said he admired the Central and Eastern European countries for getting into a position where they are on the verge of joining the EU.
Foreign Minister Martonyi has announced that the six-party parliamentary groups will meet with the Foreign Ministry once a month to harmonise the legislative aspects of accession. Martonyi, who proposed the six-party talks, said, "The accession process has entered a new stage and the country report for 2000 can be greatly influenced by the government's legislative work in the first half of the year, which includes several proposals within the realm of law coordination." He also said that an important part of future talks would be to speed up the legislative process if that should be needed.
The director responsible for Hungary's accession issues, Giorgio Bonacci, said on Wednesday that the EU might extend the deadline on the use of PHARE funds provided for Hungary in 1997. Documents submitted are still under consideration by Brussels, as the Euro 20 million regional development package is especially complex. Bonacci also said that talks on this year's PHARE, ISAP and SAPARD funds are going well, and that Hungary can expect to receive support funds of around Euro 200 million per year. During his stay in Budapest, Bonacci also discussed Hungary's view that accession talks with János Martonyi should be sped up.
On 2 February, MDF leader Ibolya Dávid announced the Right Hand of Peace 2000, a coming together of moderate right-wing forces to create a new political style of moderate centrist forces. Besides the MDF, the Democratic People's Party, the Entrepreneur's Party and Zsolt Semjén, Deputy State Secretary of the Christian Democratic Federation. RFE/RL report that Erzsébet Pusztai, the Democratic People's Party Chairwoman, said Hungarians "have been disillusioned by politics, owing to the unduly sharp tone" in current politics. Earlier in the week, new FIDESZ Chairman Kövér said that the MDF and the Democratic People's Party would have to decide how they wished to support inter-party integration. Kövér said he hoped that Conservative, Christian Democrat and Liberal forces would work as one in time for the 2002 elections. Both FIDESZ and the Smallholders appeared surprised about the new grouping.
Prime Minister Orbán said on Thursday that the period of political and economic transition, which begun in 1990, has been completed. Orbán said it had taken ten years to reach the output and real wage level of 1989. Speaking of 1999 as the year when Hungary completed its transition, the Prime Minister stated, "We have taken our due place among the peoples of the world, the nations of Europe and the country has become a NATO member." He said that the priority for 2000 is to sustain economic growth and efficiently support families. Socialist chairman László Kovács said he was not happy with the contents of the speech, because it was based on half-truths.
MÁV (Hungarian State Railways) workers began an open-ended strike at midnight on Monday. As only 30 per cent of passenger trains were left running, and nearly all goods trains were brought to a stand-still, MÁV issued an ultimatum threatening to withdraw their 8.5 per cent wage increase offer if traffic was not running as normal at noon, on Wednesday. The Unions said they wanted further talks, but said they would only sit down at the negotiating table half an hour after MÁV's deadline expires. The Unions complained that MÁV had already cancelled talks three times.
MÁV said that 92 per cent of railway workers did not take part in the strike, but as good as all engine drivers did not come to work. The Unions responded by saying that it was enough if the engine drivers took part. On Thursday, an agreement had still not been reached. Some steps forward were believed to have been taken on the three-year agreement, but the wage increase still remained unsolved.
The recent mild weather has increased the risk of floods. From Sunday to Monday last week, areas under water increased by 2000 hectares, to 286,000 hectares. Several families in Pest County have had to be evacuated, and melting snow was threatening localities in eastern Hungary. The daily Népszabadság reported that around 10,000 people and close to 3000 homes are under threat in Pest County alone. This is also where there were the most difficulties with high ground waters on the roads. For the moment though, Békés, Csongrád and Fejér Counties remain worst affected by the floods. To deal with the situation, a government co-ordination committee has been set up under the direction of Interior Minister Sándor Pintér.
Meanwhile, in Subcarpathia, which also has been hit by serious floods, a flood control information centre, built with the support of the Hungarian government, opened in Uzhgorod (Ungvár). The Ukrainian State Committee on Water Management Chairman Viktor Horeyev said the Centre would play a vital role in protecting Subcarpathia from floods, while László Fazekas, Director of the Upper Tisza Water Directorate, spoke highly of the co-operation that had taken place between the two regions.
Water supplies to towns and villages along the Szamos and Tisza rivers were last week closed down due to cyanide poisoning. The cyanide originated in the Lápos river, a branch of the Tisza in Transylvania, Romania. By Wednesday, the flow of the polluted water had slowed, and had not reached the Tisza, but no one was certain whether it would or not.
Tamás Wachsler, State Secretary at the Ministry of Defence, told MTI on Wednesday that a professional army would cost an extra HUF 88 billion (USD 370 million) per year. The statement comes after the opposition Free Democrats (SZDSZ) started collecting signatures to have a discussion in Parliament on the future of the Armed Forces. The Socialist Party believe a move to a professional army would increase annual spending by only HUF 40 to 45 billion (USD 170 to 190 million).
According to a recent opinion poll by the Szonda Ipsos pubic opinion polling and market research institute the opposition Socialist Party is still the most popular party in Hungary. In the poll, in which the opinions of 1000 persons were asked, The Socialists are eight per cent ahead of FIDESZ - Hungarian Civic Party.
The National Bank of Hungary (MNB) released preliminary figures for the current account deficit last week. The preliminary deficit for December last year was USD 571 million, while the trade deficit for the whole year was 2184 billion. Csaba Varga of Citibank Securities Budapest commented, "The trade balance is as expected, which means that we can see quite strong growth on the import side, probably due to oil price increases, but growth grew at the same rate, so the gap remained the same."
According to a recent report by Transparency International, Hungary is slightly less corrupt than last year. Hungary climbed two places on the list of 99 countries. In Central Europe, only Austria, Estonia and Slovenia have a better record on corruption than Hungary in 31st place.
Budapest Major Gábor Demszky announced on Wednesday that the widening of Hungária körút (boulevard) would be completed, as will tram line number one. The tram service will link Árpád Bridge and Lágymányosi Bridge, where also a sixth stop for the Csepeli HÉV (suburban train) will be built. Work on Hungária körút will begin in March and the HUF 11 billion (USD 45 million) project is expected to be completed by 15 December. Demszky said, "A 130-year dream of our predecessors will be realised this year," and "the completion of this part of the boulevard will hopefully raise the value of the land around the road and boost the development of this area of Budapest." It is expected that the construction of the National Theatre and other constructions in southern Pest by a Canadian-Hungarian company will positively change this area of the city.
Paul Nemes, 4 February 2000