Jazz was already being performed in Lithuania during the country's first period of independence, between 1918 and 1940, yet opinions differ regarding the scope and quality of these musical activities.
During these early years, the centre of the Lithuanian jazz scene was the then capital, Kaunas. It was also the place where the local radio station, in 1940, hosted the first public jazz band, which was later dissolved in 1941, due to the impact of the Second World War.
The post-war years were marked by the Soviet occupation and the Stalinist dictatorship, conditions under which the development of a jazz scene was impossible. Only in the second half of the 1950s was a new jazz orchestra founded. Led by Juozas Tiškus, it bore the name State Orchestra of the Lithuanian Soviet Socialist Republic and was comprised of very well educated musicians. The lack of influence that this group had on the evolution of Lithuanian jazz may be due to the fact that it frequently travelled outside of Lithuania.
Birth of the Cool
The end of 1961 is widely held as the birthdate of modern jazz in Lithuania. The then State Conservatory - known today as the Lithuanian Academy of Music - organised a conference on problems with the theory and history of jazz, the high point of which was a concert with then 17-year-old pianist Vyacheslav Ganelin.
As a result of this concert, the jazz scene came back to life throughout the country, especially in the new capital, Vilnius. New activities commenced, music education achieved a higher level of quality and, amongst musicians, there was a trend towards more independent improvisation.
In the mid-1960s, modern Lithuanian jazz developed and became influenced by bands led by Ganelin and pianist Oleg Molokoyedov. Fronted by such leaders, these bands achieved great success; notably, at festivals in the Estonian capital, Tallinn, in 1966-67.
The real breakthrough, however, came with the founding of the Ganelin-Tarasov-Chekasin Trio, which later provided the basis for the Vilnius Jazz School.
Jazz in the USSR
When Lithuania was part of the Soviet Union, it was considered the "jazziest republic of the USSR," a status it has retained among the newly formed "post-Soviet" countries. Within Lithuania's cultural life, jazz and improvised music occupy an important place, next to other forms of music and art, and there is broad appreciation for them among the public.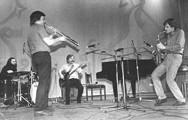 Remarkable is both the number of well-educated musicians - owing to special training methods and facilities and opportunities stemming already from the Soviet era - and the fact that most artists tend towards the contemporary experimental forms of improvised music.
Mainstream jazz, fusion, rock-jazz or traditional jazz, in contrast, play only a minor role. Moreover, there are hardly any groups co-operating for longer periods of time; instead, short-term projects are often developed, which enable musicians to put specific ideas into practice and ensure an extremely vibrant jazz scene.
GTC's means of expression
The GTC Trio came into being rather by chance. In the late 1960s, drummer Vladimir Tarasov moved from Arkhangelsk in northern Russia to Vilnius, where he met Ganelin and the two began working together as a duo. During a joint concert in Sverdlovsk in western Siberia, they encountered the local saxophonist Vladimir Chekasin and discovered common features within their music.
The GTC Trio was born when Chekasin moved to Vilnius. Its musical development was widely independent of the trends dominating in the West, be it the US or Europe; rather, the Trio searched for their own means of expression.
After about 15 years of creative co-operation, the three musicians parted in 1986. After that, Tarasov and Chekasin still co-operated occasionally as a duo or within larger bands, but their main interest was directed at individual projects.
Tarasov dedicated himself primarily to his solo project, which went by the name of ATTO, and composed film and stage music. He made sound installations in several European and US cities, most of them in co-operation with US-based artist Ilya Kabakov.
He also worked with the Lithuanian Art Orchestra and crossing the borders of Lithuania, with the Baltic Art Orchestra and the Russian Art Orchestra. With these large formations of up to 15 people, he created images of sound, using elements of both composition and improvisation.
Apart from this, Tarasov is currently a member of the Moscow Composers Orchestra and contributes to many international projects. His musical experience also serves him well in his capacity as director of the Russian Theatre in Vilnius.
Vladimir Chekasin, with the foundation of the Lithuanian Music Academy Big Band, earned great notoriety by educating young artists in the Lithuanian jazz scene. Almost all musicians of some prominence today attended this school. A recurring feature in his career is his co-operation with Oleg Molokoyedov, usually as a duo or in different quartet formations.
Chekasin also takes part in many international projects, often integrating theatrical elements. Moreover, he has gained a prominent reputation as a film score composer.
After his emigration to Israel, Vyacheslav Ganelin worked on solo projects and with small bands. In recent years, he has occasionally returned to Lithuania, be it as a soloist or as part of the trio comprised of saxophonist Petras Vyšniauskas and drummer/percussionist Arkadi Gotesman.
Passing the torch
After the members of the GTC trio disbanded, a new generation came to the fore on the Lithuanian jazz scene, such as solo musicians Vyšniauskas or saxophonist Vytautas Labutis. Next to free jazz, Lithuanian folklore gradually began to influence many musicians.
The most significant person to trigger this development was Vyšniauskas, who broke ground with his quartet, founded at the beginning of the 1980s and compred of, apart from himself, Labutis, bassist Leonid Shinkarenko and percussionist Gediminas Laurinavičius.
A number of musicians, such as trombone player Skirmantas Sasnauskas and pianist Tomas Kutavičius, have followed suit and also incorporate Lithuanian folk music instruments into their music.

Noteworthy in this context is Vyšniauskas's collaboration with vocalist Veronika Povilionienė, who commands an extraordinary scope of Lithuanian musical tradition and is regarded in her country as the queen of the folk song. Apart from this, Vyšniauskas regularly livens up his musical career with free improvisational playing, as well as occasionally joining a string group - all this being testimony to his versatility.
Another protagonist of the new jazz scene in Lithuania is Vytautas Labutis. He contributes to the projects of Tarasov and Chekasin but also goes his own way. For example, in the octet he manages. The trio he founded at the end of the 1980s, together with Shinkarenko and Laurinavičius, is still the core of the Vilnius Jazz Quartet (with Molokoyedov) or the quintet Gone with Jazz, with pianist Artūras Anusauskas and promising vocalist and flutist Neda.
Other artists who have recently attracted attention with their projects are Arkadi Gotesman, Leonid Shinkarenko, trumpet player Valerijus Ramoška, drummer Arvydas Jofė and pianist Dainius Pulauskas, who won the Lithuanian Jazz Grand Prix 2000. Also worth mentioning are the contributions by bass player Eugenijus Kanevičius and drummer Linas Būda have made to their colleagues' projects.
The Shape of Jazz to Come
Meanwhile, a new generation of talented musicians is taking shape, which includes, most notably, Neda, saxophonists Danelius Praspaliauskis, Liudas Mockunas and Jan Maksimovič, trumpet player Dominykas Vyšniauskas, bass players Vladislav Borkovski and Vytis Nivinskas, guitarist Juozas Milašius and, to some extent, "improvisational percussionist" Dalius Naujokaitis.
A topic of heated discussion since the beginning of the 1990s has been the unconventional performances of the duo Milašius/Naujokaitis, who were occasionally joined by Kutavičius, Labutis or Petras Vyšniauskas.
The most important large jazz group in Lithuania is the Kaunas Big Band, under Romualdas Grabštas, which is dedicated to modern orchestral jazz and occasionally co-operates with international guest soloists.
Milestones
In 1976, the GTC Trio opened the door to the West through its legendary performance at the Warsaw Jazz Jamboree, which was followed by invitations to concerts in Hungary, East and West Germany, Austria, Great Britain and other countries. This development peaked in 1986, with a tour of 17 concerts in North America. However, even after the break-up of GTC, Tarasov and Chekasin appeared on European and occasionally Japanese stages. Tarasov, in particular, has performed in the USA and has appeared at festivals in China.
The Petras Vyšniauskas Quartet entered onto the international scene in the mid-1980s, with appearances at festivals in Finland, Slovakia, Poland and East Germany, which opened up further opportunities to perform abroad. In 1991, Vyšniauskas was invited to the Amsterdam October Meeting, where he met Steve Lacy, Tristan Honsinger, Han Bennink and Evan Parker.
After that, he regularly worked with musicians from Germany, France and Switzerland and performed several times at concerts in the USA and Australia. In 1995, he appeared, together with Vytautas Labutis, Veronika Povilionienė, Tomas Kutavičius and Dalius Naujokaitis, at festivals in Perth and Detroit.
Festival organisers abroad also showed an increased interest in the Dainius Pulauskas Sextet, and it was invited to Germany, Estonia, Finland and China (read a review of the Sextet's Autumn Suite in this week's issue). Similarly, Skirmantas Sasnauskas and pianist Gintautas Abarius have also performed in other countries.
Reaching out
Since the beginning of the 1990s, Tarasov, Chekasin, Vyšniauskas, Labutis, Praspaliauskis and Laurinavičius have taken part in bigger international projects, such as the JazzBaltica Ensemble, created every year anew for the JazzBaltica Festival in Salzau in northern Germany, the "Octet Ost-Gruppen" of Austrian trombone player Christian Muthspiel, as well as in projects by Bulgarian saxophonist Anatoli Vapirov at his festival in Varna.
Among Lithuanian musicians, a special position is occupied by Dalius Naujokaitis, who, since the middle of 1995, has lived in New York, where he works at the Anthology Film Archives, together with Jonas Mekas, an experimental film-maker of Lithuanian origin, and founded the Second Street Free Jazz Ensemble.
Foreign artists appear only rarely in Lithuania, at larger festivals. The single most significant one of these is Vilnius Jazz, which was initiated by Antanas Gustys in 1988 and takes place every autumn. In more recent years, it has taken shape as a unique event, where soloists and groups from nearly all European countries, as well as the USA, Japan, Australia, New Zealand, Korea and Brazil, perform.
It is an important platform for the latest projects of Lithuanian artists. The main objective of the festival is bringing the on-going musical creative process to the audience. In this respect, Vilnius need not shy away from comparison with other festivals such as Mulhouse, Nickelsdorf, Tampere, Ulrichsberg, Varna or Victoriaville; it has developed into a pivotal cultural turntable between East and West.
In 1991, Jonas Jučas founded the Kaunas Jazz Festival, which takes place every April. Although this event also offers high quality music, experimental performances play a comparatively minor role. Kaunas is directed at a broader audience and has hosted stars such as John Scofield, Elvin Jones, Charles Lloyd and Jan Garbarek. Yet, in this respect, it makes for a nice complement to Vilnius Jazz.
The oldest regular festival is the one held in March at Birštonas, which, since 1980, has taken place every other year and which for the most part limits itself to presenting Lithuanian musicians. Thus, its importance lies with the opportunity it offers young artists to gain prominence. Further large festivals take place in Panevėžys and Klaipėda.
There is also a growing club scene in Lithuania, especially in Vilnius, Kaunas and the coastal towns of Klaipėda and Palanga. Additionally, numerous restaurants, bars and cafes serve as venues for jazz concerts, as do concert halls and theatres.
Although it is impossible to give a complete picture of the state of jazz in Lithuania in this space, hopefully the above sketch has provided insight into some of its key features.
Bernd Jahnke, 29 May 2000
Translated from the original German by Jens Boysen
Moving on: