Since its independence in 1991, Croatia has maintained a very active and vital musical culture. Most of the present-day activities are the result of the establishment of institutions over a century ago and a musical heritage that extends back to the Middle Ages. This survey will begin with a discussion of performing organizations and festivals before continuing with remarks on some of the most influential composers and concluding with details on music promotion, recording and scholarship.
Performing organizations and institutions
Performing organizations are at the heart of any viable musical culture. In Croatia, Zagreb is the hub for professional music-making. The capital city alone boasts numerous orchestras, an opera company and other musical ensembles.
In the orchestral realm, the Zagreb Philharmonic Orchestra is the nation's oldest orchestra, its origins coinciding with the founding of the Zagreb Opera Orchestra in 1870. The orchestra gave programs of excerpts from larger works (Quodlibet concerts) and presented its first formal concert on 8 April 1884. Its reputation grew during the 20th century under a number of distinguished conductors, including the legendary Lovro von Matačić, who led the orchestra during the 1970s. The orchestra's reputation has continued to grow since 1991. It is not an orchestra limited exclusively to Croatian performers and conductors, however; under the Japanese-born Kazushi Ono, who led the orchestra from 1990 to 1996, the orchestra made a successful tour of Japan in 1992.
Programming for the 1999-2000 season of the Zagreb Philharmonic reflects a blend and balance between standard literature and works by Croatian composers. Eight works by Croatian composers are on the season's schedule: Natko Devčić's Istrian Suite (17 September 1999), Milko Kelemen's Delicate Clusters (19 November 1999), Stjepan Šulek's Eighth Symphony (26 November 1999), Božidar Kunc's Overture to the Mournful Game (10 December 1999), Ivo Malec's Sigma (17 March 2000) and Movements in Color (31 March 2000), Milan Sachs' Pastoral and Dance (24 March 2000) and Luka Sorkočević's Seventh Symphony (2 June 2000). Two world premieres are scheduled as well: Dubravko Detoni's Musica Danieliana for piano and orchestra (26 November 1999) and Željko Brkanović's Concerto for Violin, Cello and Orchestra (31 March 2000).
Zagreb's other orchestra, the Croatian Radio and Television Symphony Orchestra (Simfonijski orkestar HRT, also known in English as the Zagreb Symphonicists), has roots in the early 20th century. In 1930, a small ensemble known as "The Radio Orchestra" began playing on the Zagreb radio. This group was the predecessor to the present-day orchestra. The Radio and Television Orchestra has been integral to the promotion of new music in Croatia both before and after 1991. The orchestra specializes in contemporary music, as is evident by their large discography of this repertory. Most established 20th-century Croatian composers have written for the ensemble.
The Zagreb Soloists, also known by the Italianized name I Solisti de Zagreb, was founded by Italian ex-patriate cellist-conductor Antonio Janigro in 1954. The orchestra champions both 18th-century and 20th-century music. Their repertory, like that of the symphony orchestras, includes a great deal of Croatian music in addition to works from the broader European heritage. The ensemble maintains a very proactive role in the renaissance of the 18th-century Croatian musical heritage (composers such as Ivan Mare Jarnović and Luka Sorkočević) as well as serving as a model for the resurgence of conductorless chamber orchestras in the late 20th century. Since 1968, the ensemble has performed without a conductor, a lead followed by groups such as the New York-based Orpheus Chamber Orchestra.
Founded in 1991, the Croatian Army Symphony Wind Orchestra is the official orchestra of the Republic of Croatia. In addition to official protocol assignments, the ensemble is involved in a wide range of concert activities. Mladen Tarbuk is the orchestra's principal conductor. The orchestra regularly commissions new works from leading composers.

In addition to concert-giving ensembles, the Croatian National Opera maintains a visible presence in the country's musical heritage. Four opera houses in Croatia bear the title "National Opera": Zagreb, Osijek, Split, and Rijeka. The Rijeka company adds the name Ivan Zajc to its formal title, an homage to the Rijeka native who founded the Croatian National Opera in Zagreb in 1870. Numerous other musical societies exist as well. Zagreb alone is home to the Zagreb String Quartet, the Zagreb Saxophone Quartet, the Zagreb Double-Bass Duo, the Zagreb Guitar Trio and numerous choral ensembles such as the Akademski zbor (Academic Choir) "Ivan Goran Kovačić."
Festivals
In addition to the permanent ensembles enumerated above, Croatia hosts a number of internationally known music festivals. These range from ones which champion contemporary music to ones which celebrate the musical past.
The Zagreb Music Biennele is one of the world's major contemporary music festivals. Composer Milko Kelemen established the event in 1961 to provide an opportunity for dialogue between Eastern and Western blocs in the musical world, and to establish Zagreb as a center for new music. Ivo Josipović is the current director of the Festival. The Biennele has a strong tradition of having leading composers in attendance. Igor Stravinsky, Dmitri Shostakovich, Witold Lutosławski, John Cage, Olivier Messiaen, Karl-Heinz Stockhausen, Luigi Nono, Krzysztof Penderecki, Iannis Xenakis, Luciano Berio and Robert Moran are among those who have participated in the Biennele. Penderecki was an honored guest at the 1999 festival.
The Dubrovnik Summer Festival is one of Europe's foremost music festivals. Set in one of the greatest walled medieval cities on the Adriatic, theatrical, concert and operatic performances are constituent parts of this annual summer event.
Of the numerous other festivals which take place in Croatia, only a few can be mentioned here: Varaždin Baroque Evenings, Pula International Music Festival (formerly held in Opatija), Zagreb Summer Festival, Čakovec Days of Croatian Music and International Jazz Days.
Composers
It goes without saying that Croatian composers each have their own personal styles, but there are some broader general stylistic traits at play as well. During the 20th century, Croatian composers have usually followed the compositional principles of their Slavic contemporaries. Polish composers have been especially influential in this regard. Ivo Josipović honored Penderecki in his Drmes za Pendereckog (Drmes for Penderecki, 1986) for tamburitsa orchestra and Željko Brkanović's Second String Quartet (1994) is intentionally modeled after Lutosławski. From senior figures though a middle generation of composers to significant new voices, Croatian composers are quite active in the creation of new music. In this brief survey, only a few of the many Croatian composers who have added to the musical life of their homeland since 1991 will be discussed.
Senior figures in contemporary Croatian music include Milko Kelemen (b 1924), Miroslav Miletić (b 1925), Ivo Malec (b 1925), Adalbert Marković (b 1929), Stanko Horvat (b 1930), Petar Bergamo (b 1930), Anđelko Klobučar (b 1931), Ruben Radica (b 1931), Dubravko Detoni (b 1937) and Željko Brkanović (b 1937). Stanko Horvat and Milo Cipra (1906-85) have special significance not only as composers but also as teachers at the Music Academy in Zagreb. Horvat received his training with Stjepan Šulek (1914-86) in Zagreb and René Leibowitz in Paris. After writing in both post-Romantic and serial styles, he embraced the Eastern European sonorist style. Cipra studied with Blagoje Berse, and while his early works are rooted in a post-Romantic national style, his later works reflect the post-war European avante-garde. These two different musical approaches served as models for younger Croatian composers.
Continuing with the output of senior figures, the work of Milko Kelemen can be divided into three stylistic periods. His early works, written mostly for the Zagreb Soloists, are rooted in folklore. His "middle-period" compositions are characterized by dodecaphonic and modal constructions, while his more recent work follows Eastern European sonorist models. Kelemen studied with Stjepan Šulek in Zagreb before continuing his training under Olivier Messiaen in Paris and Wolfgang Fortner in Freiburg. He currently resides in Stuttgart.
Typical of Kelemen's recent work is Archetypon II "Für Anton" (1996), written for the centennial of the death of Anton Bruckner. It is also an homage to the afore-mentioned Croatian conductor Lovro von Matačić, one of the great interpreters of Bruckner's music. The twenty-three minute work in one movement is in six parts, each of which reflects a particular primordial archetype: Tremendum, Mirum, Energicum, Sanctum, Fascinans and Majestas.
The opening "Tremendum" suggests something ominous through an emphasis on the lower registers of the orchestra while the following "Mirum" exploits high sonorities to suggest everything strange and unusual. The third section, "Energicum," emphasizes the percussion in an evocation of annihilating restlessness and intensity. The contrasting "Sanctum" that immediately follows depicts an inner calmness that comes through order and tradition. Kelemen quotes Bruckner's Seventh Symphony in the trombone as a direct reference to Bruckner, Matačić and the tradition that they represent. The penultimate "Fascinans" suggests something enticing, while the final "Majestas" provides a resolute conclusion achieved through brass-dominated orchestration.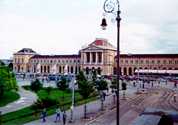 Adalbert Marković, like some of his contemporaries, did not enter the mainstream of avant-garde modernism during the 1950s and 1960s. His most frequently performed work is Snijeg na Mirogoju (The Snow at Mirogoj, 1986). His style, fundamentally linear and tonal, includes frequent pedal-points and ostinatos. Marković continues, in his 60s, to be a very active composer. Moj grad (My City, 1994) is a three-movement tribute to the city of Zagreb. Aquarius (1995) for large string orchestra received its first performance by the Volga Sinfonietta Orchestra at the Zagreb Music Biennele. The work also exists in a version for smaller string ensemble and was first performed in this guise at the International Music Festival in Opatija in 1997.
Moj grad is in three movements: Gradec, Kaptol, and Podgrađe. The 28-movement oratorio for narrator, mixed choir, children's choir and orchestra was written for the 900th anniversary of the Zagreb Archdiocese and the 750th anniversary of the city of Zagreb. Historic texts such as the Golden Bull of Bela IV from 1242 are the basis for the libretto. Recorded sounds of trams, cars, crowds and the bells of Zagreb Cathedral are included in the work. Cries of "Libera civitas" permeate the oratorio.
Like Marković, Anđelko Klobučar did not follow the tenets of the European mainstream during the third quarter of the century. Active as an organist as well as a composer, Klobučar has written a great deal for his own instrument. A student of Milo Cipra and André Jolivet, Klobučar has a style that remains accessible to audiences while at the same time exhibiting a sophisticated level of compositional technique.
The last of the senior generation to be discussed here is Dubravko Detoni. A fine pianist as well as a composer, Detoni studied in Zagreb with Šulek before continuing his work with Witold Lutosławski in Warsaw and Karl-Heinz Stockhausen and György Ligeti in Darmstadt. He worked at the Experimental Studio of the Polish Radio in Warsaw and subsequently with John Cage in Paris. He is the founder and artistic director of the Acezantez Ensemble, a group organized in 1970 to promote multimedia artistic endeavors. Detoni has also written numerous poems and essays on a variety of topics, both musical and non-musical. His music espouses a postmodern aesthetic, evident in his Piano Concerto (1989), written for Ivo Pogorelić. The Concerto consists of a series of 22 variations on an invented mazurka which become increasingly playful as the work progresses.
Four representatives of a "middle generation" of Croatian composers are Marko Ruzdjak (b 1946), Davorin Kempf (b 1947), Zoran Juranić (b 1947), and Frano Parać (b 1948). Composition is not the sole creative activity for this group, for Ruždjak is also an accomplished clarinettist and Juranić is an established conductor.
In his compositions, Marko Ruždjak demonstrates a passion for musical styles from both the past and the present. A student of Cipra in Zagreb, he continued his training in Paris with Malec and Pierre Schaeffer and in Cologne with Kelemen. His recent works in the chamber music realm reflect his concern with the many facets of intimate self-reflection. Partita (La Gioconda) for solo violin (1993) exemplifies the co-existence of the past and the present, for it is a modern interpretation of a Baroque form. The series of sophisticated variations demonstrate the self-sufficient capabilities of the solo violin. In the Trio Seraphim for clarinet, viola and piano (1995), an 11-minute work in one movement, a sense of pulse akin to a human heartbeat underlies the numerous changes of tempo and texture.
The blend of traditional and innovative musical styles is also central to the work of Davorin Kempf. After studies with Sulek in Zagreb, Kempf continued his training in Germany and the U.S. He is currently on the faculty at the Academy of Music in Zagreb. Many of Kempf's most important works incorporate live performance with electronics, including _Synthesis_ for electronics and chamber ensemble (1979) and _Spectrum_ for orchestra and electronics (1985). Also important in his output are _Contrapunctus I_ for string quartet (1986) and several electroacoustic compositions.
Zoran Juranić, in addition to his activities as a conductor at the Croatian National Opera houses in Zagreb and Osijek, is responsible for the revival of many works of the Croatian musical heritage, particularly the operas of Ivan Zajc. Among his recent original compositions are Fanfaronata for wind orchestra (1997), Pladoyer pour Caliban for two double basses (1997) and the opera Govori mi o Augusti (Speak to Me about Augusta, 1999), first performed at the Zagreb Music Biennele. The three-act work on a libretto by Juranić and Luko Paljetak is based on a farce by the latter that concerns the immutability of government. Neoclassical in style, the juxtaposition of comic and tragic elements is emphasized not only through the sparseness of the musical resources but also in the innovative stage design by Stephanie Jamnicky.
Frano Parać, a student of Horvat and currently a member of the composition faculty at the Academy of Music in Zagreb, incorporates a variety of diverse influences in his music. Of late, his work is rooted in the Eastern European sonorist tradition while maintaining modernist elements from mid-century composers such as Shostakovich and Britten.
His Symphony (1992) ushered in a new era for the symphonic genre among Croatian composers. First performed by the Zagreb Philharmonic Orchestra under the direction of Shao Chia Lu on 19 February 1993, Parać wrote the 17-minute, four-movement piece during the war in 1991. The first movement is based on a recurring six-note motive that takes place over a pedal ostinato. After the initial presentation of this principal melodic material, the motive is combined with a syncopated countermelody derived from itself. This type of organic growth occurs throughout the movement. Following a contemplative slow movement and an angst-ridden Shostakovichesque scherzo, material from the first movement reappears as the basis for the final movement, but in a transformed guise.
Other works by Parać to appear in the past decade include the Sonata for Violin and Piano (1992), Music for the Guitar (1996) and a Horn Concerto (1996). He is currently completing an opera on the biblical character Judith.
In addition to these established figures in the compositional realm, significant new voices to carry Croatian music well into the 21st century have emerged. Among these composers are Ivo Josipović (b 1958), Berislav Šipuš (b 1958), Alan Bjelinski (b 1964), Srđan Dedić (b 1965), Olja Jelaska (b 1967), Dalibor Bukvić (b 1970) and Antun Tomislav Šaban (b 1971).
Ivo Josipović, a student of Horvat, infuses his music with passionate joy and demonstrates an acutely keen awareness of the possibilities of timbre. Since 1991, Josipović has been the director of the Zagreb Music Biennele. Josipović's penchant for the quality of sound itself is evident in works such as Samba da camera and Hiljadu lotosa. In Samba da camera (1985) for either 13 strings or string orchestra, Josipović relies on the listener's ability to associate certain rhythmic and melodic patterns with the popular Brazilian genre. Josipović treats these stereotypical figures through aleatoric (chance) means and combines them in unexpected ways. Hiljadu lotosa (A Thousand Lotus Flowers) for six-part chorus, instruments and tape, though written in 1987, received its first performance at the Zagreb Biennele in 1995. Based on ancient Indian texts, the work includes both improvised and notated sections and is certainly eclectic in its source material. The work opens with an evocation of the Orient which is achieved through an improvisatory atmosphere, a particular choice of pitches and a distinctive use of percussion. Subsequent sections include random speech patterns in the chorus and aggressive tone clusters in the piano. The final part of the work, primarily hymn-like, is distinguished by its polyphonic and jazz-derived interjections.
Srđan Dedić, also a student of Horvat, continued his studies in Strasbourg, Amsterdam and Tokyo. He has written in many genres, and has also composed for film and television. Cantus fractalus for saxophone quartet (1998) was written for and is dedicated to the Dutch Aurelia Saxophone Quartet. Based on the mathematical concept of fractals (as evident in the work's title), identical vertical and horizontal constructs provide the work with a sense of unity that underlies its numerous contrasting episodes.
Promotion, publishing and recording
For the promotion of Croatian music, two organizations play significant roles: the Croatian Music Information Centre and the Croatian Composers Association. The Croatian Music Information Centre is a non-profit organization dedicated to the documentation and promotion of Croatian music domestically and abroad. Their activities include maintaining on-line databases; publishing and distributing books, sheet music and CDs; and collecting unpublished scores by Croatian composers. The Centre is a member of the International Association of Music Information Centres, and functions like its equivalents in other countries.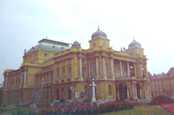 The Croatian Composers Association, founded in 1945, has 250 full members and about 2500 associate members. Its primary activities include the promotion of cultural and artistic activities, the organization of performances, festivals and symposia, and the publication of music (printed music and recordings) and music-related works. Among the most important events it organizes are the Zagreb Music Biennele, the Pula International Music Festival, the Croatian Music Days, the Zagrebfest, the International Jazz Days and the Jazz Club Zagreb. The Association publishes two series of music, Ars Croatica and Popular Melodies, and the newsletter Cantus.
Two labels for art music exist in Croatia: Croatia Records and Orfej/HRT. Croatia Records emerged in 1991 out of Jugoton, a company established in 1947 in Zagreb and the only record-producing company in the former Yugoslavia. Orfej began in 1989 under the auspices of RTZ (Radio Television Zagreb), the predecessor to HRT (Croatian Radio Television). Since 1997, it exists as a record company owned by HRT. Its focus is mainly on popular and rock styles, but its catalogue also includes classical, jazz, folk, spoken word and other types of recordings. The Croatian Composers Society and the Music Information Center also produce recordings of Croatian music for promotional use.
Scholarship
The Department for the History of Croatian Music (Odsjek za povijest hrvatske glazbe) of the Croatian Academy of Sciences and Arts (Hrvatska academija znanosti i umjetnosti, abbreviated HAZU), founded in 1980, has as its principal mission the research and documentation of Croatian music in a European context. The Department employs seven specialists in various areas of Croatian music.
Another important organization regarding Croatian music is the Croatian Musicological Society (Hrvatsko muzikološko društvo), established in 1991. The Society has sponsored several international musicological symposia, including "Off-Mozart: Musical Culture and the Kleinmeister of Central Europe,
1750-1820" in 1992 and "Zagreb and Croatian Lands as a Bridge between Central-European and Mediterranean Musical Cultures" in 1994. The Society has also held two cooperative symposia with the Italian-based Fondazione Ugo e Olga Levi, one on medieval music, held in Split in 1997, and the second on Baroque music, held in Venice in 1999. Future symposia are planned-the next one will be held in Dubrovnik in 2001 on music of the Classical era.
The Department for the History of Croatian Music and the Croatian Musicological Society sponsor two international musicological journals: International Review of the Aesthetics and Sociology of Music, unique in its scope among scholarly musical journals, and Arti musices, which focuses on Croatian-related topics. The two organizations are very active in the production of books on Croatian music.
Future musicologists are trained in the Department of Musicology at the Academy of Music of the University of Zagreb. The Department boasts four full-time professors and six part-time lecturers.
To conclude these remarks on music and musical life in Croatia since 1991, it is obvious that the country possesses a very active musical culture. Its performing organizations and festivals provide a musical infrastructure which supports the work of living composers. Various organizations exist to promote both the work of living Croatian composers and the legacy of the Croatian musical heritage, a momentous task indeed.
William A Everett, 10 January 2000
William A Everett is assistant professor of music history at the Conservatory of Music, University of Missouri, Kansas City, USA.
Moving on: