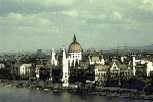 C E N T R A L E U R O P E A N N E W S:
Hungarian News Round-up
News from Hungary since 24 July 1999
---
Paul Nemes
Eduard Kukan, the United Nations special envoy to Yugoslavia, rejected Hungarian appeals for autonomy for Vojvodina at a conference on Yugoslavia on 21 July. The Hungarian Prime Minister Viktor Orban, fearful that the Hungarians of Vojvodina may Milosevic's next target, had earlier this month recommended that the province should be included in an overall peace that would mean protection or autonomy for the region. The plan for Vojvodina, which, like Kosovo, was autonomous before that status was withdrawn by Milosevic in 1989, was drawn up by its Hungarian minority. Kukan, who is also Slovakia's Foreign Minister, told reporters that "...There are many very complicated and important questions which have to be solved in Kosovo and the Balkans... let us not invent any more."
Flooding and heavy rain have in recent weeks caused severe damage across Hungary. Six people have died and more than 3000 persons have had to abandon their homes. In Heves County, which has been hardest hit by the floods, 2252 buildings were flooded with contaminated water and have to be sanitised. The Hungarian government will sell HUF 5 billion worth of ten-year bonds to insurance companies, who will pay more than the market price for the 2009/B bonds, to cover the cost of the damage while Hungarian insurers have agreed to give HUF 10 million in aid to relieve flood damage. The Hungarian government will also pay out some HUF 20 billion to help areas hit by floods. Floods this year have caused damage costing more than HUF 50 billion, caused by an early melting of snow and then by heavy rains. The past few weeks' torrential rains have broken several decade-old records in several regions.
The oil and gas group MOL said they are reviewing their business strategy because leaner and more efficient operations are required if they are become a major regional energy company in Central and Eastern Europe. A reduction in staff and a redistribution of the workforce are the main factors of the strategy which is expected to be presented in the Autumn. Meanwhile, MOL have signed an agreement with INA, a Croatian oil and gas company, to carry out a joint seismic survey at the Hungarian-Croatian border. The work was expected to start in 30 July 1999 and finish on 10 October 1999. The two companies hope to find several billion cubic metres of gas in the area. INA are presently also considering a merger with MOL.
The National Bank of Hungary withdrew the old type of 5000-forint bank notes on 26 July. The withdrawal had originally been scheduled for 31 August but the date was moved forward due to a sharp increase in forged notes.
The Prime Ministers of Hungary and Romania said after having held talks in the Transylvanian town of Tirgu Mures/ Marosvasarhely that ethnic conflicts in Central Europe are part of the past and should be eliminated quickly. Referring to Yugoslavia in particular, Victor Orban of Hungary and Romania's Radu Vasile said that is was time to deal with conflicts as Western Europe did after the Second World War. Vasile stated that it is unlikely that minority issues would be dealt with as long as Slobodan Milosevic remain in power while Orban said that "on the territory of ex-Yugoslavia every minority, including Hungarians and Romanians, have the right to organise itself." Orban was leading the Hungarian delegation at the two-day conference on Balkan reconstruction held in the Bosnian capital Sarajevo, where during the first day a special forum was set up do deal with Yugoslavia's ethnic problems outside Kosovo.
At the start of the annual conference of Hungarian ambassadors Foreign Minister Janos Martonyi said in an address on 26 July that he is confident that Hungary will hold on to its leading position among countries which have applied for membership of the European Union. The following day Martonyi added that he was satisfied with the work of Hungarian ambassadors and does not plan any personnel changes. Meanwhile, Hungary's ambassador to Moscow, Erno Keskeny, said that relations between the Hungary and Russia are improving and expressed hope that the two countries' foreign ministers will be able to meet soon.
Analysts say that the government must tighten the budget further in 2000 despite Hungary's improving economic indicators which it was thought may spare the country form painful spending cuts. Within the next two or three weeks the government is expected to discuss a report on the state of the economy by the Finance Ministry.
Romanian Foreign Minister Andrei Plesu said on 28 July that the Yugoslav conflict has strengthened ties between Hungary and Romania. Officials of the Democratic Alliance of Hungarians in Romania had earlier stated that the Kosovo conflict shows the unstable nature of today's borders.
In preparation for entry into the European Union the Hungarian government has approved a plan to liberalise its electricity market. From 1 January 2000 companies that use more than 100 gigawatts per year in one area will be able to buy electricity from any producer they choose. Minister for Economic Affairs Attila Chikan told a news conference that "the plan for competition conforms with similar models in European Union countries."
Paul Nemes, 30 July 1999