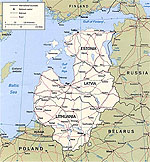 C E N T R A L E U R O P E A N N E W S:
News Review for Lithuania
All the important news from Lithuania
since 27 November 1999

Mel Huang
---
Politics and Foreign Affairs
The government approved the year 2000 state budget. The budget, which sets expenditures at LTL (Lithuanian litas) 9.8 billion and revenues at about LTL 9 billion, will cause a deficit of about LTL 800 million. However, the debate in the Seimas proved to be much more heated, and continues as this goes to press.
The budget of the social insurance fund (SoDra) was much more problematic, however. The Seimas will get this at about press time, but an ugly debate is anticipated. The plan involves the raising of contributions to the fund from wages, going from a total of 31 per cent to 34 per cent (employees pay 31 per cent and employers pay 3 per cent). Government experts believe this will bring in LTL 313 million next year, but by year's end SoDra is expected to be in debt by LTL 400 million. This will likely also increase the number of people getting "under-the-table" wages. Also, pensions to working pensioners will be affected, restricting some to minimum payments.
A massive political row broke out when Administrative Reform Minister Sigitas Kaktys refused to resign. He was implicated in filing improper income declarations, though was cleared of other charges stemming from corruption. President Adamkus and others called on Kaktys to resign, but he refused, saying he was not guilty. However, pressure continues to mount on Kaktys as more investigators trace his past...
President Valdas Adamkus's visit to Russia has been postponed indefinitely, due to the ill health of President Boris Yeltsin.
The border guards are complaining about the lack of funds and debts from the state, adding that patrols have dwindled due to lack of fuel for patrol cars and boats. They noted that the Butinge Oil Terminal is basically unprotected now.
President Adamkus also attended the inauguration of Ukrainian President Leonid Kuchma in Kyiv. There he had brief conversations with Russian Prime Minister Vladimir Putin, Belarusian President Alyaksandr Lukashenka, Slovak President Rudolf Schuster and others.
Seimas Chairman Vytautas Landsbergis travelled to Austria to meet with officials there. He discussed Lithuania's EU integration, especially the issue over the Ignalina Nuclear Power Plant. He said after the trip that Austrian officials are happy with Lithuania's stance to close the first reactor by 2005.
The German Navy donated the minesweeper "Koblenz" to Lithuania, which was christened "Suduvis" in the port city of Klaipeda. Germany has been providing training to Lithuanian sailors for the ship.
The government named Foreign Minister Algirdas Saudargas as Lithuania's chief negotiator with the EU. Saudargas recently bowed out of his party's leadership, thus freeing his hand.
Speaking of that, the Christian Democrats elected Zigmas Zinkevicius as their new leader. He represents the more religious wing of the party, and some are talking about defecting. He defeated Feliksas Palubinskas in a surprising vote. Foreign Minister Saudargas, by not running, is seen as abandoning a sinking ship, as the party has fallen below the five per cent cut-off mark for parliamentary representation in popular polls.
Lithuania opened a new consulate general in Calgary, Canada. Honorary Consul Antanas Vysniauskas, a well-known software engineering firm owner, will be responsible for the province of Alberta.
---
Economics and Business
Lithuania remained lowest among the Baltics in the annual Heritage Foundation index on Economic Freedom, which put Lithuania in 61st place with a score of 2.95 - barely qualifying for the "mostly free" category.
In the Wall Street Journal Europe report on Central and Eastern Europe, Lithuania stayed in the top ten for most categories. It did best on liquidity, placing fifth, and business ethics, placing sixth. The lowest placement, fourteenth, was in the balance of payments.
Troubled gas company Lietuvos Dujos (Lithuanian Gas) was refused a loan by Vilniaus Bankas (Bank of Vilnius). The bank said that the gas utility already owes them LTL 63 million, thus it cannot loan them another LTL 25 million.
Zemes Ukio Bankas (Agricultural Bank) has begun paying depositors back from the failed bank, Litimpeks. About 4500 depositors will be entitled to a total of about LTL 14.6 million, transferred to the bank from the deposit insurance fund.
North Sea Crude from Scotland is keeping the Mazeikiai Oil Refinery operating. A tanker brought 82,000 tonnes of crude, while negotiators continued to try to get Russian companies to restart oil supplies.
Real-time information and trade exchange between the Vilnius and Tallinn bourses came on-line. This is the first step in the Baltic bourses' move to join NOREX, the joint Nordic stock exchange.
The US pet food maker Masterfoods opened up its first plant in Lithuania. The plant cost LTL 68 million and will focus on pet needs in the Baltic and Nordic region.
---
Social and Local Interest
A poll showed that the issue of EU membership is evenly divided. Roughly 30 per cent of those polled said they wanted to join the EU, and another 30 per cent said they did not want to join the EU. Many respondents actually said Lithuania should wait, saying that it was not ready.
Another poll indicated that 75 per cent of those polled think the government disregards the will of the people, while 52 per cent think it is corrupt. The poll also stated that only four per cent of respondents thought the government is effective, and only two per cent said government is fair and just.
---
And Others...
In the Polish town of Sejny, a statue of legendary Lithuanian writer and linguist Antanas Baranauskas was unveiled. Baranauskas, the writer of the beloved Forest of Anyksciai, was the local church deacon. Sejny is populated mostly by ethnic Lithuanians.
A Lithuanian scientist at the University of Groningen in the Netherlands shared a world record for creating the shortest blip of light in history. The 28-year old Andrius Baltuska, alongside two colleagues, produced a flash of light lasting only 4.5 femtoseconds (0.000 000 000 000 004 5 seconds).
---
Exchange Rates
As of 2 December 1999
currency
Lithuanian
litas (LTL)
1 US dollar
4.00
1 British pound
6.40
1 German mark
2.05
1 euro
4.01
---
Mel Huang, 3 December 1999
Archive of Mel Huang's Amber Coast articles
---
News Sources
Baltic News Service (BNS)
The Baltic Times
Radio Free Europe/Radio Liberty
Reuters news on Yahoo
ELTA
Lietuvos Rytas
Lietuvos Aidas
Kauno Diena