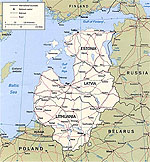 C E N T R A L E U R O P E A N N E W S:
News Review for Latvia
All the important news from Latvia
since 27 November 1999

Mel Huang
---
Political and Foreign Affairs
The Saeima passed the year 2000 budget. This budget cuts the deficit down to two per cent of GDP, which is closer to IMF requirements. Expenditures will total LVL (Latvian lats) 1.433 billion, while anticipated revenues total LVL 1.366 billion. Defence spending will increase by LVL 44 million, now reaching 1.1 per cent of GDP.
Teachers held yet another strike on 30 November. This time, 53,253 teachers supported the strike, though only 23,809 stayed away from work. Another thousand or so picketed outside the Saeima building.
In the mean time, Education Minister Silva Golde was finally allowed to resign. For now, Prime Minister Andris Skele will hold the portfolio. He said he would appoint a new minister after the Helsinki European Council meeting.
President Vaira Vike-Freiberga made a two-day visit to Sweden. There she met with King Carl XVI Gustav, Prime Minister Goran Persson, parliament speaker Birgitta Dahl and others, focusing on issues such as bilateral ties, EU integration and women's issues. She also spoke at the prestigious Executive Club of Svenska Dagbladet.
Prime Minister Skele made a visit to France, where he met with French Premier Lionel Jospin and discussed bilateral ties, EU and NATO membership, as well as the issue of the occupied embassy buildings. Latvia (along with Estonia and Lithuania) has owned embassy buildings in Paris since the interwar years, but during the Soviet occupation the Russians took them over. Though the buildings legally belong to the three countries, Russian diplomatic offices are still occupying the buildings, but a solution is being discussed. Skele also met with French European Affairs Minister Pierre Moscovici to discuss French aid for Latvia's EU integration.
Authorities have arrested several people accused of crimes against humanity and genocide during the Soviet occupation. Vasili Kirsanov was detailed during the week, as well as Janis Kirsteins. Medical officials also attested that suspect Nikolai Larionov is in good health to stand trial.
Foreign Ministry Secretary of State Maris Riekstins led the Latvian delegation to the WTO Summit in Seattle. Latvia has been a member of the WTO for over a year.
---
Economy and Business
Latvia did a bit better in the annual Heritage Foundation survey on Economic Freedom in the world, coming in 44th place with a 2.65 rating.
Also, the report on Central and Eastern Europe by the Wall Street Journal Europe placed Latvia in the top ten in almost all categories. For example, Latvia was third in price stability and fifth in political stability, while scoring a low eleventh place in balance of payments.
Latvian cigarette maker House of Prince is exporting cigarettes to the US under the brand name "Roger." The company wants to gain a 1.5 per cent share of the market, which is huge. But the quote of the week came from a company executive: "Exporting to the US will be difficult because it is tantamount to selling sand in the desert."
---
Social and Local Interest
The trial of mass murderer Aleksandr Koryakov began during the week. In February, Koryakov killed three nursery school girls and their teacher with a knife. He admits to the killings and regretted that more were not killed. He said he wants to be as famous as the other well-known mass killers he has read about. The prosecutor has asked for life in prison, though lamented she could not ask for the death penalty "as a woman and a mother."
The SKDS polling firm showed that the People's Party of Prime Minister Andris Skele remained most popular, with 18.3 per cent support. This is followed by the Social Democratic Workers' Party at 16 per cent and For Fatherland and Freedom at 13.1 per cent.
Another poll showed that most Latvians were not in favour of homosexuality. Of respondents, some 67.2 per cent were negative towards homosexuality, and only 29 per cent thought it was "normal" human behaviour.
---
And Others...
A clash of languages has the Shishkins/Siskins family planning to challenge the spelling of their name in the European Court of Human Rights. The problem stems from the fact that her passport shows her name as "Siskins," without the diacritical marks making the "sh" letter. This is a problem because "siskin" is not a very pleasant word...
A surprising storm hit the Baltic area and knocked out power throughout Latvia. The Vidzeme region was nearly entirely blacked out.
Seven teenagers are in hospital after playing with a metal cylinder that blew up. Most experts believe it was Soviet armament left behind by the Red Army in 1994.
Finally, many members of the Saeima from all parties showed up and donated gifts to a children's clinic. The gifts include stuffed animals, including one brought back from an auction by a caring MP. Donations ranged from toys to books, but it showed the caring side of MPs that most Latvians never get a chance to see.
---
Exchange Rates
As of 3 December 1999
| | |
| --- | --- |
| currency | Latvian lats (LVL) |
| 1 US dollar | 0.59 |
| 1 British pound | 0.94 |
| 1 German mark | 0.30 |
| 1 euro | 0.59 |
[For continuous updates see the Bank of Latvia Exchange Rates page].
---
Prepared by Mel Huang, 6 December 1999
Archive of Mel Huang's Amber Coast articles
---
News Sources
Baltic News Service (BNS)
The Baltic Times
Radio Free Europe/Radio Liberty
Reuters news on Yahoo