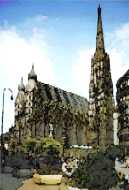 C E N T R A L E U R O P E A N N E W S:
News Review for Austria
All the important news from Austria
since 27 November 1999
---
Magali Perrault
The last "sounding-out talks" (Sondierungsgesprache) between the four parliamentary political parties took place this week.
The Social Democrat (SPO) leader and incumbent Chancellor Viktor Klima received on Wednesday the unanimous support and endorsement of the party executive for his "reform paper". His attempt to negotiate a renewal of the grand coalition with the conservative Austrian's People's Party (OVP) looked increasingly shaky, however. Klima stated on Wednesday that he would like "a co-operation with the OVP," but "if there is no cooperation with the OVP, [he] will propose to the president a minority government." He also stated his belief that a minority government was a better option than early elections, which, he believed, the people did not want (ORF, 02/12/99).
On Friday, the SPO and the OVP reached an agreement on budgetary measures and the necessity of budget consolidation to keep Austria, as OVP-deputy chairman Wilhelm Molterer put it, "euro-fit" (ORF, 02/12/99), but security policy remains a source of tension between the two parties. OVP leader and foreign minister Wolfgang Schussel's statement that NATO membership should be a part of Austria's future security policy provoked a strong reaction from the chairman of the National Assembly, Heinz Fischer (SPO), who stated that joining NATO would not be possible without the agreement of the SPO, as a two-thirds parliamentary majority is required (Die Presse, 29/11/99).
On Monday 6 December, Klima will present to president Thomas Klestil the results of inter-party talks. This will be followed by a series of face-to-face meetings between Klestil and Schussel, as well as talks between Jorg Haider of the Freedom Party (FPO) and Alexander Van der Bellen of the Greens, and, finally, talks between Klima, Schussel, Haider and Van der Bellen. On Thursday 9 December, Klima will probably receive from Klestil the mandate to try to form a government.
According to a study on "the state of the nation," published on Monday, Austrians overwhelmingly see their future with optimism - only ten percent of respondents declared themselves "pessimistic" (Der Standard, 03/12/99). This feeling was probably reinforced on Friday when the unemployment figures for the month of November were announced, showing a decrease of nine percent in the number of job-seekers when compared to November 1998. In November there were 220,755 officially registered job-seekers in Austria.
Nuclear plants are still a subject of controversy between Austria and Slovakia. The activation on Wednesday of the second reactor of the Mochovce nuclear plant provoked a strong reaction from the Austrian Minister for Consumer Protection, Barbara Prammer. She sent to the Slovak Economics Minister, Lubomir Harach, a list of 20 questions, concerning the safety of the Mochovce reactors, and reminded the Slovak government that Austria has clearly stated that EU membership "will not be possible with unsafe atomic plants" (Der Standard, 01/12/99). At the same time, however, EU Commissioner for enlargement GŁnther Verheugen assured Slovak Deputy Prime minister Pavol Hamzik this week that the plans of the Slovak government to close down the Jaslovske Bohunice plant between 2006 and 2008 would be "positively receive[d]" by the European Council in Helsinki.
To finish on a lighter note, Austrian-born Hollywood star Arnold Schwarzenegger was quoted as having aspirations for the Austrian presidencey on Tuesday: "If Austria was to say 'we need you,' I would think about it" (ORF, 30/11/99).
Magali Perrault, 3 December 1999
---
Some Useful Websites (in German)
http://www.orf.at (Austrian TV)
http://www.apa.at (Austrian Press Agency)