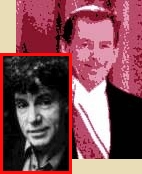 L E T T E R S:
Too Clever by Half

---
John Keane
I trust that readers of Kieran William's digital assault on my Vaclav Havel: A Political Tragedy in Six Acts see will exercise prudence - and read the book with more humility and less speed than he did. With the reckless abandon of an angry arsonist, he proceeds to torch the book without ever bothering to say anything about its philosophical and methodological premises, as they are outlined in the book's prologue and in a recent interview published in Reflex magazine.
Williams also has sealed lips about the book's substantive claims. There's scarcely a word about the hard-researched new material included in the book (e.g., on the 'Thirty-Sixers', Havel's anti-occupation broadcasts in Liberec in August 1968, the fundamentally new account of Letters to Olga, and the new evidence that contradicts the conventional view of Havel as the 'natural candidate' for the presidency during the events of November-December 1989).
Many of the thirty or so reviews that have appeared in Britain during the past month acknowledge these points. Ivan Klima's review in The Times set the tone by warmly remarking that the book "manages to combine facts about this fascinating life with a penetrating study of Havel's plays, his views and his attitude to life."
Williams the political scientist tries instead to prove that he's the Minister of Facts about Vaclav Havel by leaving readers with the vague impression that my book is empirically wrong and theoretically stupid. Most puzzling of all is the superciliousness of Williams. Under the banner of reasoned scholarship, he tried to push and shove "the Professor of Politics" into a bonfire of vain judgements fuelled by petrolic phrases such as "juvenile prose", "disgracefully erroneous" and "intellectually featherweight".
I am most grateful to Kieran Williams for pointing to a half-a-dozen elementary typos and errors of detail. Although such corrections by no means undermine the overall plot structure or detailed narrative of the book, I shall certainly incorporate them into subsequent editions.
Unfortunately, the rest of his observations are unusable, and not simply because they are excessively self-centred. Williams does his academic reputation harm by suggesting that Havel is "a philosopher", and by impressing on readers that I have failed to compare Havel with Hannah Arendt or Jurgen Habermas or Thomas Hobbes or Edmund Burke or Michael Foucault or Simone Weil or Max Weber. The point is not that I have written elsewhere at length about each of them, but that such comparisons would have been utterly out of place in this kind of biography with a difference.
A bit too clever by half, Williams has no feel for my efforts to write political philosophy differently for an audience bigger than a SSEES seminar at the University of London.
Getting the wrong end of the stick could be said to be his speciality. An example: William's own account of the 1989 round-table talks, the crowned republic episode, Havel's strategic and symbolic mishandling of the break-up of the country, the confrontations with Klaus, lustration, the politics of death - I could go on - are implausible. This is both because they wilfully misrepresent my own nuanced interpretations and because they fail to see how my remarks directly depend upon Czech-language sources and many scores of interviewees, including key Castle figures such as Jiri Pehe and Karel von Schwarzenberg, whom Williams wrongly claims are "missing men" in my account.
Another example: contrary to Williams, Vaclav Havel: A Political Tragedy in Six Acts is not committed to developing a "systematic theory of power" (which would be quite at odds with the 'factional' approach outlined in the book's prologue, and certainly contradictory of the humble suspicion of totality-thinking required of democratic theory and politics).
And another example of Williams's misjudgements: the book cannot be criticized for deliberately choosing not to clutter its pages with footnotes. Pedantic precision certainly has its place in academic prose, but an unthinking, blanket fetish for grasping The True Origins of Things by registering them in footnotes is Williams's weakness, not mine.
As for the unfortunate - potentially libelous - insinuation that I have drawn illegitimately from others ("coincidences of language" is Williams's barbed phrase): of course I drew from Pynsent and Kanikova's excellent The Everyman Companion to East European Literature, but to have footnoted that would have resembled a boring footnote to the OED when writing the word 'weather'. The further suggestion by Williams that I should have footnoted his own summary of the Kundera-Havel debate about courage borders on primary narcissism. My account is based on my Prague-based researcher's translation, and my own re-translation, of the original essays by Kundera and Havel.
A final word about Williams's misuse of the word tragedy. I have tried in this book to revive an idea put forward by Christian Meier, one of Europe's best classics scholars, that there is an elective affinity between democracy and tragedy as an aesthetic form. Williams flings the word tragedy around his screen, as if it was simply a signifier for failure and defeat. That leads him, mistakenly, to object that I've ignored Havel's achievements as a figure of courage who has resisted the temptation to abuse power. The claim is astonishing in its inaccuracy.
I do not know whether or to what extent Williams has witnessed or read any theatrical tragedies, or even whether those who have written about tragic form (from Aristotle to Northrop Frye and George Steiner) are his cup of tea as a political scientist. I have my suspicions.
This is why I ask only that readers of my book on Vaclav Havel understand that it is not a political science monograph, but a form of writing called political tragedy that highlights the sad but inspiring story of a flawed individual whose astonishing life has been twisted and torn, pushed and pulled by all of the tumultuous political forces of a century - thankfully - which is nearly over.
Professor John Keane
Centre for the Study of Democracy
University of Westminster
---
Kieran Williams's critique of Professor Keane's Vaclav Havel: A Political Tragedy in Six Acts can be found here.