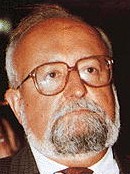 Krzyzstof Penderecki

M U S I C :
Arks and Labyrinths
---
Nicholas Reyland
At the end of the 1950s, Poland's contemporary classical music scene was transformed from neo-classical backwater to avant-garde frontier. During the post-war decade, access to modern music had been severely restricted, as Polish composers were "encouraged," with varying degrees of success, to embrace and express the ambiguously defined tenets of socialist realism, or socrealizm. Consequently, the sudden availability of contemporary scores and recordings following Stalin's death in 1953, and Nikita Khruschev's subsequent "secret" report - "The Personality Cult and its Consequences" - instigated one of music history's most remarkable renaissances. When the thaw came to Polish musical life, the ice did not so much melt as crack, releasing torrents of creativity, as composers poured long pent-up energies into bold and ambitious experimentation.
To gauge more precisely the sheer velocity of change occurring during this period, one needs to consider the work of individual composers. In the case of Krzysztof Penderecki (b 1933), subject of the London Symphony Orchestra's comprehensively informative and impeccably organised "Penderecki Discovery Day" which took place on Sunday 24 October 1999 at the Barbican Centre in London, studying the stylistic contrast between two sets of Three Miniatures for chamber duos, composed in 1956 and 1959 respectively, proves highly informative. The first work, scored for clarinet and piano, bustles with tersely argued ideas and is utterly neo-classical; it could not, therefore, be more different from the stark, modernist pointillism of the latter work, for violin and piano, in which the influences of Bartok and Stravinsky have been exchanged for the likes of Webern, Boulez, Stockhausen and Nono.
As Professor Adrian Thomas, expert on Polish music and presenter of the Discovery Day, observed in the lecture that began the Barbican event, there is more to the Three Miniatures of 1959 than earnest imitation. In these three short pieces, Penderecki was already pushing the envelope of conventional musical notation. Taking the raw sounds, if not the structuralist aesthetic, of Darmstadtian high-modernism as his starting point, Penderecki was beginning to fashion a remarkable repertoire of experimental orchestration techniques. Over the coming years, he would use them as the linguistic building blocks of his rapidly developing and highly innovative musical style, producing a series of scores - including magnificent works such as Threnody for the Victims of Hiroshima (1960), Polymorphia (1961), De natura sonoris I (1966), Capriccio for violin and orchestra (1967) and his String Quartet No 2 (1968) - which used/abused conventional instruments to create extraordinary sonic collages.
For many listeners, these works called into question the location or existence of a border between "music" and "noise." Yet despite Penderecki's delightfully flagrant disregard for instrumental tradition, his music of the 1960s and early 1970s actually achieved wide-ranging popularity. For while the instrumental techniques propounded in these scores may have been consistently astonishing to audiences, Penderecki's underlying musical rhetoric of exaggerated dramatic gestures, coupled with an atmosphere of brooding, edgy intensity, were much more familiar. In this respect, it comes as no surprise to encounter Penderecki's music of this period in films such as Stanley Kubrick's 2001 and The Shining. His weird but theatrical soundworld seems tailor-made for movie directors seeking to evoke unease within the context of carefully structured dramatic scenes. Indeed, the sheer power of the musical gestures Penderecki fashions from his battery of odd sounds - what Professor Thomas aptly characterised as a "broadstroke approach" to composition - carries the listener (or viewer) along, no matter how foreign or disorientating the immediate landscape might be.
An understanding of the conventional, if large-scale, musical phrasing articulated by Penderecki's earlier music is essential if one is to make any sense of the direction taken by the composer in the mid-1970s. Following Adrian Thomas Thomas's comprehensive introductory lecture, the numerous and diverse Discovery Day participants attended the LSO's final rehearsal for that night's UK premiere of the composer's Symphony No 5 (1992), to be conducted by Penderecki himself. Interestingly enough, his approach to conducting could also be characterised as "broadstroke," and not simply because of its exaggerated physical mannerisms. Penderecki ran through the score just once in its entirety, barking an occasional order to the players - usually to play louder - before muttering his thanks and departed from the podium without any fine-tuning or tweaking, save for a few moments spent with the violas, at their request, on a tricky melodic line.
If Thomas had limited his musical examples to works composed before 1974, one suspects some of the audience might have suffered quite a shock during the rehearsal, for Penderecki's later style is very different from that of his avant-garde works. The music of Symphony No 5, for example, like most of Penderecki's music since 1977's pivotal Violin Concerto No 1, is neo-tonal, neo-Romantic, neo-Brucknerian even. Melodies are stated and developed, recapitulations occur, harmonic momentum is sure-footed and rarely ambiguous, and the work's form is clearly derived from structural archetypes dating back to Bach. In fact, Penderecki has stated, without any hint of irony, that sonata allegro form is the only way forward for contemporary composers, and were it not for the presence of a few (now scrupulously marshalled) harmonic clusters in the later works, it would almost sound as if modernism had never happened. The music firmly posits itself in a tradition stretching from Brahms through Bruckner, Mahler, Wagner and Sibelius to Shostakovich, and now to Penderecki. So what happened?
In the most fascinating section of the Discovery Day - an hour-long discussion between Penderecki, Thomas and the audience - the composer expressed the dissatisfaction with musical modernism he now claims to have experienced during the 1960s and early 1970s, at a time when he himself was writing ostentatiously avant-garde scores. Some composers, Penderecki stated, had "forgotten about music" and were composing "notes only," while he wanted to compose "music with a human face" and distance himself from his peers and imitators. So, I asked him whether he still liked his own modernist works, or if he felt his recent music was more meaningful or profound. Penderecki answered that his later compositions are "more important."
Is Penderecki's more recent music entirely divorced from the earlier scores? Throughout Discovery Day, Thomas was keen to stress continuities between the composer's earlier and later works. Like many of the avant-garde scores, most of the neo-romantic works inhabit an atmosphere of moody, restless intensity. Moreover, dramatic gestures remain grand and sweeping, musical forms clear-cut and memorable; low notes must still be incredibly low, climaxes massively loud. Penderecki certainly has his musical obsessions, and they can be traced throughout his career, but the limitations of his music are another constant factor. Despite the immediate appeal of works such as his Symphony No 5 and Cello Concerto No 2 (1982) - erratically performed by Mstislav Rostropovich in the first half of the evening's concert, before the LSO and Penderecki's powerful rendition of the fifth symphony - after a full day of such "broadstrokes," one begins to yearn for slightly more subtlety than one receives from a composer making such frequent recourse to single-entendre dramatic gestures with a guaranteed emotional payoff.
During the discussion, another member of the audience asked Penderecki who he considered to be the century's greatest composer. Messiaen, was the composer's thoughtful answer, primarily for his mysticism and use of orchestral colour. One might also imagine how the massive scale of many of Messiaen's works and their powerful, emotive subjects must hold considerable appeal for a composer whose works often share those qualities. Yet, the comparison between the French master and Penderecki must cease there, for Messiaen's music has so much more to offer. Messiaen's greatest compositions are also highly sophisticated, carefully paced, full of emotional and dramatic contrasts and both structurally demanding and satisfying. His technique is not characterised by a few broad strokes but by thousands of carefully positioned, prescribed and proportioned points of light. Stretching Thomas's analogy with painting still further, to compare Messiaen with Penderecki is a bit like comparing a beloved Renaissance masterpiece with one of Jackson Pollock's: while the mutual emotional appeal might be easily expressed, even that most notional and subjective connection breaks down when one attempts to define all but the crudest points of stylistic, structural or aesthetic similarity.
But merely to focus on Penderecki's shortcomings (possibly more of a concern for musicologists and critics than audiences, if the ecstatic reception of the UK premiere of his Symphony No 5 was anything to go by) would perform a disservice to music of a broad emotional appeal and a degree of significance to many of his fellow Poles. After all, not every composer has been brave enough to write a work so defiantly nationalistic as Penderecki's St Luke Passion (1966) during similarly difficult periods in his or her country's history. Moreover, such a narrow focus might fail to consider how intriguing Penderecki's stylistic volt face has been, let alone the possibility of psychological motivations for his musical retreat. Penderecki was not the only Polish composer to form a rapprochement with tradition following an initial burst of experimentation at the end of the 1950s. Witold Lutoslawski (1913 to 1994) and Penderecki's exact contemporary Henryk Gorecki (b 1933), to name just two of the most obvious examples, both sought to accommodate influences from the past, after their initial post-thaw triumphs. It would, of course, be equally wrong to ignore the fact that, during the 1970s, composers throughout Europe were plundering the past in the aftermath of modernism's liberating purge. Yet the extremity of Penderecki's current aesthetic position makes his "case" especially compelling.
In the garden of Penderecki's manor house outside Krakow, the composer has an arboretum with over 1000 species of tree. He has also built a labyrinth in which, he told the Discovery Day audience, he likes to lose himself and escape from the turbulence of modern life. (The construction of a larger maze is planned for the future.) Perhaps Penderecki's musical style since the mid 1970s has offered him a similar point of retreat, where occurrences are more predictable or familiar - in stark contrast to the tensions and provocations of much contemporary art and music. And could Penderecki's provocative view of his recent symphonic works as arks (like Noah's) on which to place all he deems good in music, protecting those ideas from contamination and preserving them for future generations, not be connected in some way to the motivations behind his work on the arboretum?
Given such intensely personal aims, the knowledge of which will certainly add a fascinating dimension to the study and reception of Penderecki's music over the coming years, it would almost seem churlish to chide him for his music's lack of subtlety or sophistication. Clearly, his artistic goals lie elsewhere, and only the passage of time will begin to test whether or not he can actually achieve them.
Nicholas Reyland, 3 November 1999
Purchase CDs of Penderecki at Amazon.com
---
Links to Penderecki elsewhere on the Net:
The Inkpot
A loot at Penderecki's violin concertos.
Classical.net
A list of some of Penderecki's more notable works.
Library of Congress
An extensive, if not complete, list of Penderecki's albums.
Classical and Contemporary
A brief review and overview of Penderecki's works.
Polish Composers Links Page
More links to Penderecki, as well as other Polish composers, on the web.
Emory
Outlines Penderecki's music and influences, includes quotes from the composer as well as more links.