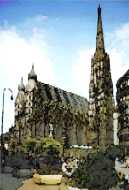 C E N T R A L E U R O P E A N N E W S:
News Review for Austria
All the important news from Austria
since 30 October 1999
---
Magali Perrault
Negotiations between the four parliamentary parties are still actively going on.
On Tuesday evening, delegations of the Conservative Party (OVP), led by Wolfgang Schussel, and the Freedom Party (FPO), led by Jorg Haider, met for the first time. Schussel later declared that the issue of the integration of foreigners into Austrian society had been touched upon, "not always without emotions," and feelings were running high. Further talks were scheduled for 11 November.
On Thurday, the Socialist Party (SPO) and the Greens met.
The newly re-elected president of the National Assembly, Heinz Fischer (SPO), noted that, given the current political situation, the Parliament has a chance to play a positive role by encouraging co-operation between political parties.
Fischer's deputy and second President of the National Assembly Thomas Prinzhorn (FPO) denied on Monday in an interview with Hungarian daily Nepszabadsag that the Freedom Party was against EU enlargement on principle. He stated that post-Communist countries could become EU members within two years, provided that a "long transition period of perhaps ten years" be applied as far as the liberalisation of labour markets is concerned.
However, Prinzhorn's comments were refuted by Jorg Haider, who made it clear that his party would oppose EU enlargement if a transition period was not applied and if the economies and the labour markets of the applicant states were not "put in order." Haider pointed out that Austria has extensive borders with the Czech Republic, Hungary and Slovenia - which are likely to become an issue if the enlargement takes place.
Haider has been further criticized by Ariel Muzicant, the chairman of the Jewish community, who described Haider's refusal to acknowledge the increased level of violence against the Jewish minority as "irresponsible and anti-Semitic." He added that "Haider uses lies as a political instrument."
Peter Westenhalter, general secretary of the Freedom Party, subsequently threatened Muzicant with legal action for libel.
Chancellor Viktor Klima (SPO) is facing more and more criticism from within the ranks of his party, especially from MEP Hanes Swoboda and former Finance Minister Ferdinand Lacina, who both consider the inadequate electoral campaign of the party as having contributed to the FPO's success. In this context, Klima firmly rejected proposals to separate the functions of party chairman and chancellor.
Finally, in contradiction to previous declarations by OVP Party Chairman Wolfgang Schussel, Andreas Khol, the leader of the OVP group in the National Assembly, refused on Thurday to exclude the participation of his party in a new governmental coalition - "should it become necessary."
Magali Perrault, 3 November 1999
---
Some Useful Websites (in German)
http://www.orf.at (Austrian TV)
http://www.apa.at (Austrian Press Agency)