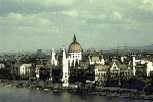 C E N T R A L E U R O P E A N N E W S:
Hungarian News Round-up
News from Hungary since
30 October 1999
---
Paul Nemes
Prime Minister Viktor Orban has said that Hungary would consider the stationing of NATO nuclear weapons on its territory in the case of an emergency. Orban originally made the statement to Toronto's Globe and Mail during his visit to Canada and repeated the message after returning to Hungary. Orban told reporters in Budapest: "The Hungarian government will consider any request from the international community," but added that there had been no such request. Orban has since received heavy criticism for his comments, which would mean a complete turnaround in policy toward nuclear weapons. The Alliance of Free Democrats rejected the idea outright and added that such a decision would require a two-thirds majority in Parliament. Socialist Laszlo Kovacs said, "If all the premier wanted to do was to provoke Russia or frighten the population, he has reached his goal." Russia also criticised Orban's remarks, saying, "These comments by the head of Hungary's government are a straightforward breach of the spirit and letter of the Founding Act on Relations, Co-operation and Security between Russia and NATO." Orban said after the newspaper article appeared, "At this time, no one has any intention of deploying nuclear implements to Hungary. There just is no such crisis at the moment," but added that the North Atlantic Treaty "clearly stipulates what must be done in a crisis situation." The Foreign Ministry's response to Russia was that Hungary's NATO membership is not targeted against any country, including Russia. Orban said afterwards that he had been misquoted, saying, "In fact I got around the question answering that we would not be happy, but that we would consider the request in earnest."
The Hungarian cabinet has expressed concern over its unfulfilled promises to NATO of armed forces reform. Hungary's efforts to reform the military in the last few years have failed,and this could, according to Magyar Hirlap, endanger Hungary's chances of joining the European Union. According to a document recently discussed by the Cabinet, politicians have up till now received only reports hiding the failings of the armed forces.
On 3 November, Irish Prime Minister Bertie Ahern arrived in Budapest, aiming to develop relations between the two countries before Hungary joins the EU. Ahern, who met President Arpad Goncz and Prime Minister Orban, said that he hoped Hungary's accession to the EU would be "at an early date." Ahern said that Hungary was ready for accession and that EU expansion should not have to wait for EU institutional reforms. He told reporters that "we have to be realistic about this and a realistic assessment is that... a few countries are ready to move on and at the same time that should be done by a quick intergovernmental conference." Janos Ader, speaker of Parliament, said that Ireland was a model that showed the fantastic results of 26 years of EU membership. Meanwhile, Orban and Ahern signed a bilateral agreement for co-operation in crime fighting. Arpad Goncz told Ahern that Ireland should not worry about competition from Hungarian agriculture, as their countries' agricultural sectors complement each other.
Last week, Prime Minister Orban also held talks with Yassir Arafat, president of the Palestinian National Authority. Orban, who said that "Hungarian-Palestinian relations have not been as strong as the interest of the two sides would have required," announced that a Hungarian diplomatic mission would be opened in Palestine. Orban also said that a Palestinian joint committee would probably be set up.
Prime Minister Orban has announced that the Cabinet plans to make changes to the electoral law so that Hungarians abroad will be able to vote in Hungarian elections. Orban did, however, say that the right to participate in Hungarian elections would only be open to Hungarian citizens. Consequently, Hungarians in neighbouring countries who do not have Hungarian citizenship will not be able to take part in elections. Orban, who made the comments after having met Hungarians living in Canada, did, however, say that the Office for Hungarian Minorities Abroad is working on a solution for Hungarians who are citizens of neighbouring countries. The amendment must meet a two-thirds majority in Parliament, but the opposition does not support the changes.
It has also been suggested that Hungary's refugee law will have to be amended. Ms Kosa, chair of the Parliamentary Committee on Human Rights, Minorities and Religious Affairs, said on 3 November that the current law is contradictory. Ms Kosa said that the refugee situation needs to be dealt with in a more professional manner and that more funds are required for this purpose. 70 percent of refugees this year have come from Yugoslavia, while in 1998, 70 percent of refugees came from outside Europe. Although the flood of refugees from Kosovo and Vojvodina never reached the proportions that were feared, refugees from Yugoslavia have strained resources nonetheless.
A MAV (Hungarian State Railways) official said, after having held talks with Marton Kukely and Svetolik Kostadinovic of the Yugoslav State Railways (JZ) in Subotica/Szabadka, that Hungarian passenger trains can go to Belgrade and beyond as soon as a temporary bridge has been built at Novi Sad/Ujvidek. The bridge is expected to be completed in December. MAV also said that although freight trains can only arrive and depart during the day now, the company is ready to resume around-the-clock traffic if the demand should arise.
Meanwhile, a grouping of 13 Yugoslav banks has proclaimed that they would pay for the transfer of Russian natural gas through Hungary. It is thought that Yugoslavia owes MOL, which recently resumed gas deliveries that had been stopped in September, around USD 25 million. Director of Yugobank Milos Milosavljevic said that the bank consortium had agreed on an initial USD 13.5 million gas delivery through Hungary and that a further USD three million could be produced in the near future. Jugobanka, Beogradska Banka and Komercijalna Banka are all believed to be part of the consortium. The directors of all three banks are on the EU black list.
The Hungarian government has suggested that in order to reduce inflation, MOL should raise the domestic gas price to world market levels. Finance Minister Zsigmond Jarai said that at the moment, domestic gas pricing was more than 6 per cent lower than world prices but added that he expected the world gas and oil prices to fall in 2000. Jarai also said, "The Finance Ministry's proposal is that we should shift to world market prices, but gradually and not at once."
On 6 October, Viktor Orban left for the prime ministerial meeting of the Central European Initiative (CEI) held in Prague. Secretary of State for Economic Affairs Gabor Gulacsy led the Hungarian delegation at the four-day forum. The Balkan Stability Pact was thought to have been high on the agenda for the 16 CEI state, as well as CEI policy for the next two years. For Hungary, the CEI is of importance primarily due to the boost it gives to the economy and regional stability, its endorsement of EU compliance and its harmonization of laws.
This month, the government will discuss Hungary's medium-term foreign economic policy. Peter Balas, deputy secretary of state at the Economic Ministry, said that the new policy would target export growth, foreign investment, EU membership and the development of relations with Hungary's neighbours. Hungary aims for an 8 to 10 per cent increase in exports, while it is hoped that foreign investment will reach USD 1.5 to 2 billion per year.
Matyas Eorsi of the Free Democrats said last week that he had been the target of a bomb attack. A hand-grenade was thrown into the garden of the house where Eorsi lives. After the explosion, in which no one was harmed, Eorsi received a phone call saying, "this was only the first warning." He told reporters that it was unlikely that the grenade was meant for his next-door neighbour who is a financial CEO, because the mafia seldom targets financial companies.
According to business daily Napi Gazdasag, space transport is on the service list of nine Hungarian companies. The paper also reports that a permit for the launch of a spaceship has been issued to a Hungarian enterprise. In accordance with EU law, Hungarian companies will be able to launch spacecrafts and transport goods and passengers in space. Perhaps more important for the future is that from the year 2000, Hungarian enterprises will be allowed to launch satellites and space labs. It is hoped that Hungarian companies will join international space programmes in order to conquer space.
Interior Minister Sandor Pinter has promised that foreigners in Hungary will be met by less bureaucracy when it comes to trying to arrange their residence permits. Pinter said that a new office that will take over duties currently performed by the police, border guards and local municipalities would open on 1 January. There will also be English- and German-speaking staff at police stations. Pinter also said that a new 24-hour emergency phone number with English- and German-speaking operators would be launched. In case of an emergency, the number is 112.
Paul Nemes, 5 November 1999