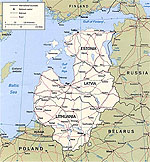 C E N T R A L E U R O P E A N N E W S:
News Review for Lithuania
All the important news from Lithuania
since 8 January 2000

Mel Huang
---
Politics and foreign affairs
A surprise ruling from the International Court of Human Rights (ICHR) results in a probe against Lithuania's conviction of one of its most notorious mafia bosses. Henrikas Daktaras, the reputed head of the "Daktaras" crime family, was convicted in 1997 for extortion and intimidation and sentenced to 7.5 years in jail. However, the ICHR decided to follow up on two of the nine charges filed by Daktaras: one of impartiality of the Supreme Court, and the other on a possible violation of the presumption of innocence by prosecutors while talking to the media. Deputy Justice Minister Gintaras Švedas emphasised that this is not a ruling against Lithuania's justice system, just that the ICHR will examine these issues.
In-fighting among the ruling Tėvynės Sąjunga - Lietuvos Konservatoriai (Homeland Union - Lithuanian Conservatives) is breaking out left and right. Several MPs have openly traded verbal jabs, while Seimas Chairman and party leader Vytautas Landsbergis lambasted former Premier Gediminas Vagnorius. In turn, Vagnorius blasts Landsbergis and his accusations. Many experts predict a split in the party, while rumours of a Landsbergis resignation continues despite denials from his office.
The Seimas Rural Affairs Committee is still reeling from the lack of state funding for budgeted items in 1999. Apparently hundreds of millions of litas are owed to farmers for subsidies from the Rural Support Fund. For instance, the Fund owed farmers LTL 62.9 million for milk subsidies, LTL 19.8 million for cattle and LTL 27.1 million for grain. Farmers have been pushed by some opposition politicians to sue the government and the Fund en masse, and courts are also reeling from the workload.
The state is planning to borrow up to LTL 200 million this year. Officials said not all the sum may be necessary.
A team of nuclear power specialists travelled to Britain to study the process of shutting down nuclear power plants. They visited Trawsfynydd in Cymru (Wales) and Sellafield in England in preparation for the shutdown procedure to start at Lithuania's Ignalina Nuclear Power Plant. Goodness knows why they are visiting Trawsfynydd, as it is still seriously contaminated by the policies from London.
The opposition LDDP (Lithuanian Democratic Labour Party) called on the resignation of Prosecutor General Kazys Pėdnyčia. The opposition group is angry about the investigations into the debt accrued by Belarus for electricity exports and the activities of the middleman, Baltic-Shem.
Controversy is creeping from a year 2000 calendar, as it shows parts of Russia, Belarus and Poland as "temporarily occupied territories" of Lithuanians. The government denies the calendar was commissioned by the state and has begun investigations on civil rights charges, as the calendar could be deemed to cause racial discord in Lithuania. Ethnic Poles and the Polish Foreign Ministry have denounced the calendar, and Russian officials call it a "provocation."
The 1.5 month training mission in Lithuania by 900 Italian soldiers cost a total of LTL 12 million. The Lithuanian government granted the NATO force the Pabradė training area for free, but all costs were covered by the Italians.
Head of the Air Force Colonel Zenonas Vegelevičius has been temporarily suspended while investigations into a tender for equipment is completed. Col. Vegelevičius maintains his innocence, and officials say the suspension is normal procedure for any investigation.
The Jerusalem office of the Simon Wiesenthal Centre is calling for Scottish officials to deal with suspected war criminal Antanas Gečas. Lithuanian prosecutors do not have information that link Gečas to war crimes, and Scottish officials have not pursued an earlier claim against the elderly Scottish resident.
---
Economics and business
Russia's oil giant LUKOil and American-owned Maţeikių Nafta (Mažeikiai Oil) are near an agreement for supplies of crude oil. The agreement reportedly will guarantee 6 million tonnes of crude a year for 10 years, as well as additional crude for LUKOil's own use in Kaliningrad and other parts of Russia. The oil refinery in Mažeikiai has suffered due to a lack of crude oil, which has in turn seriously affected Lithuania's economic output.
Lithuania's inflation in 1999 hit a record low level at 0.3 per cent, the lowest among the Baltic states. However, most analysts believe this is due to the economic crisis in the country. In 1998 the inflation rate was 5.1 per cent. December's CPI rise was 0.3 per cent from November.
The entire business registry may have to be rebuilt due to the abundance of moribund and debtor enterprises. The new registry should be under the Justice Ministry. Currently there are about 155,000 companies registered, with many single-person enterprises (94,000). However, of the total, 38,000 are completely moribund and 49,000 faces restrictions due to owed money to the social insurance fund SoDra or tax collectors.
Four television stations -- Polsat from Poland, Baltijos Televizija (Baltic Television) from Lithuania, Latvijas Neatkarīgā Televizija (LNT, Latvian Independent Television) from Latvia, and TV1 from Estonia -- signed a co-operation agreement to create a larger television market in the region. The new conglomerate will be able to acquire programming and advertising together, giving the smaller Baltic stations much more clout linked with the large Polish market.
The "Big Mac Index" from The Economist shows that the Lithuanian litas is undervalued by 32.9 per cent. The price of a Big Mac in Vilnius in early January was LTL 6.55 (USD 1.64), which is much less than the average price in the US of USD 2.42. However, this is a slight improvement in the power-purchase parity index from 1998, though on the wisdom of a burger with "special sauce."
French bank Société Générale is leaving the Baltics after restructuring and reorienting their operations. The office in Vilnius will be sold to the Nordic banking giant MeritaNordbanken. The office in Riga is also affected in the same way. MeritaNordbanken already has a branch in Tallinn, while the French bank did not have a branch in Tallinn.
The government is planning to sell off many large companies this year, ostensibly for extra funds. Two large state-owned banks, Lietuvos Taupomasis Bankas (Lithuanian Savings Bank) and Lietuvos Žemės Ūkio Bankas (Lithuanian Agricultural Bank) are both on the list of enterprises to be sold off this year. The remaining shares of Lietuvos Telekomas (Lithuanian Telecom) is also slated for an IPO somewhere.
Regional energy company Kauno Energia (Kaunas Energy) said they are in debt trouble to their gas suppliers and can't find a bank to loan them money. The company is in debt by an estimated LTL 230 million and needs about LTL 50 million to pay for fuel. Customers of the company apparently owe them LTL 60 million as well.
---
Social and local interest
The social insurance fund SoDra ended 1999 with a debt of LTL 305 million. This comes even with the state assuming LTL 45.3 million in debts. SoDra officials think by selling off seized properties they can make about LTL 5 million quickly. The faltering insurance fund seized some LTL 82 million worth of properties last year, but as most are moribund or decrepit, the fund does not want to make a loss on their sales.
Lithuania's National Police Commissioner Vytautas Grigaravičius announced that the crime rate in 1999 dropped by 1.3 per cent from 1998 and that the number of criminal cases investigated dropped by 3 per cent. But there are some worries, as drugs-related cases increased by 12.3 per cent and the number of rapes and attempted rapes jumped shockingly by 35.5 per cent. Cases of property misappropriation and squandering also rose tremendously by 75.5 per cent. Overall theft dropped the most.
There were a total of 6,356 road accidents in 1999, with 748 fatalities and more than 7,000 injured. The rate of accidents dropped by 1.5 per cent from 1998, while fatalities fell by 10 per cent. About 20 per cent of the accidents were drink-related.
The Baltijos Tyrimai/Gallup polling agency revealed that public trust in state institutions are still withering. Trust in the presidency continues to fall, this time by 1 per cent to 52 per cent, which is still highest among institutions but far from its figure over 80 per cent just a few months ago. Trust in local government dropped by 7 per cent to 37 per cent, while trust in the social insurance fund SoDra fell by 6 points to 29 per cent. Trust in the courts dropped by 2 points to 22 per cent, while trust in the national government eroded further by 5 points to 16 per cent. The trust in the Seimas still have not hit its nadir, as it dropped by another point to 13 per cent. The only thing trusted less are banks, which dropped 1 point to 11 per cent.
Baltijos Tyrimai/Gallup also announced the ratings of politicians, with ex-Prime Minister Rolandas Paksas still tops at 84 points (though down by 5 in one month). This is followed by President Adamkus at 74 (up 2) and ex-President Algirdas Brazauskas at 73 (down 3).
Local officials in the western Šilutė region are worries about the possibilities of flooding as both funding problems and warm weather have accelerated the problem. As the region is granted LTL 2 million for pumps to drain the rising waters for the year -- down by half from last year -- the municipality had to turn the pumps off. And with the heavy snowfall of December and warmer-than-usual weather in January, the snowmelt has exacerbated the problem.
The flu bug that has ravaged Europe is not sparing Lithuania. Regionally the Šiauliai region has the highest infection rate at about 0.75 per cent, followed by the Panevėžys region at 0.73 per cent.
---
And others...
Anatoly caused LTL 36 million worth of damages, up 20 per cent from earlier estimates. The freak storm also caused two fatalities and a dozen injuries in Lithuania alone.
Finally, Lithuania commemorated the ninth anniversary of the bloody Soviet crackdown in Vilnius on 13 January 1991. That day Soviet forces attacked unarmed Lithuanians on the streets and led to more than a dozen deaths and scores of injuries. The top religious and political leaders of the country called for national unity on the occasion.
---
Exchange Rates
As of 14 January 2000
currency
Lithuanian
litas (LTL)
1 US dollar
4.00
1 British pound
6.59
1 German mark
2.09
1 euro
4.10
---
Mel Huang, 14 January 2000
Archive of Mel Huang's Amber Coast articles
---
News Sources
Baltic News Service (BNS)
The Baltic Times
Radio Free Europe/Radio Liberty
Reuters news on Yahoo
ELTA
Lietuvos Rytas
Lietuvos Aidas
Kauno Diena