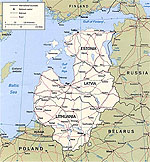 C E N T R A L E U R O P E A N N E W S:
News Review for Latvia
All the important news from Latvia
since 8 January 2000

Mel Huang
---
Political and Foreign Affairs
The sentence for convicted deportation organiser Mikhail Farbtukh was reduced from seven to five years by a Supreme Court ruling. Farbtukh, who finally admitted to the deportations of 31 families in 1941, claimed ill health in his appeal. At the trial, which convicted him, Farbtukh only admitted to part of his crime. Former victims are livid over the reduction.
The website of the Latvian government was hacked during the week, with the site's contents replaced by the hacker's statement on internet security. An anonymous man, claiming to be the hacker, told journalists that all he wanted to do was to point out the incredibly lax security feature on Latvian websites. IT officials said they got the site back to normal within an hour of the hack.
President Vaira Vīīe-Freiberga made a one-day visit to Poland. In Warsaw, she met with President Aleksander Kwaśniewski, Prime Minister Jerzy Buzek and other officials. The President stressed that economic ties between the two countries should increase. Exports to Poland in 1999 totalled USD 30 million, while imports totalled USD 180 million.
The European Commission heavily criticised the national development plan submitted by Latvia. The EC considered it inadequate, saying certain areas of the economy and their inter-relationship had not been properly considered in the report. Some civil servants warn that this cannot continue if Latvia wants to become a member of the EU.
Adding to this, European Commissioner for Enlargement Günter Verheugen said Latvia's pork tariffs are in violation of the "Europe Agreement". Verheugen said the issue of Latvia violating its obligations as an associate member will be discussed within the EU and at the associate members meeting later this month.
The Prosecutor General's Office filed information requests with officials in Israel and Great Britain about suspected war crimes suspect Konrāds Kalējs. This comes as Kalējs returned to Australia, only to be greeted by loud protests. Kalējs maintains his innocence in press interviews since his return to Australia, where he is a naturalised citizen. Australian officials are welcoming more information, in order to see if a case against Kalējs can be reopened.
Latvian Foreign Minister Indulis Bērziņš told the press that Kalējs will be tried only if there is sufficient evidence against him. However, Bērziņš added that, no matter what the outcome, this is damaging Latvia's reputation in the world. The foreign minister also denied that Latvia is biased in placing more emphasis on Soviet war criminals than Nazi war criminals.
Irish Foreign Minister David Andrews paid a two-day visit to Latvia. In Riga, Andrews met with President Vīķe-Freiberga, Foreign Minister Bērziņš, and other officials. EU integration featured highly at the talks, as well as economic relations. Irish investments into Latvia is approximately LVL (Latvian lats) 35 million, though trade between the two countries represents only 0.7% of Latvia's trade.
The Saeima Foreign Affairs Committee failed to decide on the recommendation for Aivis Ronis as the new ambassador to the United States. The Committee voted four to four, and some members are asking President Vīķe-Freiberga to respect the decision and not appoint Ronis - the nominee of the Foreign Ministry. Outgoing Latvian Ambassador to Washington Ojārs Kalniņš said Ronis is a good choice. The well-respected Kalniņš ends his long term in Washington and is currently the head of the Latvian Institute, replacing now-President Vīķe-Freiberga.
Finally, Valdis Pumpurs was named the head of the Latvian Criminal Police, which allows for current head Aloizs Blonskis to retire as of the month's end.
---
Economy and Business
The master state budget was fulfilled in 1999 and earned even a small surplus, as collections totalled 103.3%.
The inflation rate in 1999 was 3.2%, which is lower than the 1998 result of 4.7%. The rise in fuel prices contributed to the CPI increase. Prices went up by 0.2% in December from November.
Latvian Finance Minister Edmunds Krastiņš hosted his counterparts Siim Kallas of Estonia and Vytautas Dudėnas of Lithuania to discuss harmonisation of excise. Officials called on the gradual harmonisation of excise items such as alcohol and tobacco. Currently the figures do not match; for example, for 1000 litres of strong spirits the excise is EUR 940 in Latvia, EUR 926 in Estonia but EUR 728 in Lithuania. Also for 1000 units of tobacco the excise is EUR 8 in Latvia, EUR six in Lithuania, but EUR 18 in Estonia.
Four television stations - Polsat from Poland, Baltijos Televizija (Baltic Television) from Lithuania, Latvijas Neatkarīgā Televizija (LNT, Latvian Independent Television) from Latvia, and TV1 from Estonia - signed a co-operation agreement to create a larger television market in the region. The new conglomerate will be able to acquire programming and advertising together, giving the smaller Baltic stations much more clout linked with the large Polish market.
The "Big Mac Index" from The Economist shows that the Latvian lats is undervalued by 26.4%. The price of a "Big Mac" in Vilnius in early January was LVL 1.04 (USD 1.80), which is much less than the average price in the US of USD 2.42. However, this is a slight improvement in the power-purchase parity index from 1998, though on the wisdom of a burger with "special sauce."
In 1999, it appears that Russian car makers have retaken the lead in Latvia. Russia's VAZ had the highest new car sales, with 746 new vehicles sold. This is followed by Volkswagen at 649 and Renault at 507.
The World Bank is predicting a 2-3% GDP rise for Latvia in 2000. A visiting official hinted that the rise may be higher if the economy further develops.
French bank Société Générale is leaving the Baltics, after restructuring and reorienting their operations. The office in Riga will be sold to the Nordic banking giant MeritaNordbanken. The office in Vilnius is also affected in the same way. MeritaNordbanken already has a branch in Tallinn, while the French bank did not have a branch in Tallinn.
---
Social and Local Interest
The unemployment rate in Latvia remained steady at 9.1% at the start of January. The highest regional rate is in the eastern region of Rēzekne with 27.2%, while Riga remained among the lowest at 4.8%.
The crime rate in Latvia rose in 1999, when 43,969 crimes were committed. This is a rise of about 19.9%. Of the total, 18,512 crimes were committed in the capital Riga, where the crime rate rose by 15.4%. Crimes committed by minors totalled 3757, though a quarter were committed under the influence of drink or drugs.
The report also showed that 112 people died of drug overdoses in Latvia in 1999, inlcuding 80 in Riga itself. Also, drug-related crime rose to 520 in 1999, up by 121 from 1998.
The flu bug that is ravaging Europe has brought havoc to Latvia, as people are falling ill left and right. Nation-wide, the infection rate is about 0.575% of the population. The infection rates have exceeded the generally accepted epidemic levels in several areas, such as Tukums, where the infection rate is 1.16%. Riga has also been hit hard, with school children being told to stay home by the Riga School Board. Even Transportation Minister Anatolijs Gorbunovs and Economics Minister Vladimirs Makarovs have taken ill and stayed home. So far, six people have died in Latvia from the influenza outbreak.
Interestingly, a poll shows that among medical ailments, Latvians are most scared of tick-borne encephalitis, with 79.2% of respondents answering in the affirmative. This is followed by TB at 76.4%, the flu at 74.5%, diphtheria at 70.9% and then finally AIDS at 64.2%.
As Latvia is still puzzled over the paedophilia scandal in Riga, yet another case breaks out. The Valmiera County Council's chairman, Marģers Pastiljons, was arrested for propositioning 10-12 year old girls and exposing them to pornography. Apparently, a case had been brewing against Pastiljons for the past few years.
There is still one Vēcumnieki inmate who has yet to return from his holiday parole. A warrant has been issued for his arrest. On another note, the prison is under quarantine from a flu outbreak.
---
And Others...
The activist Environmental Protection Club stated it will start a group to protest against abortions. The group, known for its protest actions on environmental causes, somehow found a common link in the two issues usually on opposite sides of the political spectrum. No other details were available to CER as of this time.
Latvia's best known hockey player, defenseman Sandis Ozoliņš of the Colorado Avalanche, was chosen as a starter in the NHL all-star game to be played in February in Toronto. Ozoliņš is a three-time all-star and is recognised as one of the best offensive defensemen in the league. He gained more than 570,000 votes, second among defensemen. His Latvian team-mate and two-time NHL all-star, Artūrs Irbe of the Carolina Hurricanes was also named to the all-star team, gaining 350,000 votes (only behind the injured Dominik Hašek among goalies).
---
Exchange Rates
As of 14 January 2000
| | |
| --- | --- |
| currency | Latvian lats (LVL) |
| 1 US dollar | 0.58 |
| 1 British pound | 0.96 |
| 1 German mark | 0.31 |
| 1 euro | 0.60 |
[For continuous updates see the Bank of Latvia Exchange Rates page].
---
Prepared by Mel Huang, 7 January 2000
Archive of Mel Huang's Amber Coast articles
---
News Sources
Baltic News Service (BNS)
The Baltic Times
Radio Free Europe/Radio Liberty
Reuters news on Yahoo