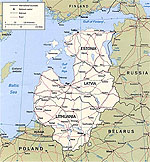 C E N T R A L E U R O P E A N N E W S:
News Review for Latvia
All the important news from Latvia
since 1 January 2000

Mel Huang
---
Political and Foreign Affairs
War crimes suspect Konrāds Kalējs departed from Britain during the week for Australia. Kalējs is accused of being a member of the notorious Arājs Commando, which is responsible for the deaths of some 30,000 people -- mostly Jews and Roma -- during Nazi-occupied Latvia. Kalējs is also accused of being a top guard at the Salaspils concentration camp. Kalējs, holding an Australian passport, was convalescing in a Leicestershire retirement home until authorities tracked him down. As of week's end he was en route back to Australia, where groups are protesting his return.
While visiting Latvia, US Congressman Tom Lantos touched upon the Kalējs case as Lantos is a Holocaust survivor. But the two-day visit went much smoother than in Lithuania, as meetings with various officials satisfied Lantos that Latvia is doing all it can to prosecute war criminals.
Prosecutor General Jānis Skrastiņš resigned during the week, most likely due to the immense political pressure put on him by Saeima members concerning the paedophilia scandal that has gripped Latvian politics and media. In late December a group of 52 MPs, led by Social Democrat Jānis Ādamsons, sent Supreme Court Chairman Andris Guļāns a request to investigate the activities of Skrastiņš. Meanwhile his deputy Oļģerts Šabansks also resigned.
Following this, Ādamsons hinted that he would push for the Saeima to exercise control over the Office of the Prosecutor General.
Disgraced former MP Valdis Krisbergs was paroled after serving about two years of his five year sentence for fraud.
The prosecution asked for a 12-year prison sentence for suspected Soviet-era war criminal Vasili Kononov. This case is stirring up more passion than any in the past, as Kononov was a well-known member of the Soviet partisans in Latvia fighting the Nazi occupation.
In December Māris Vītols was named Education Minister, replacing Silva Golde, who resigned over the widespread teachers strikes.
Also in December President Vaira Vīķe-Freiberga promulgated the budget for the year 2000 and also the new language law.
---
Economy and Business
In late December the Statistics Department announced that third quarter GDP did not change from the same period last year. This ends several quarters of decline.
The well-known confectionery Laima announced it will begin production of chocolates in the Russian city of Novgorod starting in late spring. The new venture will be majority owned by Laima, but their distribution partner in Russia will also have a minority stake.
The joint Baltic bourse list began the year with no info exchange problems. The combined index will start in the near future. Of the 13 companies on the list, 4 are from Latvia: insurance company Balta, gas utility Latvijas Gaze (Latvian Gas), oil transit firm Ventspils Nafta (Ventspils Oil) and banking leader Unibanka. Real-time info on the stock can be found at this site from the Tallinn Bourse.
Ventspils Nafta (Ventspils Oil) reloaded 18.4 million tonnes of oil and oil products in 1999, which is down slightly from 1998. With this success controversial Mayor Aivars Lembergs said that the per capita GDP in Ventspils is USD 7,800 -- thus nearing Greece and Portugal...
In late December the attempt to privatise Latvijas Kugniecība (Latvian Shipping Company) failed once again. Despite all the hoopla, only one bid came in -- and it was invalid. More political fireworks over this mess and the budget again suffers. March 2000 is the next target.
Also, the television station Latvijas Neatkarīgā Televizija (Latvian Independent Television) purchased Estonia's TV 1 from a local investment bank. Rumours are floating that Poland's Polsat is after the whole conglomerate.
---
Social and Local Interest
The People's Party of Prime Minister Andris Šķēle remained on top in polls conducted by SKDS at 19.3 per cent, up by 1 per cent from a month ago. This is followed by The Latvian Social Democratic Workers Party at 14.2 per cent (down 0.8 per cent) and For Fatherland and Freedom at 11 per cent (down 2.1 per cent).
However, rival polling company Latvijas Fakti had different results in nearly the same period. The People's Party still led at 20.4 per cent (up by 1.2 per cent), but was distantly followed by Latvia's Way at 10.7 per cent (down 1 per cent) and then The Latvian Social Democratic Workers Party at 10.4 per cent (down 1.1 per cent).
Latvijas Fakti also added that President Vaira Vīķe-Freiberga is the most popular politician in Latvia at 67.4, followed by Central Bank head Einars Repše (51.2) and Riga Mayor Andris Bērziņš (50.1). Most unpopular, as usual, is former Soviet-era boss Andris Rubiks (-30.3). Among ministers, the most popular was again Defence Minister Ģirts Valdis Kristovskis (40.4) followed by Cultural Minister Karina Pētersone (39.3).
The large Vēcumnieki prison offered holiday parole for 128 of its inmates, but 25 did not return on time. As of the end of the week, six remained AWOL -- some returned saying they had no money to call about the delay.
---
And Others...
Y2K hits Latvian customs! At several customs checkpoints declarations were being printed with the year "1900" indicating the sneaky attack of the millennium bug. Officials said the malfunctioning systems would be replaced ASAP.
Warnings have been issued about falling icicles in a annual ritual. After weeks of freezing and wet weather, the warmth brought by the January sun has caused icicles to fall from their rooftop perch -- and thus becoming a danger to things below. So far 15 people have been injured and scores of cars damaged.
The first baby of the new year in Riga, Katrīna Grigarovica, was awarded LVL 2,000 and rights to a one-bedroom flat by the Riga City Government. She was born four minutes after midnight. The company Pampers also awarded her lots of nappies -- 2000, in fact.
And finally, the discovery of a piece of wood used in a prehistoric dwelling found at a construction site in central Riga prompted Mayor Andris Bērziņš to announce that that radiocarbon dating indicates the age of the wood at 3,500 years -- thus Riga was settled by then. He added then that this proves Riga is as ancient as Rome... However, does this foil the entire celebration planned in 2001 for Riga's 800th anniversary? Most historians agree that Riga was founded in 1201 by Bishop Albert of Bremen on an old Livonian fishing settlement (possibly named Righa).
---
Exchange Rates
As of 7 January 2000
| | |
| --- | --- |
| currency | Latvian lats (LVL) |
| 1 US dollar | 0.58 |
| 1 British pound | 0.96 |
| 1 German mark | 0.31 |
| 1 euro | 0.60 |
[For continuous updates see the Bank of Latvia Exchange Rates page].
---
Prepared by Mel Huang, 7 January 2000
Archive of Mel Huang's Amber Coast articles
---
News Sources
Baltic News Service (BNS)
The Baltic Times
Radio Free Europe/Radio Liberty
Reuters news on Yahoo